Introduction
Have you been investing in Wall Street for a long time? If your answer is yes, then you will agree with me when I say that the best opportunities are hidden in small companies. Big corporations are, in general, extensively researched by analysts as well as bankers, and it is almost impossible to find hidden gems there. This is the main problem of big money managers having a lot of assets under management. They can only research these kinds of corporations. In this regard, let me quote Buffett:
In 1999, he told Business Week: "…it's a huge structural advantage not to have a lot of money. I think I could make you 50% a year on $1 million. No, I know I could. I guarantee that."
Are you a small investor? If you are a retail investor, then please stop investing in companies such as Apple Inc. (NASDAQ:AAPL) and follow me, I will show you tiny opportunities. For example, this time I will show you how to profit from the merger of Yadkin Financial Corporation ("Yadkin") (NYSE:YDKN) and NewBridge Bancorp ("NewBridge") (NASDAQ:NBBC).
Yadkin Financial
Yadkin is a regional bank operating its over 70 branches in North and South Carolina. It owns $4 billion as assets and $3.2 billion as deposits. Consequent to M&A strategy that I will assess later in this article, Yadkin has become the "largest community bank in North Carolina".
According to its 2014 annual report, 2014 was a very interesting year for Yadkin. Net operating earnings improved to $1.33 per diluted share as compared to $0.31 per diluted share in 2013. The return on average assets improved to 1.03%, whereas the net interest margin was 4.43%. Overall, the bank is profitable and it is progressing. The stock performance graph shows its vision: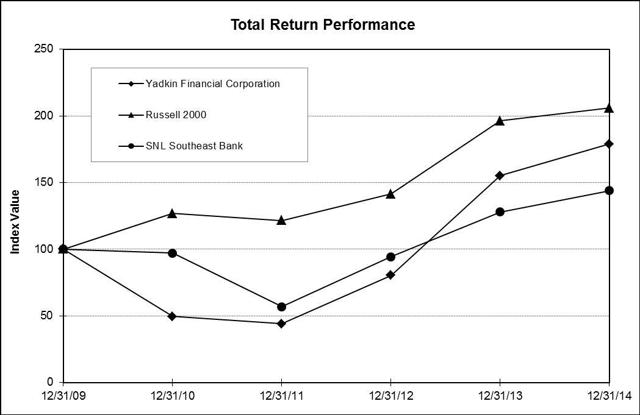 Source
Yadkin mergers
Like other competitors in North Carolina (read this other idea, for example), Yadkin is growing inorganically. The bank explains its M&A strategy in the following terms:
"The Company's growth in business, profitability, and market share has historically been enhanced by strategic mergers and acquisitions. Additionally, the Company's strategic plan involves growing a high performing community bank through organic loan and deposit growth as well as disciplined merger and acquisition activity. The Company has focused on maintaining a merger and acquisition approach that involves disciplined targeting and pricing as well as extensive credit, financial, legal, information technology, and operational due diligence."
The most recent mergers were very important:
On July 4, 2014, this bank acquired VantageSouth Bancshares, Inc. and Piedmont Community Bank Holdings, Inc. Similar to this case, Yadkin paid with its own stock. The bank is making use of outstanding performance of its common stock to buy other institutions. VantageSouth shareholders received 0.3125 shares of Yadkin, whereas Piedmont shareholders received 6.28597 shares as well as $6.6878 in cash.
The fact that the buyer acquired two banks in the last year is very interesting. This bank has developed an expertise that will be really helpful in the new merger. Furthermore, it is in a phase of consolidation creating and reorganizing new teams, so the new merger will come in a good time.
NewBridge
The target bank is based in North Carolina too. It is successfully operating its 40 branch offices. The following is a map with the locations (the buyer offices included too):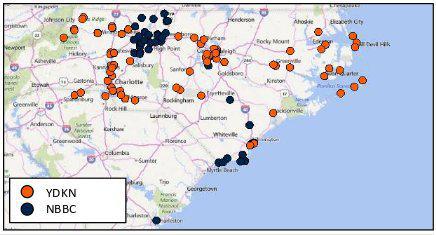 Source
The net income per diluted share declined from $0.65 in 2013 to $0.38 in 2014. Its return on average assets for 2014 was only 0.6%. The bank is profitable, but the buyer is more efficient. As per my opinion, Yadkin will make better use of $2.52 billion assets that NewBridge has. Moreover, the transaction will enhance Yadkin's presence in Carolina and expand into the Piedmont Triad.
In addition, NewBridge is in a phase of consolidation too. The bank acquired CapStone Bank on April 1, 2014, so it is also creating and reorganizing new teams. As I said, when I assessed the buyer, this merger comes at the right time.
The merger contract
The merger was announced on October 13, 2015, and it is expected to close in early Q2 2016. The following are the most important conditions to complete the merger:
"- The approval of the merger agreement by NewBridge's shareholders and the approval of the Yadkin share issuance by Yadkin's shareholders

- The receipt of necessary regulatory approvals, including from the Federal Reserve Board, the FDIC and the NC Commissioner, Hart-Scott-Rodino Ac..."
As per my opinion, this is an easy transaction, and the authorities will not stop it. Furthermore, shareholders of both banks will approve the merger, as it represents an outstanding opportunity.
The termination fee is the same for both banks: $18 million.
"NewBridge will, on the earlier of the date it enters into such definitive agreement and the date of consummation of such transaction, pay Yadkin, by wire transfer of same day funds, an $18 million termination fee"

"Yadkin will pay NewBridge, by wire transfer of same day funds on the date of termination, an $18 million termination fee"
I am convinced that this amount is not quite small. In addition, I do not appreciate that the buyer pays the same amount of money that the target does. This means, as per my opinion, that the target obtained a fair price for the company (they "won" in the negotiation process).
Merger contribution and conclusion
The buyer will pay 0.5 of its own share for each share of the target. This means that, as of January 22, 2015, the merger consideration is $10.76 (0.5 (* $21.72 (ASK of YDKN) - 0.1*2 (dividends)). Therefore, the calculated spread is 3.66% ($10.76/($10.35(BID of NBBC) + 0.015*2). This annualized return is 7.32% (it closes in 6 months). As the liquidity in both stocks is not very large, I think that you could get a better return waiting for day with large volatility.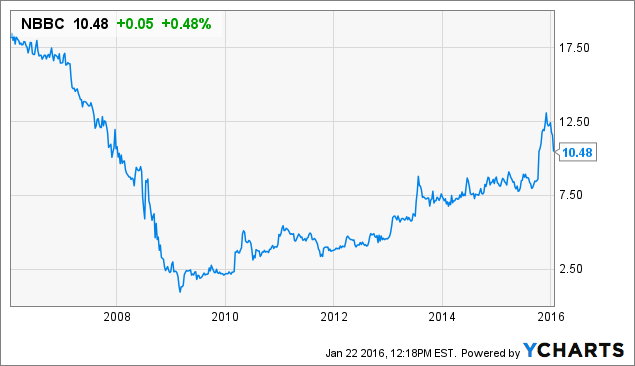 NBBC data by YCharts
Overall, this is a great deal, in which smart money managers will silently make money. Thanks to Seeking Alpha and Maudes Capital, retail investors have an opportunity of such an investment idea. Hedge funds like Basswood Capital Management Llc or Endicott Management Company had the same investment thesis.
Note: This is a merger arbitrage idea. In order to profit from it, you need to buy the target bank and short sell 0.5 shares of the buyer bank.
Disclosure: I/we have no positions in any stocks mentioned, and no plans to initiate any positions within the next 72 hours.
I wrote this article myself, and it expresses my own opinions. I am not receiving compensation for it (other than from Seeking Alpha). I have no business relationship with any company whose stock is mentioned in this article.