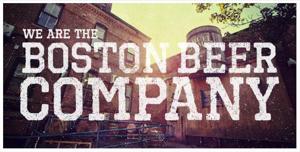 ​My December 5th article on Boston Beer (NYSE:SAM) suggested selling the stock. The call proved to be correct as SAM is down about 23% since then. If you follow me on Twitter, you would have seen I named Amazon (NASDAQ:AMZN) and Boston Beer my worst stocks of the year. The original thesis for selling Boston Beer seems to be bearing out. I believe Boston Beer faces too much competition. Additionally I think both hard cider and hard root beer are fads that will lose popularity. There will be another fad, but it's not going to be easy for Boston Beer to capitalize on it. The bigger a corporation gets, the more difficult it is to nimbly react to change.
For an investor, the thought of Boston Beer being able to dominate a new category tha doesn't exist yet sounds difficult. Boston Beer either doesn't understand the way fads work or they are sugar coating the future to investors. Angry Orchard and Coney Island Hard Root Beer will not have long-term growth. They will have declining sales over time as consumers look to try out the newest trend. It's expensive to have to launch a new product every time a new trend emerges. I'm basing my opinion on a few years of bartending and looking at the sales trends Boston Beer has been seeing.
Angry Orchard is already slowing in rate of change terms and in absolute terms. Root beer is the same type of product which consumers will tire of shortly. The next trend has already started as hard ginger ale has been gaining popularity. Boston Beer has Coney Island Hard Ginger Ale, so it should be able to capitalize on this, but there is execution risk every time a new trend emerges.
Angry Orchard Falling Off A Cliff
Let's look at the latest metrics for Angry Orchard. Remember, Angry Orchard in the past had been driving growth, making up for the anemic results of Sam Adams. As you can see from the first chart, the rolling 8-week sales of Angry Orchard has had a negative rate of change. It decelerated from growing 17.4% in August to 1.5% in October. This is very bad news for what used to be a growth driver. It supports my thesis that cider is a fad.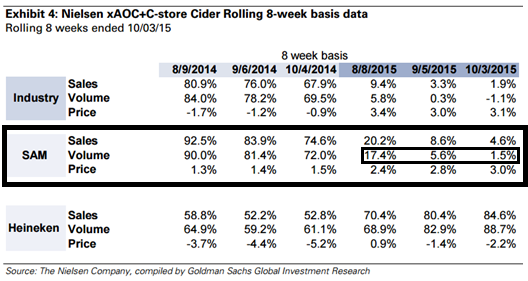 The next chart shows the total growth in the cider category in the U.S. The growth went from 71% in 2014 to 11% in 2015. As I said, Boston Beer's management can tell you the growth will be smooth over the long-term, but the reality is we will never see that level of growth again. Negative yearly growth numbers are coming soon.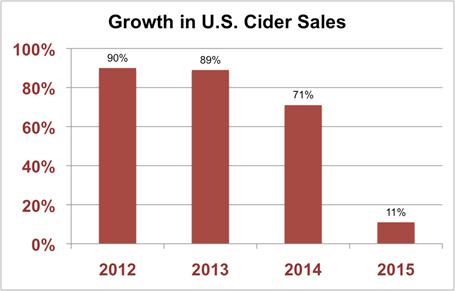 These negative results are already here according to the American Cider Journal. The Journal cites Nielsen data which tracks the cider brands such as Angry Orchard, Woodchuck, and Johnny Appleseed. Nielsen says all of those brands had declining sales at the end of 2015. The category declined by 4.6% in the last 13 weeks of 2015 compared to the same time period in 2014. This is part of the reason why Boston Beer stock is at its 52-week low.
Increased Supply And Tepid Demand
I am now going to use what I learned from my mistaken investment in U.S. Silica (NYSE:SLCA) by comparing it to Boston Beer to help you learn from my mishap. If you aren't familiar, U.S. Silica is a frac sand company. Frac sand is used for drilling as it is mixed with water and then shot into shale fractures to keep them open which lets the oil flow out continuously. Part of the reason why I was wrong about the supply and demand factors of this industry was because I believed supply would be limited because firms need to get regulatory approval to open new mines. These firms made misleading statements about this process because getting approval wasn't as difficult as it was let on as new mines were almost always approved.
Looking at the craft beer industry, there are also big regulatory hurdles that need to be jumped over in order to open a new brewery. Beer is heavily regulated and there are wastewater regulations that need to be adhered to. While it may be difficult, I think the appeal of owning a brewery inspires entrepreneurs to keep going. Add in the appeal of jumping into a fast growing industry and you have an immense amount of competition for Boston Beer. The number of people searching for the term 'start brewery' has been increasing over the past few years.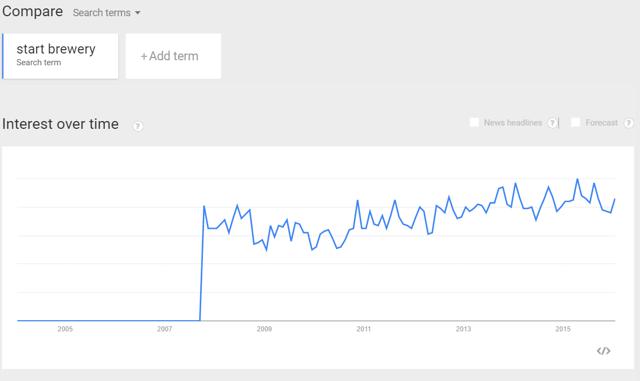 Boston Beer may think it has a good amount of shelf space in stores' refrigerators, but this can shrink if it loses share. With the number of competitors growing by double digits every year, this looks likely.
I have learned my lesson with U.S. Silica. The lesson is sales will not be smooth sailing when new competitors can easily crop up overnight. The craft beer industry is actually much tougher than frac sand. Frac sand has objective qualifications in terms of conductivity that determine which is the best quality. Craft beer quality is subjective, meaning even if Sam Adams beer was able to win awards given by critics because it had the best tasting beer, it could still lose share as consumers want to try something new.
In keeping with the comparison, U.S. Silica had issues caused by falling oil prices, which hurt demand. Boston Beer will have problems in 2016 if we see a recession like I am predicting. Craft beer can often cost double what a macro-lager such as Bud Light costs. When recessions occur it drives consumers to trade down to cheaper options. As you can see from the chart below, it looks as consumer confidence is peaking. Just as U.S. Silica saw the price of its frac sand decline as demand decreased and supply increased, Boston Beer will have the same issue causing it to lose pricing power.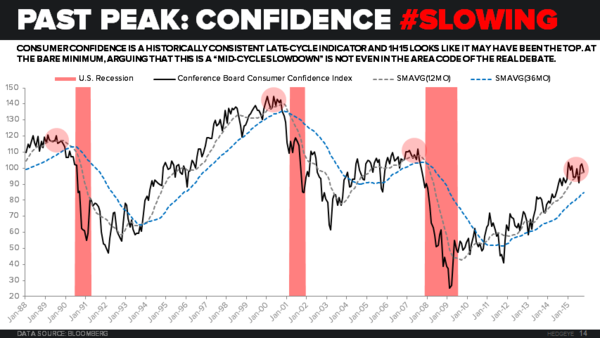 The problem for craft breweries is that they have over double the costs of macro brewers, so there isn't much room to cut prices.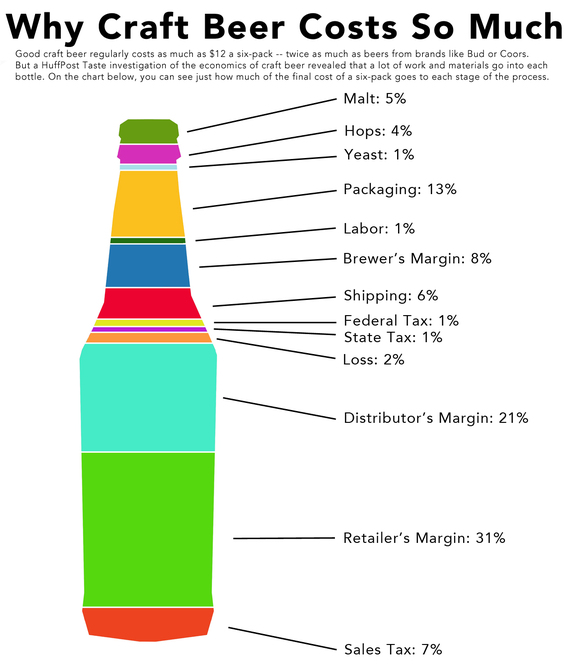 The results are bearing out as I have expected. Craft beer only grew 4.2% in the latest four-week period thru December 19th. This is half the 8.7% year to date pace. The reason for the decline in the rate of change can either be because of changes in consumer's tastes or the trade down effect I just mentioned. Either way this is very bad for Boston Beer. Not only is the craft industry slowing, but Sam Adams is experiencing accelerating volume declines. During that same four-week period Sam Adams' volumes were down 11%, which is much worse than the 6% decline year to date. These trends are the other part of the story on why Boston Beer is trading at its 52-week low.
The declines in volumes in both Angry Orchard and Sam Adams are likely why we are seeing analysts revise their estimates lower. I'm expecting this trend of negative revisions to continue. You don't want to own a stock with negative analyst revisions. You want to short a stock like this.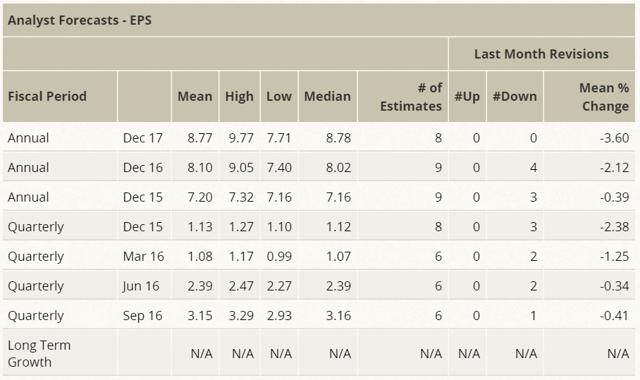 Chart
The chart of Boston Beer is broken. It had a clear head and shoulders pattern. The stock has no meaningful support until it gets below $100. That is the problem with a stock that rockets higher. It falls off a cliff because it has no support. The chart mimics what is happening at the company. It has decelerating growth, so the stock is suffering.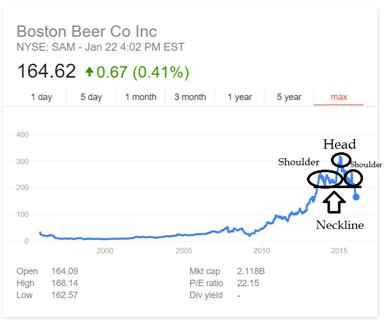 Valuation
Boston Beer is overvalued when comparing its P/E to its growth. It should reach $134.36 by the end of the year, if it becomes valued more reasonably.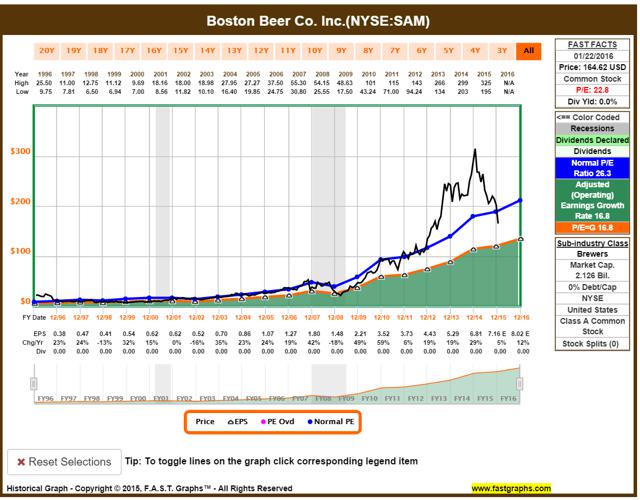 Conclusion
I analyze stocks based on three factors. I look at the macro data, the company specific analysis and the charts. All three factors are telling me to sell Boston Beer. The firm is losing share in an industry that has decelerating growth. Hard root beer is not the answer to the firm's problems, as it is likely a fad product. As the consumer loses confidence it will trade down to cheaper beer, hurting the craft industry. The chart cannot look any more negative. When a firm is overvalued, it can maintain this status if it continues to meet estimates and accelerate its growth. Boston Beer is missing estimates and therefore must pay the price by having its stock come back down to earth.
I compared it to U.S. Silica because I was duped by management into ignoring supply/demand trends and macro factors. Don't make this same mistake with Boston Beer. Ignore what management is saying and sell the stock. I have been right so far. I anticipate being right again as I reiterate my sell call on the stock.
Disclosure: I/we have no positions in any stocks mentioned, but may initiate a short position in SAM over the next 72 hours.
I wrote this article myself, and it expresses my own opinions. I am not receiving compensation for it (other than from Seeking Alpha). I have no business relationship with any company whose stock is mentioned in this article.