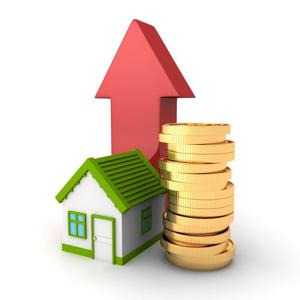 In 1991, I joined what would become one of the earliest REIT conversions of the decade (IPO: 1994) and the birth of the Modern Era of REITs. We didn't know it then, but the winds of change were stirring. In conference rooms all over America, investment bankers made their pitch: "The REIT is the way to go for both salvation and success!"
Salvation? Yes! Many of you may not recall the recession of 1991/1992- it had a direct impact on savings & loans and commercial banks who had lent to developers aggressively during the real estate peak of the 1980's- the loans, many of which were made to finance construction of speculative buildings (no tenants yet) were defaulting left and right.
Ultimately, this era gave us the United States Resolution Trust Corporation ("RTC"), which in itself provided massive real estate opportunity- more on that later. The tremors started in New England, where armies of regulators marched into local S&L's, reviewed their books and shut them down. The real estate that caused the mess was transferred from the failed banks and Savings & Loans to a newly created federal agency, the RTC, established for recovery, management and eventual sale (at fire sale prices, it turned out). It was disassembled once the assets were sold off. A similar version was contemplated during the 2008 recession- "bad bank v good bank" but didn't get enough traction from regulators to evolve.
Many "name brand" real estate developers were negatively affected in the early 1990s. In fact, Sam Zell, the Chairman of Equity Residential, Equity Office and more, sent out his "annual gift" being a small, dancing figurine of John Travolta. The original soundtrack was for "Staying Alive" the hit song from the hit movie "Saturday Night Fever"- Zell had it changed to "Stay Alive Until 1995" with the hope that, by 1995, things would get better. Those that COULD SURVIVE knew the old real estate development model: 1) raise a little equity 2) acquire site 3) design building 4) borrow huge construction loan 5) develop building 6) lease it using the "If we build it, they will come" mantra. This time, it didn't work. Vacancies soared as the pipeline of new developments were completed.
In Washington, D.C. alone (my hometown) tower after elegant tower remained "see through" with zero tenancy and zero tenant fit-up. The developer wasn't getting any fee income and didn't know WHAT TO DO. That's why the investment bankers' pitch took on a new meaning and weight.
Our company was in good shape as the owners always used moderate leverage, but we were far from immune. We followed the bankers' advice and prepared for conversion to a REIT. With my background in securities, I quickly caught on to what the bankers were saying. I read every single article I could then get my hands on- there weren't many. NAREIT's then president Mark Decker, now a REIT investment banker, joined in the fray by hosting many REIT events. I attended my first annual NAREIT Investors Conference in 1992 or 1993. I fell in love with the sector and made a lot of friends along the way.
Goldman Sachs was our esteemed investment banker and from them, I learned even more. My deal making skills coupled with my intimate knowledge of the Washington DC market were a perfect fit to run and manage the acquisitions effort- I become Director of Acquisitions post-IPO. I established our game plan, wrote a pitch book on the Operating Partnership Unit Exchange, where we traded equity in the REIT for assets in the OP. I was off and running, packing the acquisitions pipeline, creating a database of prospective deals and meeting with owners property and investment sales brokers daily. Over time, I closed over $4B in transactions- a metric I am quite proud of. However, the $25mm deal got as much of my attention to detail as the $250mm deal.
Fast forward - I now teach the subject (yes, a masters class dedicated to the study of public REITs) at Georgetown University. Hence, my suggestions and recommendations come from many years of both working at several top tier REITs and studying the subject, and its many changes, along the way. I receive REIT research reports daily and assimilate intel via these reports. My teaching (5 years) allows me to stay current- and the views that I received from many students are extremely insightful.
I teach that the following key components that make a public REIT a company worth considering as an investment:
top management skills;
inside ownership;
a pipeline of accretive acquisitions;
internally advised;
maintenance of moderate to low debt;
creative management team;
size matters -- market cap, TEV and more need to be big, or on the path to becoming big.
I will continue the list as we progress.
Looking back at the REIT winners and losers over many years gives an investor perspective. The cream has indeed risen to the top. While many research analysts take aim at lots of actions that REITs do inappropriately, or could do better, it's difficult to criticize a company whose share price chart beat the indices and has a positive trajectory over many years.
My investment thesis is based upon "the best get better," and I've seen it up close and personal. Many, if not MOST, of the FOUNDERS of many public REITs are, at their core, entrepreneurial real estate people who forged a successful private company, developed and acquired assets successfully and were attracted to the many benefits of converting to a public UPREIT.
However, these same executives had a well-oiled toolkit whose very tools that worked so well as a private company, don't necessarily apply to today's modern REIT. To name one, the aggressive use of high leverage is not an acceptable strategy for a public REIT regardless of the low cost of debt. Fees, promoted interests and other streams of revenue and income previously charged to the assets and paid to a separately owned company (usually owned by the principals) disappear. The executives become officers- employees of a corporate machine that must adhere to the rules of the road ahead. And those rules, mainly dictated by the top tier REIT analysts along with the key institutional investors such as mutual funds, pension funds, life insurance companies, are both tightly watched and generally adhered to rigidly, by the top-tier public REITs.
History Does Repeat Itself
As humans, we tend to repeat our actions and activities over and over again. Changing your lifestyle, going on a diet, quitting smoking are all "disruptive" to ones regular routine and frankly, have a low to moderate potential for success.
The same holds true for the management of public REITs.
Many of the companies that were the early adopters of the public REIT structure and format are alive and well today. Some have been acquired and others simply keep on growing and finding new ways to enhance their enterprise value. These top tier REITs have been my focus for a long time, since I met many of them in the early 1990's and listened to their presentations and agreed with their thesis.
EXAMPLE #1: Equity Residential (NYSE: EQR)
Sam Zell, chairman of Equity Residential and other REITs, is certainly a REIT professional with an enviable track record in his MANY REIT formations. Recently, EQR, his multifamily REIT, announced a strategic transaction with Starwood who would buy nearly 25% of the value of EQR through the purchase of a portfolio of multifamily assets.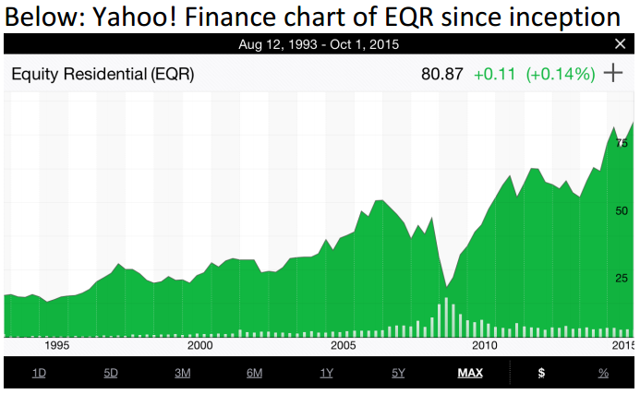 I reviewed the deal, looked at the assets themselves (photos) and locations (maps). I ran the cap rate and potential overall return to Starwood. Moreover, I looked carefully at the strategy deployed by EQR in making this deal and I agreed completely. Sam Zell has re-tooled his EQR portfolio:
sold assets at what is the top of the private real estate market (it could go higher but he sold at this peak);
reduced the size of EQR such that the next acquisition will have a greater impact and ability to move the needle since EQR will be working from a smaller base (25% smaller);
the pricing was mutually beneficial -- low enough to have analysts agreeing with the deal (for the most part) and high enough for Starwood to enjoy strong cash flow PLUS
own an Institutional quality portfolio that can be levered up using their credit facilities -- a class A portfolio is easier to finance than any other variety -- Starwood will likely take it to 75%+ with rates around the 3.5%-4% level (my guess)
this is an accretive deal for both parties as it meets perfectly with their corporate objectives.
EQR will benefit by doing this deal in many ways:
the EQR Intellectual Capital used to devise, structure and execute this deal is in keeping with long-time smart REIT management;
a private company wouldn't sell these assets GENERALLY since they create solid management fee income and lots of upside;
EQR has acknowledged that a vast gulf differentiates "suburban" versus "urban" asset values and future rental growth; this sale was intended to monetize a large swath of EQR's suburban location apartment properties and redeploy the proceeds towards urban core assets, acquisitions or developments (or adaptive reuse).
EQR is a REIT I recommend buying. I would wait for some softness in the pricing but I wouldn't wait very long. I think the REIT sector will be "discovered" by generalist investors -- in addition to the REIT dedicated investors -- and the value of the blue chip REITs will begin to tick up again.
Quick Overview Of Equity Residential
PORTOLIO VALE: $42B
MKT CAP:` $29B
No. OF UNITS: 103,000
AVG. AGE: 22 Years
AVG Rent: $2,200
TOP 5 MKTS: NYC, LA, DC, SF, and BOSTON
LEVERAGE: 24%
DEBT MATURITY WALL: None
NEAR TERM:
MATURITIES: 10% over next 5 years
CAP RATE: 4.5% -4.9%
STRATEGY: Historically, a national apartment footprint. Recent shift to greater focus on urban core, gateway cities
NAV: $82-91 per share
CURRENT PRICE: $79.64
External Factors That Could Negatively Impact REITS
The Fed Weighs Heavily
Through my many reviews and analyses, the impact of increasing interest rates doesn't fundamentally impact the Modern REIT balance sheet. Most well-managed public REITs have locked in their debt terms for many years to come- their debt maturities are smooth without any one large credit coming due in a my one year (a "Maturity Wall"). However, public perception is extremely powerful; cable show after cable show of "financial talking heads" attribute pricing softness in the REIT sector to the Federal Reserve increasing interest rates- both the chatter and the actual rate increase.
HOWEVER, many institutional investors will wait patiently and quietly (without disclosing their strategies in a press release) for REIT prices to fall and then begin acquiring many of the top tier names that I will review for you. What exactly will they buy? Look at their current portfolio as evidence of future purchases IMHO.
Reviewing a public REIT is far reaching and includes examining various ratios, specialized values per common share and much, much more. These will be included going forward. Most of the companies I'll examine are large cap REITs; most have been a public REIT for many years with a significant amount of historical information and metrics to review.
Summary
The evolution of the companies I will examine- many were conversions/IPOs from the 1990's era- has been a successful growth story. In a span of two years- 1994-1994- 100 new companies converted to REIT status and went public. The biggest decline that REITs took was due to the recession and the result of both excessive leverage AND that leverage coming due in lump sum. Those that suffered greatest had a Maturity Wall in the 2008-2010 time fame, when lenders were skittish amount making loans generally, and real estate loans in particular.
As REITs begin to reduce their overall leverage -- to 30% or less, they will insulate themselves from most market forces that they do not control, but will be subject to. For example, Public Storage (NYSE: PSA) is a self-storage REIT with a value of $30+ billion - and virtually zero debt. It is a very successful company and eschews debt financing. They have done quite well without using debt, even though the cost of debt is near all-time lows.
A seasoned, dividend paying stock that has evidence of price performance through several cycles, and those who recognize what external forces may affect them and build-in insulation from these negative market forces are companies worthy of investment consideration.
Disclosure: I/we have no positions in any stocks mentioned, and no plans to initiate any positions within the next 72 hours.
I wrote this article myself, and it expresses my own opinions. I am not receiving compensation for it (other than from Seeking Alpha). I have no business relationship with any company whose stock is mentioned in this article.
Additional disclosure: REIT Industry expert - 25 years of applicable industry experience - now teach at Georgetown University