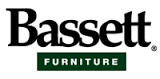 Last July, I laid out some arguments for why I felt Bassett Furniture (NASDAQ:BSET) was highly overvalued. The company's fundamentals and a questionable purchase of a trucking company made me feel that at $37, the stock was expensive. If we move forward six months shares had fallen to $23, a significant move down from my short call but recently, FQ4 results spurred a sharp, enormous move higher. The stock moved from $24 to $31 in very short order as a nice comp gain boosted the confidence of bulls. Was the move down to $23 the entirety of the downside action or is this latest spike up another opportunity to short?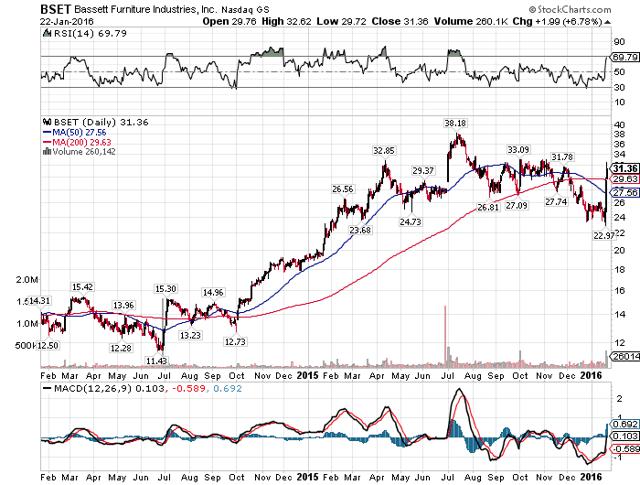 BSET's FQ4 was strong on the revenue side as it gained 22% Y/Y. However, most of that gain was due to the Zenith acquisition so when that is backed out, the gain is more like 7%. That's still a decent gain and it was due almost entirely to at 6.7% comp sales gain in the retail stores and similar gains in the wholesale segment. BSET's revenue growth has been consistent since the financial crisis after it bottomed out in 2009 and this year is certainly no different. It is important to note that BSET's streak of five consecutive quarters of double digit comp growth has ended and it could easily mean that BSET's recent strength in creating high comp growth has ended. That would certainly be a material blow to the company's bull case.
Gross margins fell 20bps to 50.3% during FQ4 at the retail stores but wholesale margins rose 20bps to 33.9%. The company's total cost of goods sold was marginally lower during the quarter but given that Zenith is now a wholly owned subsidiary of BSET, its SG&A costs have skyrocketed. SG&A in last year's comparable quarter was 47.6% but this year, it came in at 52.7%. This is the problem with owning a trucking company; BSET's operating margins are thin in the first place and the trucking business is highly sensitive to the macroeconomic environment and is also very expensive to run. SG&A costs in excess of half of the company's revenue is something I believe bulls are failing to take into account.
Despite this, BSET's EBT rate moved up 30bps to 6.9% as Zenith's operating income actually contributed to the company's bottom line. BSET's margins moving up is certainly a positive and it should be commended for doing so despite the integration of the Zenith business. However, the company's massive capex spending on the Zenith business - $14 million in 2015 alone - will eventually flow through to operating earnings in the way of higher depreciation expense. Trucking is a very expensive and capex-heavy business and while 2015's results are nice and shiny with the Zenith business becoming accretive, beginning in 2016 BSET is going to start expensing that capex and earnings will be reduced as a result. Again, I think investors are ignoring the fact that the Zenith business is not a profit center but a source of significant costs.
At 16 times forward earnings BSET certainly looks cheap, however, the uncertainty of the Zenith business should cause a lower valuation. As I said, margins are still thin - although they grew slightly in FQ4 - and the depreciation expense from Zenith's capex isn't going to help matters in 2016 and beyond. Depreciation expense is widely open to interpretation and preferences of specific accountants but if we assume that BSET depreciates its Zenith capex at the five year rate, we could very easily see millions of dollars removed from operating earnings in addition to whatever the furniture business produces. For a company with ~$30 million in annual operating earnings, that could very easily become a double digit loss of operating income simply by expensing its substantial Zenith capex. That, in turn, could put earnings estimates at risk as analysts are expecting mid-teen EPS growth for the foreseeable future. While the ultimate expense could be higher or lower, a double digit headwind from increased capex is not going to help matters.
There is no denying that BSET's comp sales are strong but there is also no denying that its growth is slowing. The streak of double digit increases in comp sales has ended and while 6%+ is enviable, BSET needs that and more to grow into its valuation. The Zenith business will begin to eat into operating earnings in 2016 as its capex is expensed. The capex schedule for Zenith will be important going forward as it will have a direct negative impact on earnings and the trucking business never stops in terms of capex needs. I think BSET's valuation is still way too high and is well in excess of its peers, which trade around the 13/14 area in terms of forward earnings multiples. BSET's sizable premium isn't something it deserves with its new trucking business and the fact that growth is slowing so I'm sticking to my bearish call; I think the move up from $24 to $31 is another opportunity to short.
Disclosure: I am/we are short BSET.
I wrote this article myself, and it expresses my own opinions. I am not receiving compensation for it (other than from Seeking Alpha). I have no business relationship with any company whose stock is mentioned in this article.