The turmoil that had hit upstream MLPs in early 2015 and midstream MLPs in the second half of the year spread to even downstream MLPs this month as crude prices fell below $30/bbl amid concerns of oversupply and China's economic weakness. Partnership unit prices of many upstream MLPs are now trading for pennies on the dollar compared to their previous highs and investors in midstream MLPs have incurred losses of more than 50%. Even downstream MLPs, which are insulated from energy price volatility due to their reliance on demand volumes rather than production regions, have experienced lower unit prices in 2016 to date. A rare exception is Green Plains Partners (NASDAQ:GPP), which is trading well above its 52-week high and only 10% below its respective high. This article examines the reasons for GPP's relatively strong performance and evaluates it as a potential long investment opportunity.
Green Plains Partners at a glance
Green Plains Partners was spun off from parent Green Plains Inc. (NASDAQ:GPRE) last June as the ethanol industry made its first foray into the MLP sector. Green Plains Partners owns and operates Green Plains Inc.'s downstream ethanol logistics capacity, including ethanol storage, terminal, and transportation assets. Green Plains Inc. owns a majority limited partner interest in Green Plains Partners and a 2% general partner interest, allowing it to utilize a conventional dropdown transaction structure. Green Plains Partners operates a fixed-fee revenue model and has the right of first refusal through 2020 when it comes to purchasing additional assets from its parent company.
Green Plains Partners has already achieved a large geographic footprint despite its relative youth (see figure). It owns 30 ethanol storage facilities with 32 million gallons of capacity, often co-located with Green Plains Inc's 1.2 billion gallons of production capacity, in multiple Midwest, South, and East Coast states. The partnership owns another 7.4 million gallons of storage capacity at its eight ethanol terminal facilities that provide it with access to multiple major rail lines. Complementing this rail access is a leased fleet of 2,200 railcars with 66.3 million gallons of combined capacity. This access has become increasingly important as the total volume of ethanol consumed in the U.S. has continued to reach new highs, necessitating access to the major coastal population centers.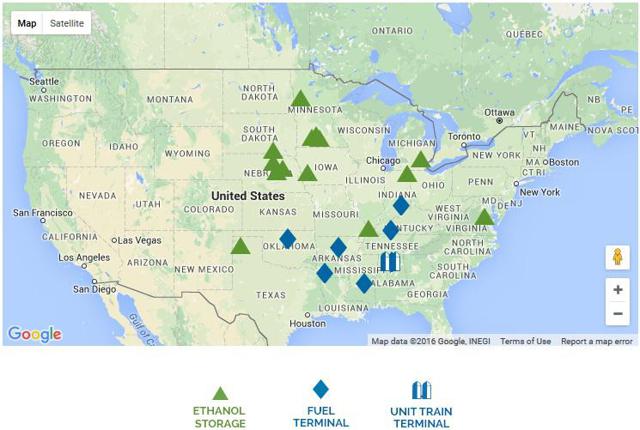 Source: Green Plains Partners (2016).
Q3 earnings
Green Plains Partners reported Q3 earnings last November, its first such earnings release. The partnership reported revenue of $21.4 million on 215.6 million gallons of storage and throughput, 80 million gallons of terminal services, and 82.1 million gallons of shipping via rail and trucking. Its operating income came in at $11 million after operating expenses of $10.4 million. It reported net income of $10.9 million, or a diluted EPS-equivalent of $0.34, missing the guidance provided in its S-1 filing by $0.03. Adjusted EBITDA also came in below guidance, by 8%, at $13.1 million.
The company attributed the miss to unexpectedly low volumes from parent Green Plains Inc., which slowed production in response to the presence of tight margins during Q3. This caused the parent's capacity factor to fall below 85% for the quarter, in turn causing Green Plains Partners' throughput to come in 9% below guidance. The MLP's distributed cash flow was $1.1 million below its S-1 guidance of $12.9 million as a result, although this didn't prevent it from making a quarterly distribution of $13 million that resulted in a coverage ratio of 0.99x. For comparison, Green Plains Partners' management is targeting a distribution coverage ratio of 1.1x.
Green Plains Partners ended Q3 with $18.2 million in cash and a current ratio of 2.3x. By comparison, it held only $8.1 million in long-term debt. Its financing remains steady in the form of a $100 million revolving line of credit. In November, the company also announced that it had formed a 50/50 joint venture with refiner Delek US Holdings (NYSE:DK) to build a new $12 million ethanol terminal in Arkansas that will include an additional 4.2 million gallons of storage capacity.
Outlook
The JV with Delek US Holdings, while small in terms of total capex, nonetheless provides an important insight into the current state of the U.S. ethanol market. The presence of consistently high gasoline prices between 2009 and 2014 caused U.S. gasoline demand growth to stagnate as consumers drove less and in more fuel-efficient vehicles. As recently as 2014, the U.S. Energy Information Administration was forecasting 2013 to be the highwater mark for demand growth and the beginning of a multi-decade trend of falling consumption. The collapse in gasoline prices that has occurred since the summer of 2014 has reversed this expectation, however, as low gasoline prices have sparked renewed consumer interest in vehicles with relatively poor fuel efficiency. Gasoline consumption is now expected to steadily increase through at least 2017 (see figure).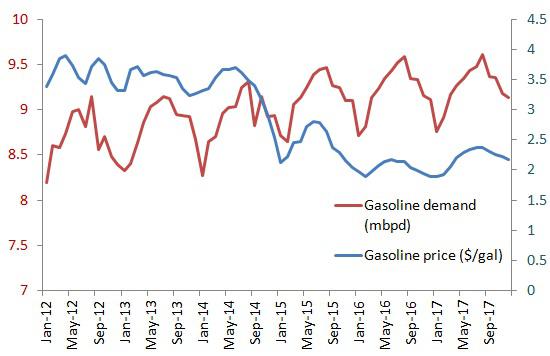 Source: EIA (2016).
Rising gasoline consumption levels represent a major benefit for ethanol producers and marketers. While ethanol serves as a common substitute for gasoline in the U.S., it differs in that it is not a hydrocarbon. Ethanol blends with gasoline on a volumetric basis are widely limited to 10% due to a lack of consumer acceptance (although the U.S. government does permit the marketing of blends of up to 15% for use in unmodified vehicles and up to 85% for use in modified "flex-fuel" vehicles). Ethanol consumption reached this 10 vol% "ethanol blend wall" in 2013 and it appeared that ethanol demand would shrink in step with gasoline consumption for the foreseeable future. While cheap gasoline has caused ethanol margins to decline sharply, it has also returned the ethanol market to growth after several years of expected stagnation.
The rebound in ethanol demand could not have come at a more opportune time for the industry. In 2013, the Environmental Protection Agency [EPA], anticipating lower fuel consumption, reduced the blending volumes required by the U.S. revised Renewable Fuel Standard [RFS2] in future years below those established by the legislation that created the mandate to ensure that the 10 vol% blend wall was not exceeded. This decision had the effect of setting the blend wall in stone and dooming the ethanol market to steady size reductions. The resumption of gasoline consumption growth caused the EPA to reverse its decision last November, however, by establishing consecutive blending volume increases for 2015 and 2016. The new 2016 corn ethanol blending volume of 14.5 billion gallons is substantially higher than November 2013's proposed de facto limit of 13 billion gallons and even May 2015's proposed 13.25 billion gallon volume.
Green Plains Inc. has responded to the combination of low ethanol margins and higher blending volumes by embarking on a wave of consolidation. The company's acquisitions and expansions are expected to increase its logistics throughput by 160 million gallons in early 2016, and it is anticipated that this capacity will quickly be dropped down to Green Plains Partners. Furthermore, Green Plains Inc. also anticipates returning to its normal production rate, with management guiding in its Q3 earnings call toward 250 million gallons production and a 95% overall capacity factor in Q4. While its success in achieving this volume won't be released until next month, Green Plains Partners did announce last week that its quarterly distribution is being increased by 0.6% to $0.403/unit, resulting in a forward yield of 11.4%. While only a small increase on its own, its timing is especially notable given recent distribution cuts by midstream MLPs.
Green Plains Partners' forward EBITDA has faltered a bit in January, but remains strong at $63.5 million. Its recent price decline has more than offset this, however, causing its EV/EBITDA ratio to move lower from 8x to 7x in 2016 to-date. This ratio remains substantially lower than that of many other MLPs despite the large price declines experienced by the latter in recent months. More importantly from the perspective of investors, however, Green Plains Partners' EBITDA results in 2016 and likely 2017 will be supported by the RFS2, which will set a floor on ethanol consumption. The partnership's fee-based structure will allow it to benefit from this volume-based regulatory approach regardless of fuel price volatility. Its distribution growth is not entirely separate from gasoline prices since, as Q3 2015 demonstrated, its throughput volumes can miss expectations if parent Green Plains Inc., reduces its own production. That said, the fee-based structure will mostly insulate it from price volatility so long as ethanol production margins remain positive. Such a result is likely since negative margins would cause production to fall short of the EPA's volumetric mandate.
Conclusion
Downstream ethanol MLP Green Plains Partners demonstrated both the strengths and weaknesses of its unique industry position during Q3. While its reliance on the ethanol production volumes of its parent Green Plains Inc., caused its distribution coverage ratio to fall short of management's target, its limited exposure to fuel price volatility allowed it to increase its quarterly distribution at a time when many of its competitors are implementing large distribution reductions. Green Plains Partners' unit price has held up well relative to both other MLPs and the broader market in recent months as a result.
The partnership's most significant competitive advantage has yet to be truly felt, however, although this is likely to change in 2016. The reversal of declining gasoline consumption rates has created new room for ethanol demand growth, the result of which was the U.S. EPA's recent decision to implement rising ethanol blending volumes for 2015 and 2016. A regulatory floor now exists under U.S. ethanol consumption, insulating Green Plains Partners' throughput volumes from negative impacts. The safety of the partnership's distribution is therefore higher than of many fossil fuel MLPs, resulting in management's recent decision to increase its quarterly amount. With substantial downside protection, a forward yield of 11%, and a parent company that is focused on industry consolidation, Green Plains Partners represents a valuable port in the storm for MLP investors.
Disclosure: I/we have no positions in any stocks mentioned, but may initiate a long position in GPP, GPRE over the next 72 hours.
I wrote this article myself, and it expresses my own opinions. I am not receiving compensation for it (other than from Seeking Alpha). I have no business relationship with any company whose stock is mentioned in this article.