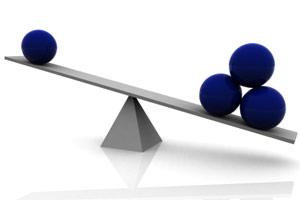 The ETRACS Monthly Pay 2xLeveraged Closed-End Fund ETN (NYSEARCA:CEFL) is a 2x leveraged ETN launched by UBS (NYSE:UBS) that tracks the ISE High Income Index [YLDA], a basket of 30 closed-end funds. The YieldShares High Income ETF (NYSEARCA:YYY) is an ETF that tracks the same index as CEFL, but is unleveraged.
YLDA is rebalanced once per year. The rebalancing methodology is explained in my article "Frontrunning Yield Shares High Income ETF YYY And ETRACS Monthly Pay 2xLeveraged Closed-End Fund ETN CEFL: Could You Have Profited?". That article also presented observations that suggest that "frontrunning" may have occurred in the index ahead of its rebalancing at the end of 2014. Prices of the CEFs to be added to the index were bid up on high volume, while prices of the CEFs to be removed from the index saw price declines, again on high volume. This forced YLDA to "buy high and sell low" on rebalancing day, resulting in losses for CEFL/YYY investors.
Interestingly, lessons appeared to have been learned by the index provider. Near the end of the last year, I noticed that changes had been made to YLDA's rebalancing methodology, as detailed in "Are You Ready For CEFL's Year-End Rebalancing?". Not only would the index changes not be made available to the public in advance, the rebalancing was also slated to take place over three days rather than over a single day. Both changes were ostensibly made to discourage frontrunning of the index, which should act to protect CEFL/YYY holders.
However, given that the methodology was published and freely available, it would have been easy for professional investors to determine the changes in the index ahead of time and still potentially profit from the rebalancing event. Briefly, the methodology ranks CEFs based on quantitative algorithm that favors funds with high yields, large discounts, and high volume. Therefore, I also attempted a crude replication of the index methodology to predict which CEFs would be added and removed from the index, as detailed in "CEFL: A Year In Review, And A Prediction Of What's Ahead" (that article also links to several of my previous analyses of CEFL).
All in all, I predicted that 16 CEFs would be added to the index and 16 removed, and with the remaining 14 CEFs unchanged. My predictions appeared to have been corroborated by fellow Seeking Alpha user waldschm85, with 27/30 matching holdings, and I also observed that some evidence of frontrunning may have already occurred in a Dec. 30th article "Has The CEFL Rebalancing Train Left The Station?".
Bombshell
Reader ksal55 was the first to notice the new constituents, which were revealed on Jan. 6th:
so the sausage making begins...

The ISE / YYY and UBS sites all now show thru 1/5 33 funds listed w/ 3 additions - Royce Value Trust (NYSE:RVT), PIMCO Corporate & Income Opportunity Fund (NYSE:PTY) and AllianceBernstein Global High Income Fund (NYSE:AWF) - but no deletions posted yet.
ksal55 was also first to report the deletions:
so i now see on the ISE site a new excel called 2016-004 YLDA January Rebalance Final

So it shows 3 deletions - MFS Charter Income Trust (NYSE:MCR) / MFS Multimarket Income Trust (NYSE:MMT) and AGIC Convertible&Income Fund II (NYSE:NCZ) - and again a total of 30 funds.
This result was a bombshell for myself and others. I predicted 16 CEFs to be added and removed, but the final result was only three. Of the three CEFs to be added, only RVT was in my list of CEFs to be added (it was ranked number 1). AWF was ranked 41st, while PTY was ranked 54th.
The inclusion of PTY was particularly confounding because it although it was ranked 10th for its distribution yield (11.69%), its premium/discount of +0.98% made it rank nearly last (135 out of 141 eligible funds) on that metric. I considered for a moment that perhaps YLDA included PTY's special dividend in its yield calculations, but this year's special dividend for PTY was miniscule at $0.03 (compared to a monthly dividend of $0.13), so that would have made an insignificant difference to PTY's overall ranking, and definitely nowhere near enough to push it into the top 30.
The three CEFs to be removed, MCR, MTT and NCZ, were in my list of 16 removed CEFs.
Making sense of the process
The fact that the actual changes were so wildly different from what I and others had predicted suggested that the difference was not due to my methodological error, but to some kind of discretionary action taken by the index provider ISE. The methodology document for YLDA states (emphasis mine):
The ISE will, in most cases, use the quantitative ranking and screening system described herein. However, subjective screening based on fundamental analysis or other factors may be used, if in the opinion of the ISE certain components should be included or excluded from the index.
Of the 16 predicted CEFs to be added, four were MLPs: the ClearBridge Energy MLP Fund (NYSE:CEM), the Kayne Anderson MLP Investment (NYSE:KYN), the Tortoise MLP Fund (NYSE:NTG), and the First Trust MLP & Energy Income Fund (NYSE:FEI). Perhaps ISE considered it inappropriate to include MLPs in the index due to the very real possibility of distribution cuts amidst the current oil crash. The commodity-related BlackRock Resources & Commodities Strategy Trust (NYSE:BCX) may have been excluded for the same reason. Other macro-related exclusions may have been the Duff & Phelps Global Utility Income Fund (NYSE:DPG) and Cohen & Steers Infrastructure Fund (NYSE:UTF), which are utility funds that might be expected to face headwinds in a rising interest-rate environment.
The NFJ Dividend & Premium Strategy Fund (NYSE:NFJ) may have been excluded because it cut its quarterly dividend by one-third, from $0.45 to $0.30 in January of this year. Although this reduced dividend was already taken into account in my calculations, perhaps ISE did not want a recent dividend cutter in the index.
I'm not sure why the NexPoint Credit Strategies Fund (NYSE:NHF), the Calamos Strategic Total Return Fund (NASDAQ:CSQ), the Calamos Convertible Opportunities & Income Fund (NASDAQ:CHI), the Templeton Dragon Fund (NYSE:TDF), the Liberty All-Star Equity Fund (NYSE:USA), the BlackRock Global Opportunities Equity Trust (NYSE:BOE) and the Eaton Vance Risk-Managed Diversified Equity Income Fund (NYSE:ETJ) were not considered, even though they appear to be reasonably solid funds to me. Basically, this year ISE has decided to only loosely follow their methodology, and to use their discretion in order to reduce the number of CEFs that would have to be rebalanced.
Seeking Alpha user quietlion has attempted to investigate this issue himself, however the information he has received from ISE appeared to be conflicted:
I talked to ISE pretty regularly leading up to the rebalance and I consistently got muddled and incorrect information until after the rebalance started. My best guess is that they were making adjustments until the last minute, so that information in the article could be entirely incorrect and maybe even designed to throw off anyone looking to trade ahead of UBS.

ISE has hidden everything behind a paywall and they will only allow subscriptions (which are $10,000) for firms that either make markets in the components of the index year-round or to subscribers who actually have a product attached to the index. So, they aren't releasing anything until after the fact.
This paywall also appeared to be new:
The paywall is new. ISE created it in order to avoid announcing the index changes so that people can't trade ahead of the UBS ETFS. Basically, the paywall and the rolling rebalance are designed to keep information from the market so that the market can't use that information against it. Obviously, these closed-end funds are very illiquid and that means the large size that CEFL in particular has to rebalance moves the price around a lot. From what I can tell, the rolling rebalance is a successful strategy for them.
This time it's really different
Recall that last year, the botched rebalancing for YLDA caused losses to CEFL and YYY holders. In a two-week period surrounding last year's rebalancing event, YYY dropped by -4.17% compared to a gain of +0.81% for the PowerShares CEF Income Composite ETF (NYSEARCA:PCEF), which is also a fund-of-CEFs but tracks a different index to CEFL/YYY. As discussed in my previous articles, I attributed this difference to the "buy high sell low" trades forced upon the index last year by the artificial movements in the underlying CEFs. The U.S. equity market (as represented by the SPDR S&P 500 Trust ETF (NYSEARCA:SPY)) and junk bonds (as represented by the SPDR Barclays High Yield Bond ETF (NYSEARCA:JNK)) returned -1.55% and +0.66%, respectively over the same period. CEFL returned -7.40%.
YYY Total Return Price data by YCharts
This year, the rebalancing appears to have gone alot better. YYY (-2.50%) has performed comparably with PCEF (-1.98%). CEFL returned -3.81%. JNK was the best performer at -0.69%, while SPY was the worst performer at -5.60%.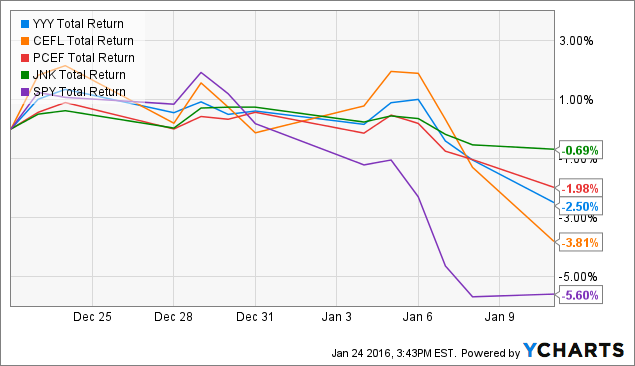 Summary
The rebalancing for CEFL/YYY has completed without fanfare. For better or for worse, ISE has decided to only loosely follow their methodology guide this year, and to exert their discretion in order to greatly reduce the number of funds that were to be added and removed from the index. Last year, over 15 CEFs were added and removed from the index, whereas only 3 CEFs were rebalanced this year. Obviously, the fewer changes that have to be made to the index, the fewer opportunities are there to profit from the rebalancing. Additionally, ISE has newly erected a paywall ($10,000 and only to eligible subscribers) while also apparently doling out misleading information to investors, in order to further throw the markets off. The chart above appears to show that they have been quite successful this year. One concern, however, is that by not following their own methodology, the index providers may be injecting their personal biases into the components, making CEFL/YYY more active than it was intended to be.
Year-to-date, JNK appears to be doing the best at -2.80%, followed by PCEF at -5.20% and SPY at -6.55%. Unfortunately, YYY and CEFL are laggards at -7.46% and -13.2%, respectively. Also included in this chart is the Market Vectors Fallen Angel High Yield Bond ETF (NYSEARCA:ANGL), a little-followed high-yield bond ETF that I have written about previously ("Harvesting Higher Yields With The Fallen Angel Bond ETF" and "If You Must Junk, Go For The Best Junk"). ANGL is focused on BB-rated "fallen angel" bonds and it also leads all comers at -2.67% year-to-date, and is a worthy alternative to those who wish to swap out of riskier investments but still obtain a reasonably high yield (5.54%).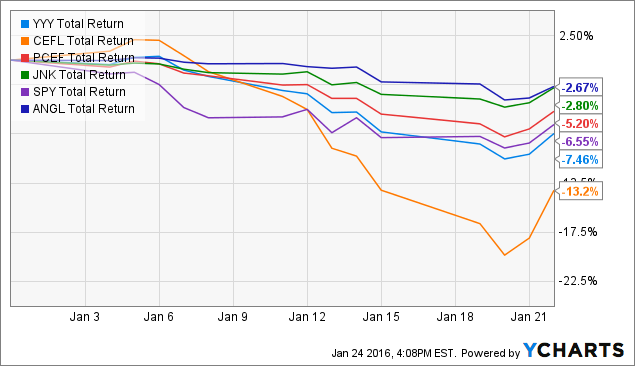 To close, I would like to thank the readers in my previous articles who helped to solve the mystery and provide useful data, including ksal55, quietlion, cpyles42, Bert Mariani, and others who I have forgotten to mention (my apologies in advance).
Disclosure: I am/we are long ANGL.
I wrote this article myself, and it expresses my own opinions. I am not receiving compensation for it (other than from Seeking Alpha). I have no business relationship with any company whose stock is mentioned in this article.