I have previously discussed the landscape of green equity investments and green muni bonds. The two represent perhaps the most and least risky ways to add some green to your portfolio. If however, you are torn between the high risk of equities and the low return of AA rated muni bonds, today's article is just for you. This article explores the happy medium called corporate green bonds and related bond funds.
Green corporate bonds
Compared to green muni bonds and green equity investments, corporate bonds are a bit late to the game. However, green corporate bonds are playing some serious catch-up. The first ever corporate green bond was not issued until 2013 by Bank of America (NYSE:BAC), almost five years later than the debut green bond issued by the World Bank. BAML then issued a $500mm three-year 1.35% bond. Since then, corporations have issued almost $15bn green bonds globally. (see below for issuance tracker)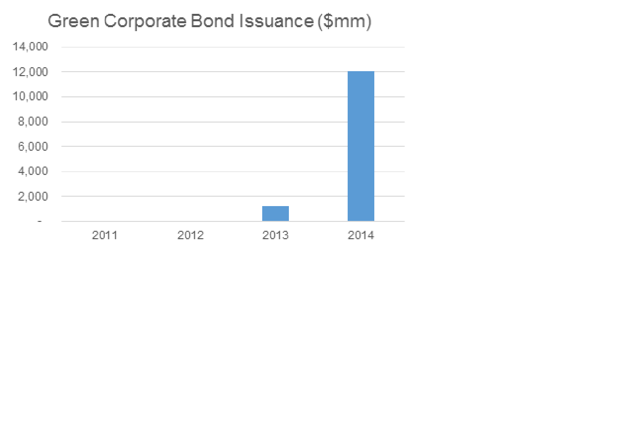 These corporate bond space presents higher return possibilities, as the bonds are usually rated lower than supra-national organizations like the World Bank or big states like Massachusetts. In fact, corporates pioneered the first high-yield green bonds in 2014. NRG (NYSE:NRG) Yield (rated Ba1) and Abengoa Greenfield SA (rated B by S&P) are such examples.
NRG Yield ($NYLD) is my favorite pick in the corporate green bond space.
$NYLD evolved from a seasoned player in the alternative energy space
NYLD is the YieldCo of the better known parent company NRG Energy. Although it only became a standalone company through an IPO in June 2013, NYLD's predecessor, a segment of NRG, has been acquiring and developing renewable energy assets for years. Now NYLD is one of the largest alternative energy asset generator in the country with nearly 30,000 MW/hr sold per year. Currently, NYLD owns a diversified portfolio of generating assets throughout the country, providing cushion against operating downturn in any single region. Furthermore, NYLD enjoys lower cost of capital compared to its parent. For example, NRG Energy last year issued a 2024 bond with a coupon of 6.25%. Just three months later, NYLD issued its bond with the same maturity (2024) but with a coupon as low as 5.375%. The treasury rate move during this period could only explain a small part of the coupon differential.
The lower cost at NYLD is partly attributed to its favorable tax status. As a company solely focused on green energy, NYLD enjoys various tax credits. In addition, the NYLD earnings can largely avoid "double taxation" at both corporate and individual holders' level, as the pre-tax earnings are largely offset by high depreciation costs and expenses related to renewable assets. In fact, management does not expect to owe much federal tax in the next ten years. Such low cost of capital thus provides NYLD more financial flexibility.
Lastly, due to its yield generating business nature, NYLD is strongly incentivized to invest in projects with steady cash flow prospects. In fact, NYLD is drastically different from traditional renewable energy stocks because investing in Yieldcos does not make a bet on the viability of the technology- the technology are operational at YieldCo in most cases.
It also has the Right of First Offer to purchase assets from its corporate parent, NRG Energy, the largest merchant power company.
In terms of investment pick, NYLD bonds are characterized by relatively stable yield and good cash flow profile. Its leverage of 2.3x and diversified projects give its bond a solid credit rating of Ba2/BB+. Compared to the BB-index, NYLD bonds underperformed since fall 2015, largely dragged down by the volatility around peer SunEdison (SUNE).
So there's room for NYLD bonds to tighten and trade back to its appropriate level, about even yield as the BB-Index, in my opinion.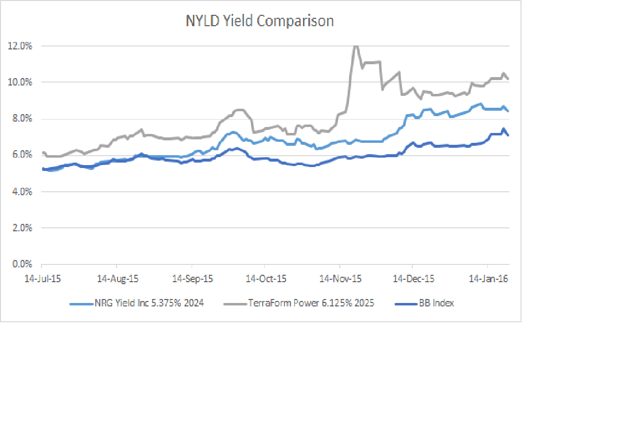 Source: Bloomberg
For the above reasons, NYLD bonds provide probably the best risk-adjusted returns in the green bond space. Investors with a higher tolerance of risk should prefer this bond over green muni bonds that I mentioned earlier.
Scarcity premium
Last time, I introduced the concept of scarcity premium [link]. If there is only a tepid scarcity premium for green muni bonds, such premium for green corporate bonds should be much more pronounced. The issuance tracker in the tables above clearly shows that the available options in corporate green bond market is far limited than the already nascent green muni bond market. Therefore, investors have to choose from a more limited set of options.
Calvert Green bond fund ($CGAFX)
Last but not the least, going back to the first mantra of investing- diversification, I need to mention the leading green bond mutual fund, too. The Calvert Green Bond Fund ($CGAFX) pioneered such funds in the industry.
The fund style is balanced between yield and conservatism- with an average rating of BBB (low investment grade) and average duration of 4.8 years. Its moderate expense ratio of 0.88% means fund investors get to bag more of the underlying gains
Disclosure: I/we have no positions in any stocks mentioned, and no plans to initiate any positions within the next 72 hours.
I wrote this article myself, and it expresses my own opinions. I am not receiving compensation for it (other than from Seeking Alpha). I have no business relationship with any company whose stock is mentioned in this article.