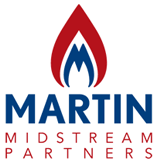 Martin Midstream Partners (NASDAQ:MMLP) is a diversified small-cap (~$600 million) MLP with an asset base located primarily in Louisiana and Texas. The general partner is split between Martin Resource Management Corporation, which owns a 51% voting and 50% economic interest, and Alinda Capital Partners, which owns a 49% voting and 50% economic interest. Martin Resource Management Corporation also owns 17.7% of the LP units.
Martin has been around since 1951, when R.S. Martin started Martin Butane Company in Kilgore, Texas, with borrowed money and a single truck to deliver butane. Alinda Capital Partners is a global firm that focuses solely on infrastructure projects. Alinda has $9.4 billion of assets under management.
Martin Midstream operates four business segments. These are shown below along with each segment's 2015 estimated EBITDA in parenthesis:
Natural Gas Services ($81.1 million)
Terminalling & Storage ($72.0 million)
Sulfur Services ($27.4 million)
Marine Transportation ($22.2 million)
As depicted in the asset map below, the partnership's assets are concentrated in Louisiana and Texas, with some outlying terminals in various other states: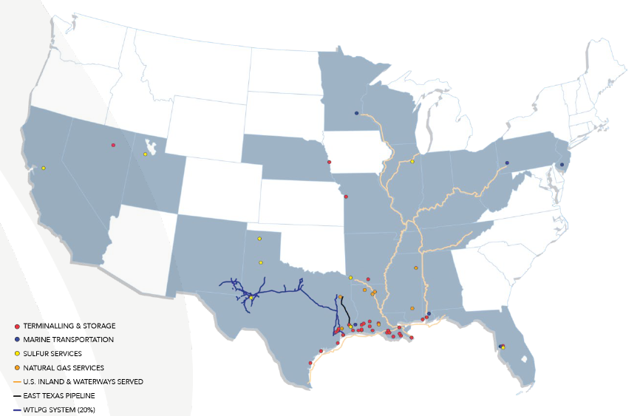 Source: January UBS MLP presentation
While ~70% of EBITDA is fee-based, MMLP has several businesses that are margin-based and thus exposed to weak commodity prices. These include the following, with the reporting segments in parenthesis:
Margin-based lubricant packaging and grease divisions ("T&S")
Margin-based wholesale NGLs ("NGS")
Margin-based molten sulfur and fertilizer contracts ("SS")
To see the impact of these margin-based businesses on MMLP's financials, I took a look at the Q3 EPS report. It is a complicated EPS report. Not only are there a lot of moving parts to MMLP's businesses, but also the way the partnership reports individual segment revenues is complicated because they are broken down into "related party transactions". Being new to Martin Midstream, and to account for any qoq variance, I have summarized (by operating segment) the first nine months of revenue and operating income below. Included is the percentage change from the year earlier period.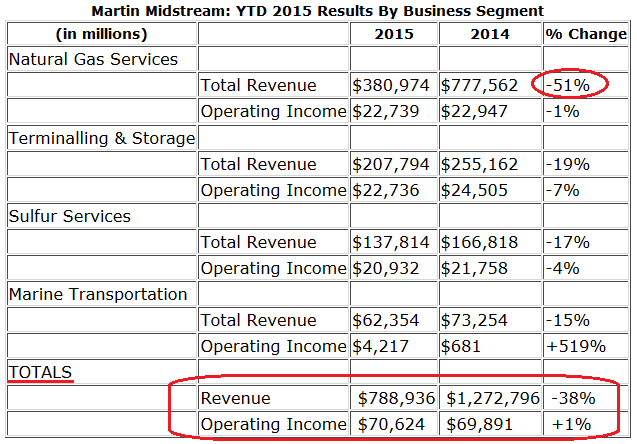 Source: Summary & Tabulations by the Author based on MMLP's Q3 EPS report
As expected, given the domestic glut of NGLs, and the correspondingly low realized prices, total revenue for MMLP's largest segment - Natural Gas Services - was down 51% over the first nine months of 2015 as compared to the prior year. Impressively, operating income was down only 1% in the segment.
More of a surprise was revenue declines of -19% and -15% in the T&S and Marine Transport segments, respectively. With domestic shale production remaining resilient, and with refineries running at historically high utilization rates, one would have thought these segments would have reported relatively strong yoy results. According to the latest Scotia Howard Weil Refining Report, Gulf Coast crude and gasoline inventories were up strongly yoy...

...and the refinery utilization rate was significantly above the five-year average during the first nine months of 2015.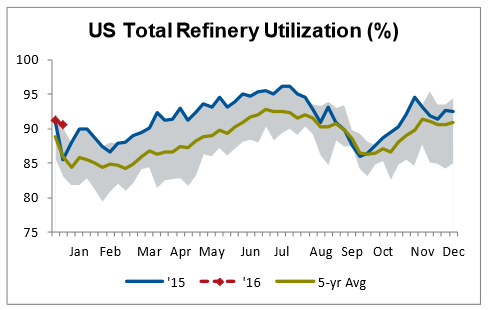 And gasoline demand was significantly above the five-year average for every month of 2015. Given this rather bullish backdrop, and the fact that MMPL owns or operates 47 terminal facilities with an aggregate storage capacity of 4.2 million barrels, the T&S and Marine Transport segments appear to have significantly underperformed versus their opportunity potential. And don't get too excited about the 519% increase in operating income for the Marine Transport Segment shown in the above chart - that was largely due to a $3.4 million impairment in 2014. Otherwise, operating income would have been relatively flat for the segment.
Considering total revenue was down 38%, it is impressive that total operating income was actually up 1%.
One bright spot was the $1.1 million increased distribution from the West Texas LPG Pipeline ("WTLPG") joint venture based on new shipping tariffs. MMLP purchased a 20% ownership interest in WTLPG back in 2014. WTLPG owns a 2,300-mile pipeline system that transports NGLs from New Mexico and Texas to Mont Belvieu, TX, for fractionation.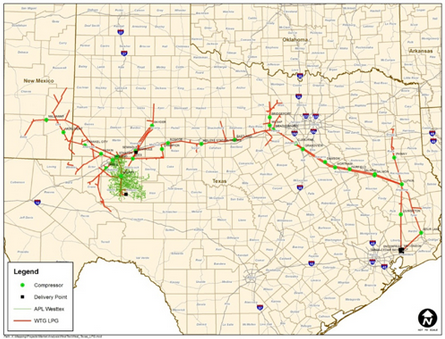 Source: Atlas Pipeline Partners 10-K
ONEOK Partners (NYSE:OKS) bought an 80% interest in WTLPG from Chevron (NYSE:CVX) in 2014 and is the operator of the pipeline. It's a nice asset to take advantage of the growing NGL production in the Permian Basin. Unfortunately, MMPL's 20% interest equates to only about $9 million in estimated EBITDA for 2015. WTLPG looks to beat that guidance, with perhaps ~$10.3 million in actual EBITDA for the full year, but let's face it, that's a small slice of the overall pie (~$200 million annually).

The partnership's EBITDA from continuing operations for the first nine months of 2015 was $136.8 million. That's up 29% over the same period in 2014. The partnership's YTD distributable cash flow from continuing operations was $98.1 million - up 61% from the $60.9 million in the year earlier period.
For Q3, the coverage ratio was 0.87x. For the last 12 months, the coverage ratio was 1.02x. The current quarterly distribution is $0.8125/unit. Looking at the partnership's distribution history, we can see that it is unchanged since Q3 of 2014. Perhaps more of a concern for investors looking for distribution growth is that the current distribution level is not appreciably higher than that way back in 2009: $0.75/unit.
Last Friday, the partnership announced the distribution would be unchanged from the previous quarter. The units popped 7% on the news - but I am not convinced the rally is justified. The current ~20% yield indicates investors are not convinced the distribution is sustainable. After reviewing the first nine months of 2015 financials, there appears to be reason for concern.
Credit Metrics
At the end of Q3, Martin Midstream had a total debt load of $884 million. $500 million on the revolving credit facility is due in 2018. In August of 2015, the revolver was downsized from $900 million to $700 million - not something that gives investors confidence going forward. $400 million in Senior Notes are due in February of 2021. These notes were issued with a yield of 7.25% - on the high side for midstream borrowings.
Based on TTM adjusted EBITDA, the current debt/EBITDA ratio is 4.85x. Anything over 4 is a red flag, 4.85x is a red flag whipping in the breeze.
Summary & Conclusion
Martin Midstream Partners is one of the more complicated MLPs I have analyzed. A slide from the Q3 conference call presentation illustrates my point: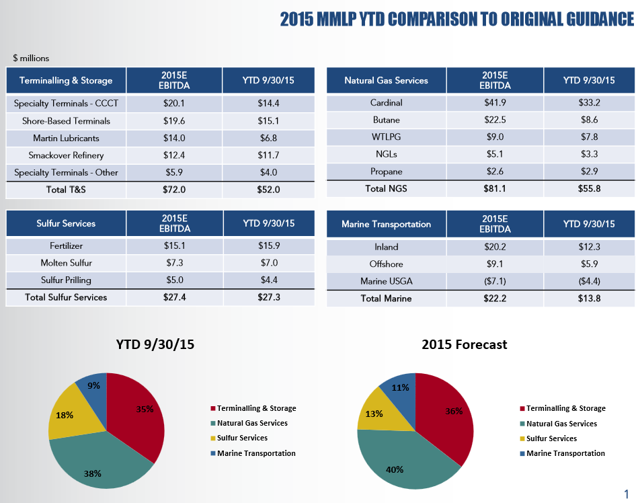 There's just a lot of moving parts here - everything from your everyday midstream assets like terminals and storage facilities, to lubricants, molten sulfur, and fertilizer. It must be difficult to focus on such a disparate number of businesses. In addition, the geographic footprint is spread out with some small operations quite far from the main asset base in Texas and Louisiana. At the end of the day, the two primary operating segments are the Natural Gas Services and Terminalling & Storage businesses. Neither is currently performing well. Even the Marine Transport segment has declining yoy revenue despite a robust refining environment that would seem ripe with excellent opportunities to transport both feedstock and refined product.
The coverage ratio in the current quarter was only 0.87x, and credit metrics are definitely on the high side.
Despite the recent announcement that the Q4 distribution will remain unchanged, I am dubious of the reaction rally last Friday. In addition to the rather complicated and seemingly unrelated businesses, even the GP structure is not straight forward with dual-ownership and an unclear drop-down strategy. Growth appears to be reliant upon the ("two") GP's funding organic growth projects and/or acquisitions as opposed to a normal MLP drop-down strategy. Perhaps this is why there has been anemic distribution growth over the last five years or so. In addition, last September, S&P affirmed a "highly levered" outlook on the partnership and suggested the coverage ratio in 2016 would be less than 1x. I concur. Investors should not be seduced by the current ~20% yield. In the current market environment, you could lose that much in one day with a drop in the unit price on a bad quarterly report. Q4 results are due out on February 24th, and I suppose they could surprise to the upside. I doubt it. Forget the distribution and yield. Take advantage of the rally Friday and SELL the units.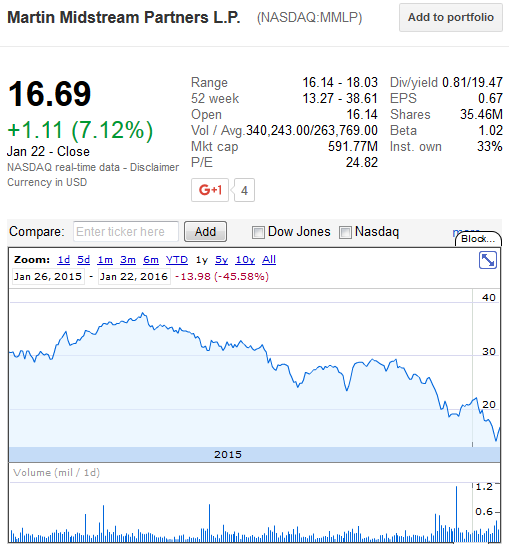 Disclosure: I am/we are long CVX.
I wrote this article myself, and it expresses my own opinions. I am not receiving compensation for it (other than from Seeking Alpha). I have no business relationship with any company whose stock is mentioned in this article.
Additional disclosure: I am an engineer, not a CFA. The information and data presented in this article were obtained from company documents and/or sources believed to be reliable, but have not been independently verified. Therefore, the author cannot guarantee their accuracy. Please do your own research and contact a qualified investment advisor. I am not responsible for investment decisions you make. Thanks for reading and good luck!