Note: All monetary amounts are expressed in Canadian dollars.
IAMGOLD (NYSE:IAG) is a mid-tier mining company with four operating gold mines on three continents. The firm expects to produce between 770,000 and 800,000 ounces of gold in 2016. These mines are characterized by their high cost. For the full-year of 2015, the all-in sustaining cost is expected to be around $1,100. Consequently, IAMGOLD would be impacted severely if the gold prices drop below $1,000. On the other hand, you will need a telescope to see how high the stock price would go if the gold prices return to $1,400.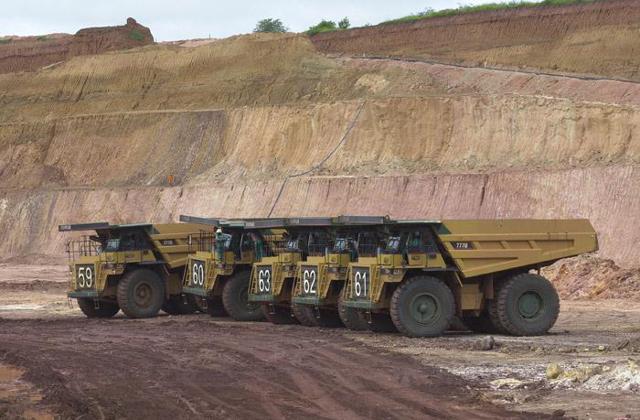 (Source)
By using rough numbers, this aspect can be summarized easily. With an all-in sustaining cost of $1,100 and a gold price of $1,150, the profit margin is equal to $50. If the gold price increase by a mere 4.34%, the profit margin jump to $100. If it goes to $1,300, the profit margin becomes equal to $200. The following graph illustrates the situation.

(Source: Author's calculations)
This leverage becomes extremely attractive in a rising gold price environment. In my opinion, IAMGOLD is well-positioned to weather the challenging conditions in the mining sector with its strong balance sheet.
As of the third quarter of 2015, the firm had $843 million in cash and cash equivalents and $836 million in long term debt. Consequently, I am not worried about the financial leverage. It is also possible to calculate an healthy current ratio of 4.47. With $1.38 billion in current assets and $1.92 billion in total liabilities, the net current asset value is negative by only $542 million. These metrics demonstrates the robustness of its balance sheet. It reduces the downside risk by a meaningful amount.
As a deep-value investor, I am trying to buy $1 for 50 cents. What is the value of IAMGOLD? I will try to answer this question with the mineral reserves and resources estimate. They have been estimated as of December 31, 2014 consistent with the Canadian securities regulatory requirements. The table below shows the attributable proven reserves for the four operating gold mines.

(Source)
It is important to mention that proven reserves are those which have an over 90% chance of being present. Proven reserves are also called 1P reserves. The norm in the industry is to value a mining company based on the proven and probable reverses or 2P reserve. The probability to recover the probable reserves should be at least of 50%.
Based on a gold price of $1,300, an all-in sustaining cost of $1,100 and 2,544,000 in proven reserves, IAMGOLD is worth around $508 million or $1.30 per share. With a gold price of $1,150, the value of the company drops at approximately $127 million or $0.32 per share. This is an Armageddon scenario and the probabilities that the stock reaches this price are extremely low. In this scenario, the margin of safety is huge. Indeed, I only take into account the proven reserves.
What is the value of the company based on the proven and probable reserves? The following graph illustrates the probable reserves.

(Source)
With 8,608,000 ounces in proven and probable reserve, it is possible to calculate an intrinsic value of around $1.27 billion or $3.22 per share considering a gold price of $1,248 per ounces and an all-in sustaining cost of $1,100 per ounces. According to my calculation, the intrinsic value is around $1.1 per share with a gold price of $1,150.
I attributed a value of $0 to the Côté Gold project due to its speculative nature. Moreover, a value of $0 was assigned to the Yatela Gold mine because it will cease production by the end of 2016.
The management did a great job by reducing the all-in sustaining cost. For the full-year of 2016, IAMGOLD expects to have an AISC between $1,000 and $1,100. By using the midpoint of this range, it is possible to calculate an intrinsic value of $860 million or $2.18 per share with a gold price of $1,150.
As I said earlier, the margin of safety is a crucial concept in my investment philosophy. A price of $1.4 per share provides a margin of safety or approximately 33.33%.
In conclusion, I would be a buyer of IAMGOLD if the stock price drops below $1.4 or lower. The intrinsic value of the company is around $2 per share in my mind. At the moment, the company looks slightly undervalued. However, the margin of safety is not sufficient to buy the stock. Likewise, it is not a good idea to sell the stock at the moment in my mind. Currently, I consider IAMGOLD as a hold.
I am an undergraduate student, not a professional. Please take this factor into consideration. Please do your due diligence and consult your financial advisor before taking any action. I am not a financial advisor. This article expresses my opinion only.
The opinions in this document are for informational and educational purposes only and should not be construed as a recommendation to buy or sell the stocks mentioned. The information in this document is believed to be accurate, but under no circumstances should a person act upon the information contained within. We do not recommend that anyone acts upon any investment information without first consulting an investment advisor as to the suitability of such investments for his specific situation.
Disclosure: I/we have no positions in any stocks mentioned, and no plans to initiate any positions within the next 72 hours.
I wrote this article myself, and it expresses my own opinions. I am not receiving compensation for it (other than from Seeking Alpha). I have no business relationship with any company whose stock is mentioned in this article.