There will continue to be polarizing views on Fitbit (NYSE:FIT) as the company navigates its way through the next couple of years. During this time the company will wade through competitive threats, expansionary efforts, hurdle over various obstacles and succumb to inevitable mismanaged steps along the way. With executives having already cashed in significant equity holdings, they're fortunes are likely not tied to the success or failures of Fitbit going forward. No company is perfect and Fitbit will exhibit, as if it hasn't already, the typical growing pains an immature company exhibits along their public journey.
Shares of FIT have tumbled mightily over the last several weeks and upon entering the New Year. They have done so in a very justifiable manner as the company validated its core competencies at the Consumer Electronics show. As many an investor desired to witness the company introduce a product outside of its core competency, Fitbit disappointed with yet another fitness tracker/smartwatch device named "Blaze." The worst aspect concerning this soon to be launched device was that it will do little to advance the business of Fitbit beyond distribution. Like most fitness trackers/smartwatches, sales data validates that beyond the $99.99 price point, sales for such devices drops off precipitously. Blaze will retail for $199.99, not including a necessary band. Additionally, most advanced functions on the Blaze like text and phone calls are read only display functions as the consumer will need a cell phone to interact with these functions.
While some have touted the Blaze, Best In Show Awards at the recent Consumer Electronics Show as meaningful, such awards are worth very little to the average consumer and rarely lead to any meaningful sales increases for the company. There is plenty of evidence available to validate this understanding and render it superior in the aspect of due diligence. SodaStream (NASDAQ:SODA) has won almost every award in its lowly product category and for several years. And the sales results have been what for SodaStream? Keurig (NASDAQ:GMCR) has won almost every design and application award for its larger category as well over the many years and what was the company specific results over the last 18 months? For the specific award linked here regarding Keurig Vue, investors also should understand the Vue was discontinued from distribution in 2014 due to extremely poor adoption of the product. I could probably list another 50-100 examples, but I think readers get the point of how not to emphasize specific data over those that are generally more important. Product awards should be on the bottom of your due diligence priority list and the Blackberry Torch is just another example of such a portrayal.
The Blaze product is a nice product designated for a niche segment within the fitness tracker business segment. It will not be a leader in the business segment and will likely only prove accretive to the Fitbit business in the first 12 months and successively depreciate in business value post distribution saturation. This might seem like a prognostication, but it happens with each and every consumer good and vendors/manufacturers understand this as part of doing business. It's just one of the reasons they are constantly forced to upgrade and/or deliver new iterations of the existing product. If they do not, they are left with product sell-through and product sell-through is never as large as initial pipeline builds. As far as the Blaze opportunity in Asia-Pacific, I would expect this to be less than in North America and largely due to competition from a leading brand in the region that is Xiaomi. At nearly half the price of most Fitbit products due to lower cost structures, Fitbit will find itself embattled with Xiaomi in the region. Investors would be wise to model for the opportunity in Asia-Pacific, long-term, accordingly. If you have any plans on dedicating investing capital to FIT over a three-year period, strip out the sales from original pipeline builds and model beyond that anomaly. Hopefully, management will disseminate some of their new pipeline builds for the region in quarterly transcripts.
It's a terrible epidemic facing our society over the last 30 years - obesity. Fortunately, this graph identifying the problem is being addressed as it has been for the last 30 years with government programs, private institutional case studies and even consumer goods in the marketplace, like Fitbit.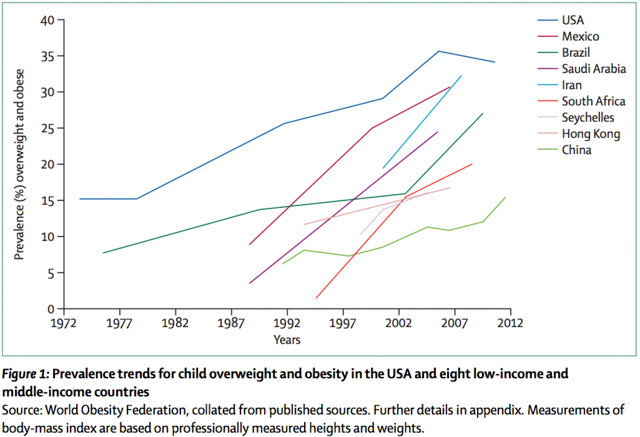 Moreover, it should be recognized that the trend in place over the last several decades hasn't reversed and is reinforced by low cost, unhealthy foods, awesomely entertaining video games that keep us inactive and just the general malaise surrounding the nature that is the human struggle to exercise. Simply put, most people don't get enough exercise and there are only limited signs of the trend changing. Healthy foods are too expensive for the largest consumer demographic in the world and even though we know we need to exercise more it's human nature to take the easiest path provided. That's not me talking folks - that's the graphic above. Maybe when the gaming industry starts to show cracks in its growth trajectory, the fitness trend will be able to offset its impact on the obesity epidemic that has had a stranglehold over society. If we force ourselves to compare the size of the gaming industry with that of fitness trackers then I hope Las Vegas will give some points to the fitness tracker betting population. Las Vegas wasn't too kind to Fitbit recently.
As Fitbit and the wearables business segment head into a mature phase of the business cycle they will aim to achieve an even larger portion of the health and wellness dollars available to vendors/suppliers of fitness devices. Fitbit will expand into markets with lesser consumer spending dollars than that of the United States, which it has already done in recent years. Entering the Chinese market last year marked a pivotal point in the business cycle for Fitbit as it also identified a rather saturated U.S. marketplace. No other country in the world can offer Fitbit the consumer dollars that are provided to the firm in the United States. It's with this point of fact that I expect Fitbit to focus on global expansion in 2016. Investors should better understand that if you were to combine Europe, Asia-Pacific and CEMEA, the totality of these regional sales would not add up to the sales Fitbit garners from North America. Secondly, it wouldn't even be possible for these regions to ever catch up to sales in North America, as distribution channels outside of North America are less than one-third of that in North America. Ohhhh the Americans, how gluttonous we can be, no? It's a matter of perspective and when investing in a consumer goods company investors need to consider a greater understanding of how a company distributes goods and acquires sales globally.
North America will remain Fitbit's largest market until sales begin to peak and eventually decline - as they will for such a small category defined by health and wellness. Oh it's small you say? Yes, it is quite small and for each individual segment of the health and wellness category the available market is even smaller. Examples are very easy to see and analyze in the health and wellness category. Foods are obviously the largest segment of the health and wellness category and they always will be. That should be obvious, as humans do need their foods. This is not an opinion in case you were wondering, as we definitively need food to survive. Whole Foods Market (NASDAQ:WFM) is the largest retail provider of healthy and/or organic foods and analysts expect the company to generate some $16bn in revenues this year. This represents low single-digit sales growth for the company year-over-year. After multiple years of double-digit sales growth and each year showing a slowing of the growth before ultimately entering single-digit sales growth territory, the company has fallen on tough times with declining same-store-sales in 2015. If it weren't for opening a number of new stores, total net sales may have been negative for the health food provider.
Whole Foods Market is a great company that has exhibited some missteps as it matures and finds its total addressable market to be less than it had anticipated. While the company has boasted for a great many years that it believes there is sufficient room to grow the brand to some 1,200 doors analysts went along for the ride assuming these numbers and projections to be accurate. Having said that, in 2015, most analysts have been forced to model for total Whole Foods Market doors to be significantly less than previously offered by the company. Part of this forced remodeling comes on the heels of the company outlining a completely new store concept for 2016 called 365. This concept will have lower priced, healthy foods and a different atmosphere that caters to a broader population demographic inclusive of millennials. It's funny how for most every single business segment and category that issues a forecasted addressable market and potential market cap, it always, always fails to achieve this forecast. None of this means or defines Whole Foods Market as a lesser company, but investors would have been wiser to see the forest through the trees. The same will happen to fitness trackers and Fitbit and while that may seem to be an opinion, the argument would be with history and not with me.
We are discussing health and wellness and the example of Whole Foods Market is ideal as its products are specifically focused on this category. A comparison to Kroger's (NYSE:KR) total net sales, which has not boxed itself into such a small category, identifies just how small the health and wellness category is for investor consideration. Coming off of one of Kroger's best years in several decades, the retailer is expected to grow sales to nearly $110bn in 2016. Remember, Whole Foods Market is only expected to grow sales to $16bn in 2016 or roughly 16% of Kroger's total net sales. One could very easily add The Fresh Market (NASDAQ:TFM) to this total "foods" pie of the health and wellness foods category and achieve only another $1.5bn in 2016 to add to the category.
If one doesn't find the ability to appreciate the foods category as a paradigm for which to understand just how small the health and wellness category is within the context of total retail sales then try sporting goods. But keep in mind that food is the number one category for sales volume in the world. Remember, we need food to survive and everything beyond that is secondary. Fitness trackers are related to sporting goods so why not check out Dick's Sporting Goods (NYSE:DKS) and compare it to Whole Foods Market? Analysts expect Dick's to report $7.3bn in total sales for 2016, not even half of what is expected from Whole Foods Market. And the worst part of this exercise is that Dick's has more store locations than does Whole Foods Market. I sincerely hope that investors and readers are getting an idea of just how wrong those projections are concerning the total addressable market for fitness trackers and smartwatches. It happens with every single new product category that comes shooting out of the starting gate with a strong marketing push, compelling technology and achieves early adoption. Economists, analysts and data gathering firms shoot first with "pie in the sky" forecasts and projections, but are forced to ask questions later and when the forecasts fail achievement. What I've offered in terms of comparisons and rationale are categories. Health and wellness foods and sporting goods are both categories. As defined by every single retailer in North America, fitness trackers are a sub-class within the class of fitness monitors. What I'm helping to identify here is that the opportunity for the product line of fitness trackers is not even forecasted by the retailers distributing these goods to garner its own category or class. Don't recall seeing any of this information provided by a single analysts or data tracking firm? Hmmm, maybe I will type the key words into a search engine to see if it comes up any place else as a point of interest for fitness trackers. If you don't get into the weeds when investing in a non-essential consumer good, you're likely not affording yourself appropriate due diligence.
Fitbit has an advantage over the competition, undoubtedly. The first mover advantage is generally the best advantage a company has against competition. Additionally, Fitbit has the inside track with regard to providing goods to corporations. But investors should not confuse themselves regarding this potential market that is healthcare providers and corporations otherwise known as the commercial market. Again, an exercise in understanding market potential and size is relevant. The consumer market is the largest market in the U.S. and for most of the "free world." It is more than double the size of the commercial market. If you had ever wondered why companies target the consumer first, this is the reason why. If we revisit my expectation for Fitbit to focus on global expansion in 2016 as North America is nearly saturated in terms of distribution, I also would expect Fitbit to focus on commercial accounts. After all, the company has to at least match the order from Target (NYSE:TGT) in 2016. Unfortunately, I haven't seen many, if any, Target employees wearing the devices from Fitbit, but of course it is reason to believe that if the average consumer attrition rate for Fitbit is above 40%, the corporate provided goods attrition rate is likely higher. And for this rationale it serves to prove why corporates have to offer incentives for Fitbit users.
There is the new reality of our time that may prove to advance Fitbit adoption. This comes to us via the PHIT Act. Unfortunately, what many don't realize is that the PHIT Act was actually introduced in 2009 - it is nothing new and is consistently amended to hopefully improve our adoption of anything materially related to our overall health and fitness activities. Think of it as those legislative measures that have carried us through the war on drugs and to a point where legalization of marijuana is now at the forefront of many state ballots. It's pretty amazing what the government simply can't do and that is helping us take care of ourselves. With that being said, what is new is the PHIT Act's introduction to the Senate last year.
"Introduced April 27, 2009 by Rep. Ron Kind (D-WI), The Personal Health Investment Today Act (H.R. 2105), commonly known as PHIT, is legislation pending in Congress to allow for reimbursement of physical activity expenses using pre-tax dollars. PHIT would expand the definition of a medical expense to include qualified physical activities as a form of prevention. Contributions to existing pre-tax medical accounts, flexible spending accounts and re-imbursement accounts could be used to pay for physical activity expenses. The contributions are limited to $1,000 for individuals and $2,000 for families annually and would not increase existing caps on contributions to pre-tax accounts.

Expenses that would be covered include:

Youth camp and physical activity fees
Membership and dues in a health club
Exercise/fitness classes or instruction (personal trainer)
Sports league fees (adult and youth)
Marathon/triathlon registration fees
Sports and fitness equipment used exclusively for participation in physical activity.
I would hate to be the analyst who thought this was something new, improved or meaningful to any vendor supplying goods into the fitness marketplace. I also would hate to be the consumer who received a discount already on any fitness goods product only to learn that this would void the hoped upon tax credit. And by the way, that is just one of the reasons the bill hasn't gone anywhere for the greater part of six years already. Hoping that a legislative bill will lead to better health and wellness accountability of individual citizens - is that really what Fitbit analysts and investors are pinning their hopes to going forward if not in part?. I don't think I want to be in that line, but that is just me as we wade through the history of government intervention within the physical fitness aspect of society? War on drugs seems to be going well after all and with an offering of forgiveness. Let's not have ridiculous notions when investing in companies that have to build this type of legislative bridge to future sales. And if you think I'm being overly sarcastic or maybe a touch harsh in the analysis, juxtapose the graphic above with prior executive orders designed to improve our health and fitness levels as a society. Nixon, Kennedy, Johnson, Ford, Carter, Regan, Bush X 2, Clinton and Obama have all tried, but the graphic tells you the overwhelming obstacle facing legislative measures to improve our health and fitness. I hope PHIT does become fully implemented and fully taken advantage of by society, but I know its relative value is also indisputably worthless. You didn't think health and wellness was a revolution did you? That's a 30-year revolution in the making. No wonder the deficit is some $19 trillion and counting.
While I can understand that the undeniable and proven assessment of the total addressable market for Fitbit has been exaggerated with limited sales data of a maturing product segment, it doesn't mean FIT won't or can't do well in 2016 or even into 2017 for investors. In fact, and as I've stated previously, my expectation is that shares of FIT will rebound, if not in total then at least in part. My first Fitbit publication was issued in the pre-market on January 4th, after being sent to dozens of hedge funds and institutional clients over the weekend. The stock has plunged from $29-plus to less than $16 since then and of course rebounded - as expected - most recently to the current trading price just below $19 a share. While some may still be looking in the rear view mirror, touting the company's former revenue growth rate of 168% YOY, they are failing to see the forest through the trees that most are able to see, understand and appreciate for what it is worth, a lesser multiple than its IPO trading price garnered. Fitbit is not growing revenues at 168% YOY going forward - that is the reality and that is supported by the company and its affiliated analysts. In fact, the average analyst estimate for net sales growth in 2016 is only 33.4 percent. The trend is your friend when analyzing the potential for growth in Fitbit and that trend is decisively showing extreme slowing of growth as it does with every single one-trick-pony consumer good company that finds its distribution channels becoming increasingly saturated. Eventually the company will be facing same-door-sales or organic growth if you will. And that's why investors or would-be investors should understand the sell-through rate of these fitness tracker products, because it is quite eye opening. If you don't have access to sell-through data then I would recommend achieving such important data.
Fitbit will not grow net sales at 33.4% in 2016 and it will more than likely be able to overachieve if all goes according to its plans. The firm still has near-term opportunity outside of the U.S. to saturate its distribution reach. As Fitbit closes in on 50,000 doors globally, they have roughly 20,000 doors to go before saturating its distribution network. But ultimately once the international opportunity is found saturated, the company will find itself facing the same problems it faces today, a need to diversify its product line that only addresses a very small market. My current model exhibits strains in the U.S. market exhibited through current sales data that will become more prolific and meaningful by Q4 of 2016. This is not to say that same-door-sales aren't growing for the firm, but rather the rate of growth is disgustingly slower than the previous year for the same period and that trend will not reverse in 2016. It is virtually impossible to do so for the company given its business model.
I don't believe it is appropriate to define whether or not FIT is fairly, overly or undervalued at this time. Given the volatility in the stock and executives already selling shares of the company into the market, there is too much doubt, favor, supposition and misinformation surrounding the FIT story. Couple those variables with the substantial slowing of sales growth and it is hard to define where sales growth will ultimately find a base in the coming quarters and years. I think many investors make the mistake of looking at past metrics and assign a valuation to the company using historic figures. While some industries allow for such exercises with relevance, consumer products companies that have only one product line don't afford the same relevance. While history does factually support fitness tracker sales volume will exhibit a decline at some point, it remains to be seen when that point will arrive. For the aforementioned reasons, I would not expect shares of FIT to garner more than a 22 PE going forward and assuming 2016 is met with business success. This PE model exists as a 12-month model for my proprietary analytics, but in no way suggests even this PE designation will be achieved or surpassed.
The attrition rate of a product is the biggest clue into the future success of the category for which it participates. With Fitbit, the attrition rate is disturbingly high and for such a reason most bullish investors desire not to discuss the topic of attrition. In fact, they will leave it completely out of their analysis, focusing on proven irrelevant and less substantive metrics or anecdotes. For an even worse view into the attrition rate for such devices and applications that include social media and e-platforms, Under Armor's (NYSE:UA) Record application boasts an attrition rate that is even greater than Fitbit's attrition rate. The Record app has 150,000,000 registered users, but only 60,000,000 monthly users. By the way, if you think the existing and/or pending class action law suits against Fitbit are frivolous or without merit, then don't visit the Better Business Bureau or its website. And if you do, don't compare fitness tracker brand complaints with that of other consumer goods. You might find yourself taking a completely different view after doing so. As color-blind as I may be, I can see the yellow cautionary sign before the product segment as a whole and if this business segment is actually in its early life cycle as some erroneously promote it to be, I don't know that I would want to be there in the latter stages of the life cycle.
Unfortunately, fitness trackers are not personal computers that served to provide a great many benefits to mankind and business that we very obviously could not be provided for without them and didn't achieve before their time. In fact, most every single aspect of a fitness tracker can be offered by our five senses and without the additional expense of a fitness tracker. Want to know how out of shape you are - step on a scale or simply look in a mirror. Want to know your hear rate during physical activity - simply be smart enough to know it goes up during physical activity. Want to know your daily food and caloric intake? Assign yourself the task of inputting and tracking that data - I'm sure amongst your list of daily chores this is one you will opt for also. But like the attrition rate provided above you will probably opt out of this rather quickly and become one of the many "attritioned" fitness tracker users.
I'd rather not discuss the Apple Watch (NASDAQ:AAPL) as a competing brand in the fitness tracker/smartwatch space, but if I must then I must. Unfortunately, for many they only ascertain one side of the story and fail to understand its relevancy to Fitbit. Remember when I offered/disclosed what happens to sales post distribution saturation? So let's talk about what is the most important correlation between the Apple Watch and Fitbit products or the Blaze in particular. As I've stated many times before, post distribution saturation, the Apple Watch will have a very difficult sell-through period. It's expensive, requires an iPhone and blah blah blah. And of course, now that its distribution has largely been saturated as the Apple Company has a much smaller distribution network than Fitbit, the sales are proven to be as expected, lesser than its other product lines post the launch period. Sell through of these fitness tracker devices is increasingly weaker than pipeline builds and as the market becomes saturated and individual users attrition from the product segment. The same is happening to Fitbit, hence the forecasted slowing of growth going forward by every single analyst covering Fitbit. It's an undeniable understanding and the only thing relevant between the two firms in question.
My advice is not to focus on the competitive threats but rather focus on the number of doors that exist for each company and what sales are representing post distribution saturation. At the very least, and inarguably, distribution equals sales. If one desires to single out Apple and ask the question as to why the company would focus on the wearables sector given its limited potential under examination, why would they not also ask the question as to why Apple should not acquire a leader in the wearables business segment. Lastly, with the $700mm that Under Armour has spent in the last several years for the fitness tracker business segment, why did they not just acquire or invest in the likes of Fitbit? I think those are the most reasonable questions investors should ask themselves and the most telling sign of all. Try and participate with less money than it would take to acquire an unproven business model. After all, many have failed before Fitbit right? Isn't that the way we tie things together in a rosy knot for the category as a whole and as we look in the other direction, which blinds us to the attrition rate?
Fitbit has a bright future, "executively" speaking and as most executives have done very well for themselves with the company IPO. Seed funders have also done well for themselves and as such their futures post Fitbit will likely be even brighter. But investing in Fitbit over a three-year period may prove to be disappointing. In the near term I would forecast a nice pop for shares of FIT that coincide with its Q4 results and pending FY16 guidance. I believe analysts' estimates will change a good deal in 2016 as well and as they find it difficult to pinpoint when and where distribution saturates itself and FIT is rendered with the issue of same-door-sales. My goal in 2016, if choosing to partake in shares of FIT, is to trade it profitably, but not resign myself to a long-term investment based on the factual representations noted within and the supportive historic trends underneath those representations. And with that I wish all a profitable 2016!
Disclosure: I/we have no positions in any stocks mentioned, and no plans to initiate any positions within the next 72 hours.
I wrote this article myself, and it expresses my own opinions. I am not receiving compensation for it (other than from Seeking Alpha). I have no business relationship with any company whose stock is mentioned in this article.