"I have but one lamp by which my feet are guided, and that is the lamp of experience" - Patrick Henry
What do International Business Machines Corporation (NYSE:IBM), Caterpillar Inc.(NYSE:CAT), and American Express Company (NYSE:AXP) have in common? Wait, what? A technology giant, an industrial leader, and a credit services company? What can they have in common?
How about the following:
Beaten down stock prices
As a result, nervous current investors
Multi-year high yields
Struggling but not broken businesses
Many instances of recovering from such situations
All three stocks are at or close to their 52 week lows. This in and of itself isn't a good enough reason to buy a particular stock. Especially if the company is fundamentally challenged and its existence itself is in question. But are these three companies so much in distress?
The answer, surprisingly, is yes at least in the short-term. IBM got whipped for soft guidance. American Express slumped for supposedly weak outlook as well. Caterpillar has been on a steady downtrend for months, if not years. As a result of falling stock prices and increasing dividends, all three stocks have yields never seen in recent years as shown in the charts below.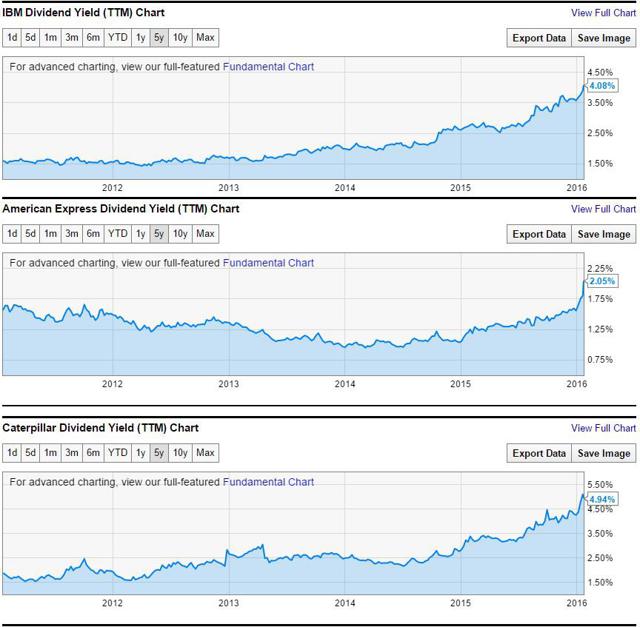 Source: YCharts.com
But, if these companies are struggling, why would we suggest a portfolio of such stocks? Let us get into some reasons.
As hinted above, all three stocks have a rich dividend growth history. IBM has increased dividends for 20 straight years. Surprisingly, Caterpillar has been doing the same for 22 years. American Express has been increasing dividends since 2012, after maintaining the dividend level through the 2008/2009 banking crisis.
IBM has reinvented itself many times over 100 years. Yes, 100 years. Caterpillar operates in one of the most cyclical industries and is very used to ups and downs. American Express has been through many crisis of its own, some industry wide and some company specific. Yes, losing Costco (NASDAQ:COST) to competitors wasn't good. But being a closed-loop network is still AMEX's main advantage. That is, AMEX acts as the issuing bank, the gateway/network provider, and also the end-bank in a typical transaction. This helps the company pocket most of the transaction fees. This is so strong that transaction fees make about 65% of the company's revenue. The large point here being these companies have been survivors through similar or more horrendous periods.
If you believe these companies will recover through their respective mini-crisis, then the table below will be of interest to you. The table is for IBM with the following conditions/assumptions. Please feel free to plug in your numbers for the other two stocks.
The numbers are shown for three years, across three sets of columns.
The row sections show three scenarios: without dividend reinvestment, with reinvestment but when the share price is doing good, and with reinvestment when the share price isn't doing good like now.
Reinvestment at highs happens at an assumed price of $175 (current 52 week high is $176.30).
Reinvestment at lows happens at an assumed price of $120 (current 52 week low is $118).
At the end of three years, the investor who reinvests during bad times for the stock gets an income increase of $70 for every 100 shares over the investor who does not reinvest the dividends. The more the shares are down and the longer you reinvest, the higher the dividend income. This is assuming the company does not freeze or eliminate dividends. At the same time, the table below does not also account for dividend increases.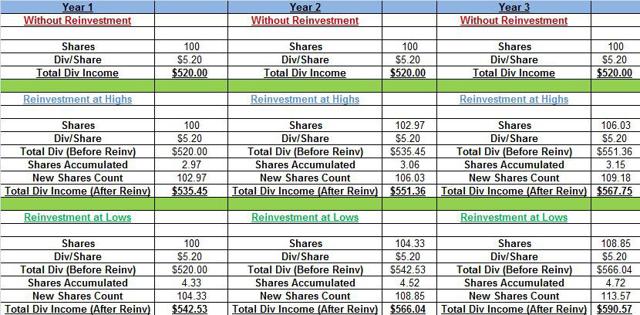 For those interested in share price appreciation, the table shows the difference in capital gains once the share price recovers to $150 as an example. The reinvested dividends will help power the returns higher if and when the price recovers.

But, the bigger question is whether these companies and their stock prices will ever recover? No one has a crystal ball to predict which companies will make it through recessions and downturns. The most straight forward way is to look at whether the company has been through the same problem in the past. In these three cases, the answer is yes. And they've come back stronger more often than not. As sad as layoffs are for the employees and their families, they are the right decisions to make for these companies. Not to forget continuous cost cutting.
Conclusion: As boring as this cliche sounds, the best time to buy stocks of strong companies is when everyone is bearish. While we aren't initiating a position in these stocks yet, we are closely watching them. Looking at how the year has started, perhaps the market could throw many such stocks our way. We plan to keep adding stocks to this 'paper' portfolio in the hope that we can identify the best of bargains.
If you are a current investor in these stocks, how are you weathering the storm? If you plan on initiating a position, where would you like to buy? Please leave your comments below.
Disclosure: I/we have no positions in any stocks mentioned, and no plans to initiate any positions within the next 72 hours.
I wrote this article myself, and it expresses my own opinions. I am not receiving compensation for it (other than from Seeking Alpha). I have no business relationship with any company whose stock is mentioned in this article.