It now seems that every time the market experiences a pullback, many investors quickly call up memories of the 2008 Financial Crisis and assume that we are doomed. But instead of only looking at that 2008-09 market plunge, investors should look at all the negative headlines and news we have faced since, because it has been a significant buying opportunity every single time. For example, some investors considered Ebola, SARS, swine flu, Greece or "Grexit", the debt ceiling, and the S&P downgrade of U.S. Treasury debt to be the start of another financial calamity, but all these events were ideal buying opportunities. For a number of reasons, I think this current pullback is yet another chance to buy cheap.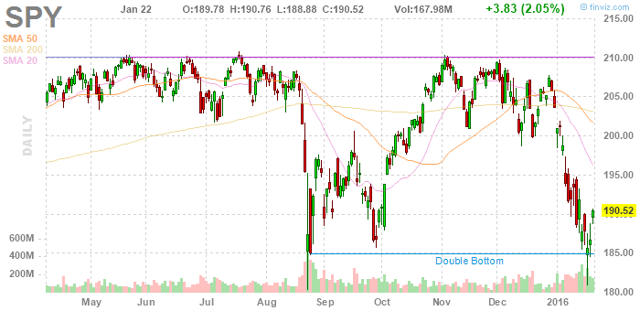 The chart of the S&P 500 Index (NYSEARCA:SPY) shows that the market successfully tested a key support level last week which was right near the August "flash crash" lows. This has created a bullish "double bottom" on the chart and that could help create more confidence in this market with many investors.
It seems that the stock market had to deal with many negative headlines within the first few days of 2016, and that gave it an excuse to sell off. The headlines included concerns about tensions between Saudi Arabia and Iran, a nuclear test by North Korea, a renewed plunge in oil prices, slow growth concerns from China and talk from the Federal Reserve that interest rates were going up a few times in 2016. This was a lot for the market to get hit with almost all at once, but if you go through each concern on a point by point basis, it is not so scary and the fundamentals for owning stocks clearly remains intact.
First of all, there has always been tension in the Middle East, North Korea has been testing its nuclear capabilities on and off for the past few years, the plunge in oil prices has been going on for a year now and we are closer to the bottom. If this price drop in oil was being caused by a plunge in demand, I would be concerned. But, this is not a demand issue, it is an oversupply issue that is in the process of working itself out. China is not growing as fast as it was, but part of this is by design as the country tries to shift towards being more consumer spending oriented. It seems that many investors are acting as if China's economy is on the verge of collapse, but I don't know of too many economies that collapse while experiencing growth rates of nearly 7% annually, as China reported for 2015. Even if the actual numbers are less than this, it is still solid growth. The global economy has always had challenges, but that has not stopped it from growing over time, nor has it stopped stocks from being a strong way to create wealth over many decades. The World Bank recently adjusted its estimates in early January and it now expects the global economy to grow by about 2.9% in 2016.
Some investors are clearly concerned by the Federal Reserve's recent 1/4 point interest rate hike. I think what has been alarming to me and others is the recent talk by some Fed officials that the goal is to raise rates 3 to 5 times in 2016. That seems way too aggressive considering that it took nearly 10 years before they could go forward with the first increase, late last year. It also appears tone deaf considering that there are signs that economic growth could be weak in a few key areas and regions. It also seems that additional rate hikes at this time would be foolish because there is no real inflation and it could cause more strength in the U.S. Dollar which can put pressure on the price of oil. I think the Federal Reserve needs to rein in its officials from talking so much because it sends mixed messages to investors. Overall, it seems clear that the market does not expect the Fed will be able to raise rates very much, if at all in 2016, because the 10-year Treasury bond yields just about 2%. Furthermore, banking and financial stocks that would benefit from rising interest rates have performed terribly and many now trade near 52-week lows. Many financial stocks are down by about 30% since December. This is yet another sign that the market no longer believes the Fed will raise rates 3 to 5 times in 2016. Just take a look at the charts of some major banks to see the carnage to the financials: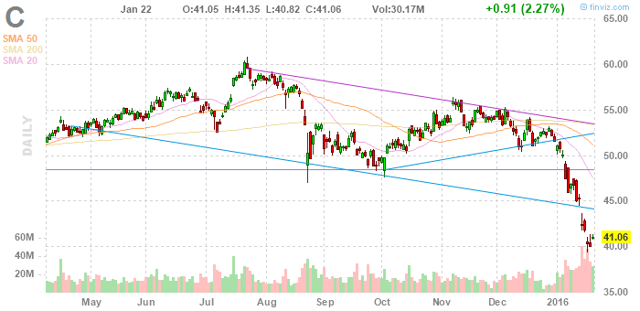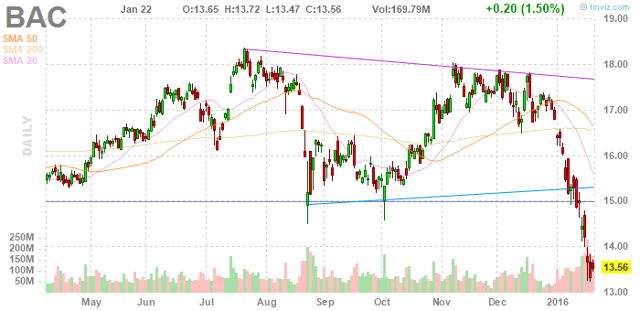 I really don't believe the Federal Reserve will raise rates any time soon. In fact, I think the world's Central Banks still have our backs and are not going to suddenly withdraw support for the global economy. The head of Europe's Central Bank, Mario Draghi made comments just days ago that implied rate cuts or additional stimulus could be in the cards during the March meeting. The Federal Reserve could also take a far more dovish tone when it meets in late January and that could help spark a significant market rebound. A lot has changed since the last Fed meeting in December, especially when you consider that oil has plunged by about 20% and the stock market is down by nearly 10%. I think a dovish tone from the Fed will provide the catalyst for a relief rally in the stock market soon. That is another reason I would be buying this significant pullback. With the 10-year U.S. Treasury bond yielding about 2%, stocks are not expensive.
Investors who want the safety of diversification could just buy the S&P 500 Index, but I am also buying beaten down financial stocks like Bank of America (NYSE:BAC), Citigroup (NYSE:C), and Genworth Financial (NYSE:GNW) now. I also think certain food stocks are very undervalued now. This has led me to buy stocks like United Natural Foods (NASDAQ:UNFI) and Supervalu (NYSE:SVU) which is a below $5 bargain I recently wrote about in this article. The markets dislike uncertainty, but investors who buy now could be setting their portfolios up for strong gains in 2016, once the world realizes that the Federal Reserve is not about to end the party.
Data is sourced from Yahoo Finance. No guarantees or representations are made. Hawkinvest is not a registered investment advisor and does not provide specific investment advice. The information is for informational purposes only. You should always consult a financial advisor.
Disclosure: I am/we are long GNW, SVU.
I wrote this article myself, and it expresses my own opinions. I am not receiving compensation for it (other than from Seeking Alpha). I have no business relationship with any company whose stock is mentioned in this article.