It's very easy to say that Netflix's (NASDAQ:NFLX) balance sheet is weak. That's what the headline numbers suggest.
It's also plausible to argue that its revenue growth might become less appealing at some point in future.
After all, that time is now.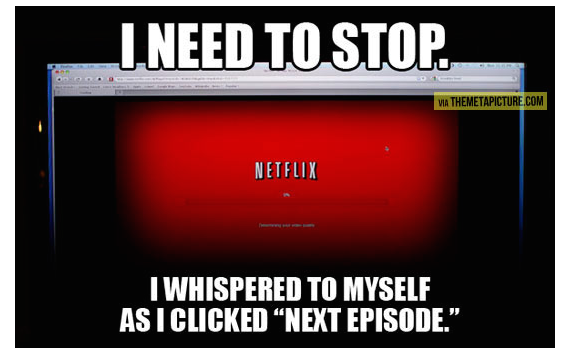 Source: themetapicture.com
Debt
Sales must rise at a steep 20%-plus rate yearly to be able to offset surging operating costs - for two years at least. Otherwise, its cash flow profile will get much worse, right?
Well, if you focused on its latest balance sheet and cash flow statements you could have as well forgotten what happened in February 2015, when Netflix strolled in the debt market to borrow $1.5bn to fund its ambitious expansion plan - this might be the most important value driver of all.
More broadly, its funding strategy could represent a perfect hedge.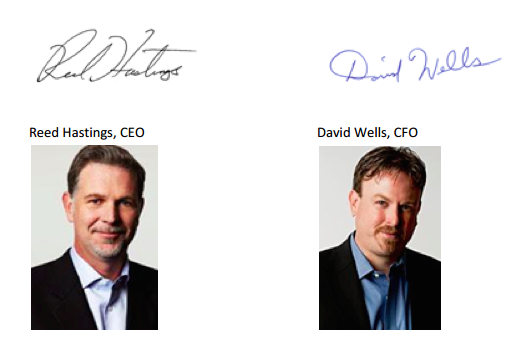 (Source: Netflix 4Q15 results)
Growth
"On January 1st, just a few hours after the quarter closed, we crossed 75 million members," Netflix said when it reported fourth-quarter results last week.
The latest number of memberships implies a compound annual growth rate, or CAGR, of 32% since the end of 2013, which is responsible for a $2.4bn rise in annual revenue to $6.8bn in 2015.
Its top-line grew at a CAGR of 24.8% during the period, and will have to grow at a similar rate this year and next. If its growth rate diminishes, it might still be able to borrow at convenient rates, regardless of whether interest rates rise or fall.
Banks need clients like Netflix, and Netflix may need to borrow from banks in future to diversify its funding base and push down its cost of debt when it has become a more mature business.
Sleepless Nights?
There are two apparent problems, however.
As it invests heavily to chase growth, its profitability will unlikely surge over the next few quarters. And at $100 a share, its stock is currently valued at over 400 times its 2016 projected earnings.
With regard to its P/E, let me say that we can safely ignore it at this stage of business maturity and given the residual growth that is embedded in it. If anything, a high P/E indicates a relatively low cost of equity, which gives Netflix plenty of flexibility with regard to funding options.
Expectations should be easy to manage if access to external capital is granted. Recent market volatility and a slew of risk metrics point to a very slim chance of a meltdown in the credit markets into 2017.
Deals
It doesn't take a financial guru to understand that if this $43 billion-market-cap streaming video outfit doesn't grow paid memberships its shareholders could be troubled - unless, that is, its valuation becomes so attractive to draw the interest of would-be suitors.
Speculations aside, one key element to consider when it comes to determining the appeal of NFLX in this volatile market is the level of demand that its bond issuance received in early 2015.
First, the size of the bond offering that Netflix launched last year was increased by 50% from $1bn to $1.5bn.

Source: Netflix, edited by the author
Netflix will likely have to tap debt markets once again by mid-2017, so the response it received from bond investors less than 12 months ago is surely a good sign.
Second, its debt maturity is another element I like: the residual maturity of its debt obligations ranges between six and nine years.
Netflix is exploiting a low-rate environment that is set to last until 2020, in my view, and will likely continue to do so, depending on its funding needs.
If you are tempted to buy its stock but you also want some yield, its bonds could be a valid alternative if you are prepared to embrace equity-like risk.
"Holders may require Netflix to repurchase their notes upon the occurrence of certain change of control events at a purchase price equal to 101% of the principal amount thereof plus accrued and unpaid interest, if any," Netflix added when the bond deal was announced.
In this context, I would not underestimate that just a minor rise in adjusted operating cash flow (AOCF) would still determine a manageable level of net leverage in 2016, but that excludes current content liabilities at over $2.7bn.
Financials
Its international push might be successful, but for the time being it absorbs a significant amount of capital.
The table below shows the P&L of Netflix at the end of 2015.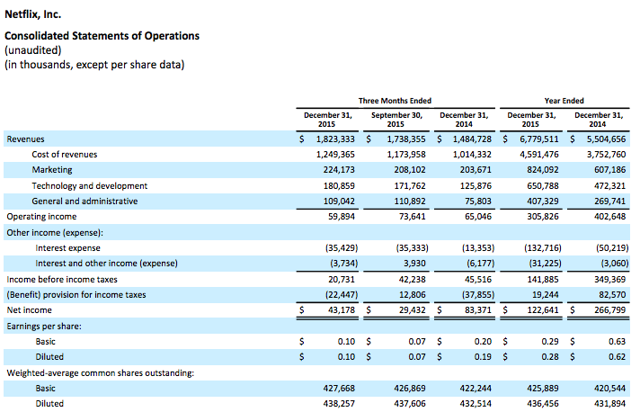 Source: Netflix
Revenues rose 23.1% in 2015, but look at the growth rate of each operating cost item excluding the cost of goods sold:
Marketing: +35.7%
Technology and development: +37.7%
General and administrative: 51.3%
Inevitably, its operating income and net profits fell in 2015. Once the latter is adjusted for a few non-cash items, operating cash flow is negative to the tune of $749m in 2015 - and that cash burn rate comes before any deductions for cash flow from investing.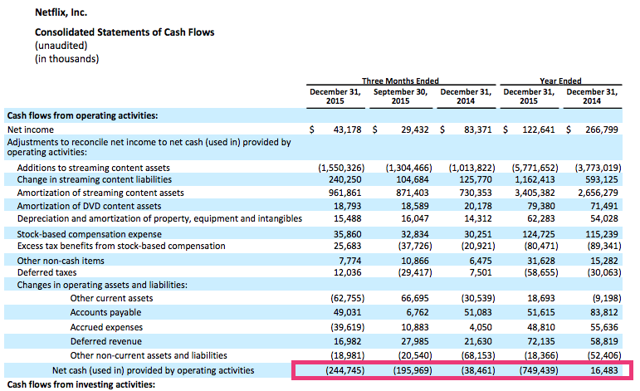 Source: Netflix, edited by the author
Core cash flows did not cover funding requirements of about $1bn last year.
To cover that $1bn shortfall, Netflix could have tried to charge us an additional $1 to $1.2 monthly starting in January 2015. This kind of increase in prices would have generated $7.5bn of revenues, which is only about $1bn short of its 2016 target.

Source: the author edited the original excel published by Netflix to highlight certain key figures. Added: Growth rate quarter-on-quarter
If my calculations are right, and based on the assumption of a constant trailing cost base, Netflix could have self-financed its operations but would have run the risk of alienating its clients at a critical early stage of its international expansion. That is why it decided to raise debt in early 2015.
Netflix decided to raise prices of its main plan to $9.99 per month only in October 2015. Its previous price increase was in May 2014. My 'gueestimate' is that the next price hike will come in early 2017, or a bit later, depending on its funding strategy.
Not only Netflix is passing onto the consumer a higher cost base, charging us for great "series and films" - its clients are also paying for part of its rising debts. The way it looks, the higher the amount of the debt that Netflix loads onto its balance sheet, the higher the subscription rates will likely become over time.
Strategically, it has room to do just that, you might argue.
Inflation
Management decided to err on the side of caution in early 2015; two prices increases in less than a year would have not gone down well with the consumer.
Moreover, had it pushed up prices at the beginning of 2015, any price rise would have greatly outperformed the U.S. inflation rate, which hit a low of 0.5% on a trailing basis last year, but things could be different into 2017, with inflation growth projected at up to 2%.
Netflix is a bet on growth and rising inflation rates - but even in a deflationary environment, demand for its product will likely be relatively inelastic and could offset heavier debt payments.
Expectations And Trends
When it reported its quarterly results last week, its stock surged over 10% in after-hours trading, and that performance is consistent with its track record on a few occasions over the past few quarters.
Management is delivering on its promises, but execution must be flawless, so it can't afford any mistake, let alone certain press coverage.
"How to watch U.S. Netflix in the U.K. - access content not available in U.K." Tech Advisor wrote on Friday.
Trends are surely encouraging, as the table below shows.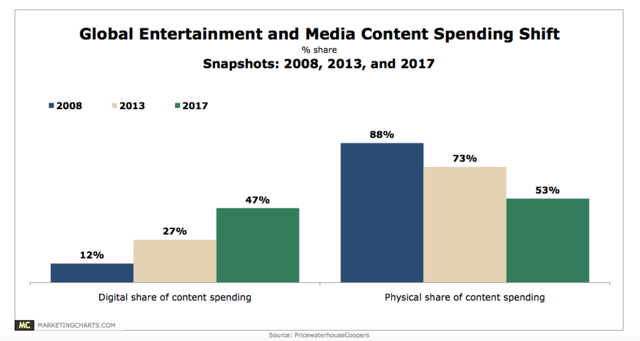 Source: marketingcharts
Value
Access to debt capital markets is an element of paramount importance, and is a kind of risk that you ought to consider before snapping up NFLX, which could be a good addition to a diversified portfolio, particularly if the VIX index stays below 30 and oil prices sit above $24 a barrel over the next 12 months.
Finally, I have run a DCF based on:
A steady 25% CAGR for NFLX revenue into 2018
A 3% increase in core adjusted cash flow margins
A 40 times AOCF multiple
A weighted average cost of capital of between 12% and 13%.
Based on these assumptions, the net present value of NFLX indicates that its equity might be undervalued by about 10% to 15% at its current valuation of $100 a share.
Yet only a couple of minor tweaks to CAGR and margins allow us to point to a fair value in the region of $85.
That is where I'd be prepared to invest in NFLX.
Disclosure: I/we have no positions in any stocks mentioned, and no plans to initiate any positions within the next 72 hours.
I wrote this article myself, and it expresses my own opinions. I am not receiving compensation for it (other than from Seeking Alpha). I have no business relationship with any company whose stock is mentioned in this article.