We recently published an article detailing why we believe Netflix (NASDAQ:NFLX) can net $10 in annual EPS by 2024. While we affirmed in our analysis that the stock will one day be worth more than $200, we also cautioned investors entering at these above-$100 levels that they are not giving themselves much of a safety margin.
We have since expanded our earnings model into a full 10-year DCF model. We extend the original premise to the belief that investors buying at these levels are buying at a premium to fair value. We think shares are fairly valued around $90 per share. Because we like to give ourselves a safety margin, we are buyers of NFLX at a discount to this $90 fair value.
Operating cash flow will continue to be weighed by heavy spending on original content. Additions to streaming totaled roughly $5.8 billion last year, and because the amount of original content on the platform is set to accelerate in the coming years, we only see this cost growing in magnitude. We model for around $6.5 billion in additions to streaming in 2016 and for that to grow to just short over $10.4 billion by 2025 (10-year CAGR from 2015 of 6%). Given revenue scale, though, we see additions to streaming constituting a smaller portion of revenues Y/Y into 2025.
Helping cash flows will be the amortization of those original content assets. We see this growing pretty consistently with additions to streaming. We model for the $3.5 million amortization cost of total content (DVD + streaming) in 2015 to grow to $7.3 million by 2025 (10-year CAGR from 2015 of 8%).
The business is fairly capex-lite, with capex running around 2-3% of revenues over the past three years. We model for this to continue on the lower-end, with capex running around 2% of revenues. We further model for depreciation to run around 35% of those capital expenditures, in-line with historical data.
In sum, we see the company continuing to be free cash flow negative over the next two years thanks to heavy original content investment, but believe revenue scale thereafter will drive free cash flow positive results. We see free cash flow significantly ramping thereafter, and believe 2025 unlevered free cash flow will be just south of $4 billion.
Our full FCFF model can be seen below. It is shown as an extension of our previous EPS model.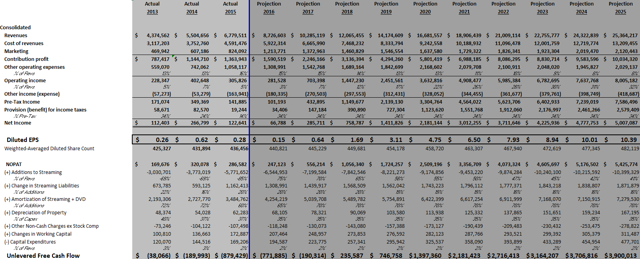 We use CAPM to arrive at an 8.53% cost of equity. Taking MRFY interest expense ($132 million) and dividing it by the trailing two-year average debt ($886 million and $2.4 billion), we arrive at a cost of debt of 8.15%. We then arrive at a weighted average cost of capital of 8.37%.
Using this WACC discount rate and a 2.5% FCFF perpetuity growth rate, we arrive at an enterprise value of $39.4 billion. Less $60.6 million in net debt, this equates to an equity value of $39.3 billion. On a weighted-average diluted share count of 438.3 million, this is a fair value of $90.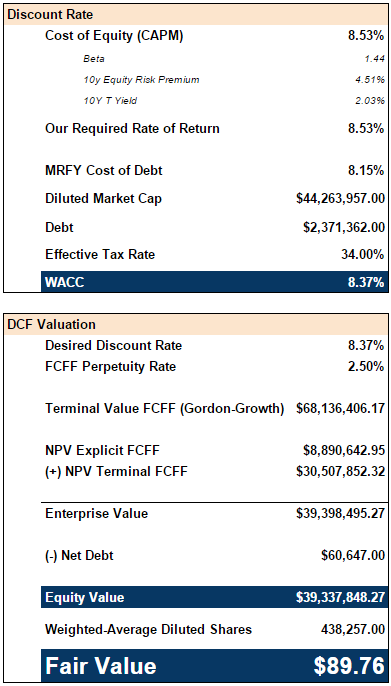 Interestingly, if we apply a 20x multiple to our 2025E EPS, we get a 2025 stock price of $208. Discounting that back by an 8.53% required rate of return, we arrive at a fair value today of around $91. This is only a hair away from the $90 fair value our 10-year DCF model gives us. This $90 fair value also largely agrees with the $87 fair value our prior quick five-year DCF model yielded a few months ago.
In sum, we believe that even under optimistic assumptions of strong topline growth, strong international adoption, significant margin expansion and $10 EPS by 2024, shares are still overvalued trading above $100 at this time. We are not interested in buying NFLX until it dips below $90, as we like buying things at discounts to fair value (margin of safety). At these elevated $100 levels, we think shares are overvalued even under the aggressive growth assumptions.
Disclosure: I/we have no positions in any stocks mentioned, and no plans to initiate any positions within the next 72 hours.
I wrote this article myself, and it expresses my own opinions. I am not receiving compensation for it (other than from Seeking Alpha). I have no business relationship with any company whose stock is mentioned in this article.