Relative Valuation of O to the 10-year Note Yield
Nearly three months ago, I wrote this article illustrating that investors can use the spread of Realty Income's (NYSE:O) dividend yield and the 10-year note yield, to see if Realty Income is at an attractive purchase price. This analysis is readily available as it used dividend data from Realty Income's Investor Relations Website, historical stock price information from Yahoo! Finance, and 10 year note yield data from the Federal Reserve website.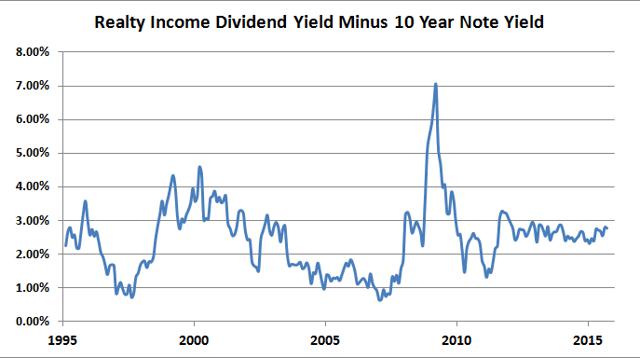 As one can see from the graph, the rough average range was below 3% and above 2%. The summary statistics are available below: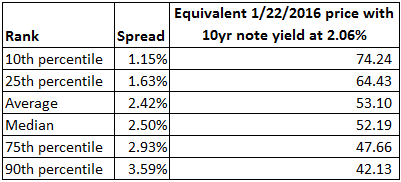 As of the close on January 22, 2016, Realty Income trading at $54.04 led to a dividend yield of 4.41%, while the 10-year note yield was 2.06%, for a spread of 2.35%. This is mildly below the historical averages, indicating modest overvaluation for the stock, relative to interest rates.
Recent Buying Opportunity
Just two days earlier on January 20, 2016, investors had a much more attractive opportunity to add Realty Income when it traded below $51 briefly, where there was sufficient time to have a buy limit order at $51/share triggered. The yield on January 20 was 4.67%, while the 10-year note yield went as low as 2.01%, for a historically wide spread of 2.66%. The decline on Wednesday, January 22 constituted an approximate 6% discount from Friday's close.
Investors whether Long or Waiting to Get Long Still Have Good Options
Investors that prudently added to Realty Income at attractive valuations may be looking to sell if the stock continues to rise. As of January 22, the stock is only mildly overvalued at around $54, but should it continue rallying without a consequent drop in the 10-year note yield, it will become unattractive and offer diminished prospective returns for holding.
One option for longs is to sell covered calls. I recently sold March 2016 $55 strike covered calls, which are trading at around $1/share. I have no issue unloading some of my shares at a net price of $56 ($55 strike plus $1 premium). The prospective returns at $55 I find would be very low. Should I be assigned and sell at $55, I will likely immediately sell a $55 put to try to get back in, because when the stock eventually drops below $55, I'd effectively get back in via my puts and have the same shares, but will have collected premium on both ends.
Another option I was considering was to sell the September 2016 $60 strike calls for near $1/share. I believe under almost any interest rate scenario, $60 is too high of a price for the stock this year, absent a game-changing merger/acquisition. Such a price would only be justified by substantially lower interest rates, which are always likely to bounce back higher in normal volatility, especially with the Fed indicating higher short term interest rates are coming. The September $60 strike Call at $1 would offer investors approximately 15% upside through September (over 20% annualized), while unloading the stock only if it surged over $60.
One legitimate criticism of selling covered calls is that it reduces upside, and it is bad to sell winners. I agree, and that is why I intend to never sell all of my shares, just a marginal swing portion of the position, since I find that the stock will likely be a long term winner. The Reit has only saw its AFFO decline in one year out of the last 20 years per FastGraphsTM. It also sports a solid Baa1 credit rating from Moody's.

For investors who are not long the stock, but are waiting to buy, an option could be to sell puts at a price one wishes to enter. Obviously the attractiveness of the stock varies based on interest rates, but if one agrees buying under $50/share is desirable, then the March $50 strike puts can be sold for about $0.70, offering a 1.4% yield in less than two months, or approximately 8.4% annualized. The net purchase price for the stock would be $49.30/share ($50 minus the $0.70 premium), which leads to a yield of 4.83%, based on the current annual dividend of $2.38/share. The attractiveness of that price depends on the trajectory of interest rates, but in absolute terms, a $49.30 effective purchase price is much better than $54.
Investors Should Hope the REIT Takes Advantage of the High Price
As a shareholder, one would hope Realty Income would issue a secondary offering of stock should the stock price increase any further. Instead of a secondary, the REIT can also use its At The Market Equity Issuance Facility. The REIT always needs capital to grow, both via debt balanced by equity to avoid excessive leverage. It can take advantage of favorable equity prices to issue substantial amounts of equity, so should the price stay in a slump in the future, it could refrain from issuing equity for an extended period, since it would have already done so now.
Risks From Fed Meeting
Also, the market may be shocked by the Federal Reserve meeting on January 26-27, since the turmoil in China and Global Markets led to reduced interest rate hike expectations. The market is now pricing in only 1 Fed Rate hike in 2016, yet immediately after the last time the Fed met in December, the market had the impression there'd be around 3 to 4 hikes. Nothing has changed in terms of what the Fed looks at since core inflation still was exceeding 2%, and the latest employment report, for December 2015, was very robust, so the market's turn to dovishness may be inappropriate. Markets may be in for a huge surprise should Yellen's Fed not convey a very dovish tone this week, since extreme dovishness is currently priced in. Any surprise to more hawkishness than the market expects may lead to a steep decline in Reit shares.
Conclusion
The valuation of Realty Income relative to the 10-year note yield may provide a more objective valuation benchmark for investors. Based on the historical data for the spread of Realty Income's dividend yield to the 10-year note yield, the stock is currently modestly overvalued. However, investors can still benefit if they're long by possibly using covered call options, or if they're waiting to get long, by using put options. Nonetheless, investors should hope the company considers issuing equity should the share price rise further to even more attractive levels. However, there are currently risks to the downside with the upcoming January Federal Reserve meeting.
Additional Disclosure: The information contained in this article is an opinion and does not constitute actionable investment advice nor is it a recommendation to trade any security.
Disclosure: I am/we are long O.
I wrote this article myself, and it expresses my own opinions. I am not receiving compensation for it (other than from Seeking Alpha). I have no business relationship with any company whose stock is mentioned in this article.