Synchrony Financial (NYSE:SYF) reported impressive Q4 2015 earnings results, as the company increased the quarterly net earnings 3% YoY (from $531m at Q4 2014 to $547m at Q4 2015). In addition, the Q4 2015 EPS of $0.65 beat the consensus estimate by $0.02 (or 3%).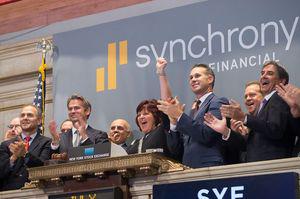 This company has come a long way since its IPO in mid-2014, but the future looks even brighter as Synchrony has firmly established itself as a viable standalone company.
Q4 2015 Results
To start, Synchrony has reported improving operating metrics since going public and the most recent quarter was no exception. The Q4 and full-year 2015 results showed that Synchrony is still in the early innings of its long-term growth strategy, as the company was able to continue its streak of reporting top-line and bottom-line growth.
Growth Metrics
Synchrony reported impressive growth in each of the company's "growth metrics": purchase volume, loan receivables, active accounts, and platform revenue.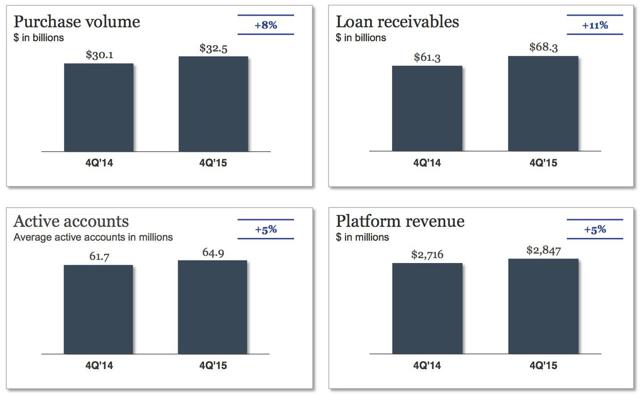 (Source: Q4 2015 Earnings Presentation)
For Q4 2015, Synchrony increased each growth metric by at least 5% with the company reporting a stellar 11% growth in the loan receivables balance. Moreover, Synchrony reported growth in all of these metrics in each quarter of 2015, and the loan receivables balance increased by double digits in three out of the last four quarters.
Top-line Growth
For Q4 2015, Synchrony reported a 8% YoY increases in both total interest income (from $3.26b to $3.51b) and net interest income (from $2.98b to $3.21b).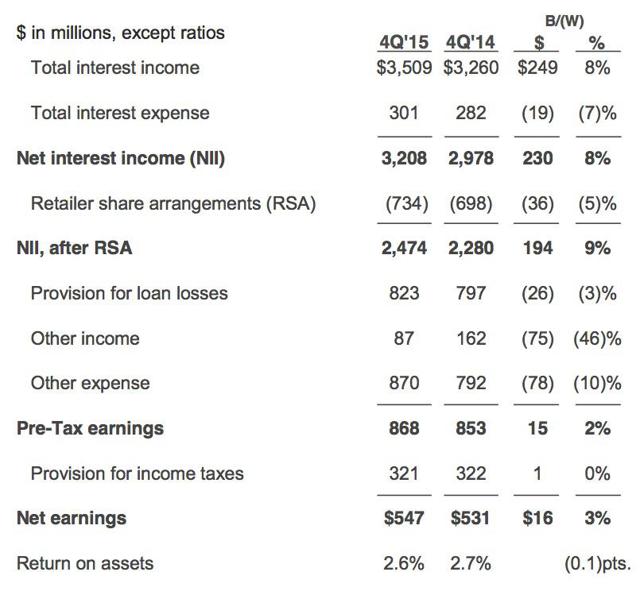 (Source: Q4 2015 Earnings Presentation)
More importantly, after factoring in retailer share arrangements ("RSA"), the company reported net interest income after RSA of $2.47b at Q4 2015, which was a 9% increase from the $2.28b reported at Q4 2014.
Synchrony has steadily increased its top-line figures throughout 2015, and the company finished the year with a strong performance.
| | | | | | |
| --- | --- | --- | --- | --- | --- |
| $ in millions | Q4'15 | Q3'15 | Q2'15 | Q1'15 | Avg |
| Net interest income | $3,208 | $3,103 | $2,907 | $2,875 | |
| % chg | 3% | 7% | 1% | | 4% |
| | | | | | |
| Net interest income, after RSA | $2,474 | $2,380 | $2,286 | $2,215 | |
| % chg | 4% | 4% | 3% | | 4% |
(Source: Data from Q4'15 Press Release --linked above, table created by WG Investment Research)
As shown, the company was able to grow the net interest income and net interest income, after RSA by a quarterly average of 4% in 2015. This is a direct result of Synchrony's vast (and growing) partnership base.
The company has done an excellent job at not only retaining its customer base but also adding new key partnerships. For example, Synchrony renewed several major partnerships throughout 2015 [Paypal (NASDAQ:PYPL), Chevron (NYSE:CVX), and Amazon (NASDAQ:AMZN)], and the company was also able to add new key partnerships with Citgo, The Container Store (NYSE:TCS), and BP p.l.c. (NYSE:BP).
Valuation
On a YTD basis, the SYF share performance is inline with the S&P 500, as both are down ~5%.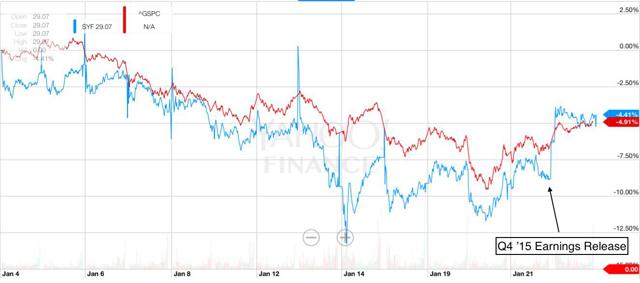 (Source: Yahoo! Finance, edited by author)
SYF shares popped almost 5% when the Q4 2015 results were released, but shares are still attractively valued at today's price. Based on full-year 2015 EPS of $2.65, shares are currently trading at an ~11 P/E ratio. Looking ahead, shares are trading 10x estimated 2016 earnings and 9.5x estimated 2017 earnings (earnings estimates per Yahoo! Finance).
Risks
For my Synchrony investment thesis, the major risk is alternative payment services disrupting Synchrony's bread and butter --private label credit cards. During the Q4 2015 conference call, management touched on this risk and described how the company plans to approach the changing business environment:
Given the rapid pace of change within the digital payments area, online and mobile channels are increasingly important channels for our business and we're seizing the opportunities that are being presented to us by the swiftly changing environment. Through our innovation and strategic partnerships we're helping to shape the future of how private label cards function in mobile wallets and provide value to our merchants and their consumers across mobile channels.
--Ms Margaret Keane, President and CEO, Synchrony Financial
I plan to stay up-to-date with industry news/trends and management's commentary related to the changing digital payments environment, because this risk has the opportunity to greatly impact Synchrony's business.
Bottom Line
Synchrony reported impressive growth in several key metrics in the most recent quarter, and the Q4 2015 EPS was above estimates. Furthermore, management no longer has to contend with the distractions that came with the final separation from General Electric (NYSE:GE). As such, management will now have the opportunity to focus strictly on growing Synchrony's business in addition to creating value for shareholders.
In a recent article, I described the upcoming catalyst of returning capital to shareholders. This catalyst, coupled with the impressive Q4 2015 earnings results and the anticipated 2016 growth, should help propel the SYF share price higher in 2016. Simply put, there is a lot to like about this growing consumer financial services company.
Full Disclosure: The SYF share price will likely be under pressure if the overall market sell-off continues, but any significant sell-off should be considered by long-term investors as a buying opportunity.
If you found this article to be informative and would like to hear more about this company or any other company that I analyze, please consider hitting the "Follow" button above.
Disclaimer: This article is not a recommendation to buy or sell any stock mentioned. These are only my personal opinions. Every investor must do his/her own due diligence before making any investment decision.
Disclosure: I am/we are long SYF, GE.
I wrote this article myself, and it expresses my own opinions. I am not receiving compensation for it (other than from Seeking Alpha). I have no business relationship with any company whose stock is mentioned in this article.