As it stands, the First Eagle Overseas Fund A (MUTF:SGOVX) is the 2nd best performer in the Morningstar Foreign Large Blend Category so far in 2016. After outperforming its benchmarks in the year 2010 and 2011, the fund had a two-year span in which they were outpaced by both the MCSI AWAI EX USA NR USD and the Morningstar Foreign Large Blend category. The fund was ranked 90th and 95th in its Morningstar category in 2012 and 2013.
However, the fund regained its footing in 2014 and 2015 from a defensive standpoint. The results can be seen below.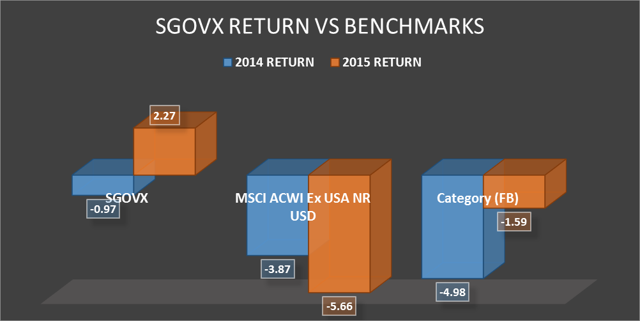 This year, the fund has remained rock solid with regards to handling this brutal bear market. The fund's outperformance in market downturns has only enhanced its ability to maintain overall outperformance over its key benchmarks in most return ratios.
From the 1-month ratio to 15-year ratio, the First Eagle Overseas Fund A Fund has shown outperformance. Particular attention should be paid to the fund's YTD performance. The fund's defensive stance has helped this fund to outpace the MSCI ACWI NR USD and Morningstar category by 3% and 2% respectively.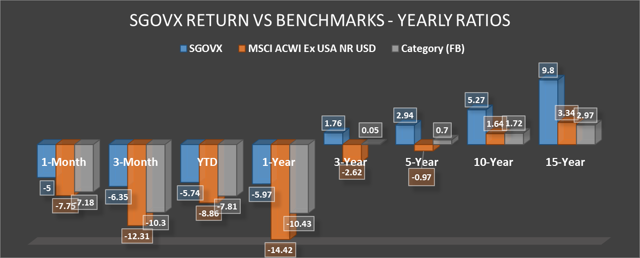 One cannot ignore that the fund's defense is further strengthened by the fact that 27% of the fund's assets are cash, bonds and other alternative assets. This is a solid safety net for investors who are not seeking to put all of their eggs in the equity basket.
When one looks at the fund's sector weighting, it is interesting to note the fund's paltry weight in the financial services sector compared to their benchmarks. In addition, the First Eagle Overseas A fund has a greater concentration on the sturdy consumer-defensive sector. Both of these portfolio weights and their benchmark comparisons can be seen in the chart below.
| | | | |
| --- | --- | --- | --- |
| | SGOVX | Benchmark | Category Average |
| Financial Services | 9.56 | 23.45 | 21.03 |
| Consumer Defensive | 16.49 | 10.79 | 11.55 |
However, it is quite possible that the fund's reduced concentration in the financial services sector may be the key reason that this fund is holding its own in the brutal bear market of 2016.
According to a listing of Sector ETFS by this very forum, the Financial Select Sector SPDR ETF (NYSEARCA:XLF) has been the second-worst performing sector so far in 2016 with a -10.7% YTD Return as of 01/24/2016.
The defensive nature of this fund in market downturns can be seen in its low standard deviation total in its risk and return measures. In its 3-year risk and return ratio, the fund has a standard deviation that is at least 3.5% lower than its benchmarks despite its superior return totals.
In the chart below, one can see the superior downside capture ratio of the First Eagle Overseas A to that of Morningstar's Foreign Large Blend Category. While the totals of both entities represents an above-average job in terms of limiting losses, the First Eagles Overseas A fund does a much better job overall.

BOTTOM LINE
The First Eagle Overseas A fund is a reliable fund based on the downside capture ratio and other statistics that only enhance its defensive prowess. I truly believe that the fund's lack of exposure in the financial services sector is a significant advantage within this bear market. Its expense ratio is 1.16, 0.03 points lower than the Morningstar Category average and 0.19 points lower than the Fee Level Comparison Group Median.
This fund has had a history of solid performance when the chips are down. I do not see this changing in 2016.
Disclosure: I/we have no positions in any stocks mentioned, and no plans to initiate any positions within the next 72 hours.
I wrote this article myself, and it expresses my own opinions. I am not receiving compensation for it (other than from Seeking Alpha). I have no business relationship with any company whose stock is mentioned in this article.