Apple's (NASDAQ:AAPL) fiscal 2016 Q1 earnings report may prove to be a watershed event, not so much for the Q1 results reported as for the guidance given for fiscal Q2. Many long-time Apple analysts have predicted y/y declines in iPhone sales for the quarter based on information from Apple suppliers. Apple's guidance will either confirm the expectations of Apple bears for "Peak iPhone" or show that supply chain rumors are not to be trusted. I don't see much middle ground, here.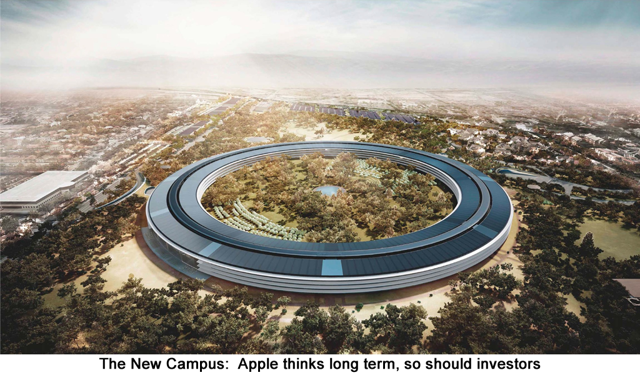 Source: idownloadblog
The Insatiable Market
Let me be quite clear about what I think is going to happen, not that there would be much doubt for anyone who's been following my articles. I think the bears are about to relearn the lesson of supply chain rumors. CEO Tim Cook tried to discourage reliance on supply chain rumors in his famous statement during the 2013 Q1 conference call:
. . . even if a particular data point were factual it would be impossible to accurately interpret the data point as to what it meant for our overall business because the supply chain is very complex and we obviously have multiple sources for things, yields might vary, supply performance can vary. The beginning inventory positions can vary. . .
For a time, analysts seemed to heed this advice. Then Morgan Stanley's Katy Huberty issued her prediction that iPhone sales would fall for fiscal 2016 by 5.7% to 218 million, based largely on supply chain "surveys". Suddenly, Cook's advice was forgotten, and every supply chain rumor since, as long as it pointed to a negative conclusion, has been treated as perfectly credible. Among the Apple bears, "peak iPhone" has become taken for granted.
Is it possible that analysts have discovered a magic way to decipher the supply chain rumors into reliable intelligence about Apple's product plans? I suppose so, but I doubt it. Apple's guidance for Q2 will decide the matter. The Q2 guidance has become everything in terms of impact on Apple's stock price. If Apple guides for revenue growth in Q2, as I expect, this will probably calm fears among Apple investors.
Fiscal Q1 Results Expectations
But before I launch into my expectations for Apple's Q2 guidance, let me get my predictions for Q1 results out of the way. Even though they do seem a little anticlimactic at this point, I believe that good results for the quarter has some bearing on the Q2 guidance. In the table below I summarize my predictions for Apple's fiscal 2016 Q1: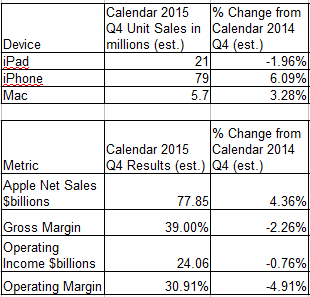 My expectations for iPad are as I described in my recent article on the impact of the iPad Pro. As I stated in the article, I believe Pro supplies were just too limited to head off a y/y sales decline, although I think it will get close. The Pro's capabilities, especially the new Apple Pencil, are very important for the future of the iPad.
Mac unit sales are approximately what IDC and Gartner have reported for the quarter. I consider the strong Mac sales growth (as opposed to the ~10% y/y PC industry decline) to be a very positive indicator for the overall health of Apple's interlocked iOS and Mac OS X device ecosystems, as I pointed out in Apple's Tough Compare May Not Be So Tough After All.
The prediction for iPhone sales of 79 million is based on an analytical model that integrates a number of different data sources. I actually think the prediction is overly conservative, but it's what pops out of the model, and I don't want to arbitrarily alter the result on the basis of a hunch.
In my article on the 4G handset market in China, I point out that China Mobile's monthly customer data indicates that the 4G market is still growing at about a 30% y/y rate. It's the robust growth of 4G in China that persuades me that the iPhone unit sales prediction is too conservative.
Although I don't call it out explicitly in the table, I'm currently modeling Apple Watch sales of about 6 million units in the quarter. This is reflected in $4.1 billion in predicted sales in Apple's Other Products category, which represents a better than 52% y/y increase.
Apple Watch is, in my view, the Next Big Thing. Based on the continuing declines reported by the Swiss Watch Industry in the $200-500 price category of 9.7% y/y for November, it appears that Apple Watch continues to be disruptive. I believe that succeeding generations of Apple Watch will become increasingly capable until it takes over most of the communications functions of iPhone.
Although the model predicts a modest revenue growth, operating income is predicted to decline slightly based on Apple's rapid expansion of R&D spending.
Q2 Guidance
In the discussions of supply chain data and predictions of iPhone sales decline for the March quarter, what's missing is any identification of catalysts for this assumed decline. What's supposed to precipitate the decline? Apple had, arguably, the best smartphone in the industry in the December quarter. That doesn't really change in the March quarter.
Huawei has introduced the Mate 8, with it's improved Kirin 950 SOC. It's probably the best Android phone out there, but it's still not in the same class as the iPhone 6s, as the Anandtech review makes clear. In addition, with Google's (NASDAQ:GOOG) services blocked in China, iOS offers the more attractive ecosystem, especially now that Apple Pay is implemented through China Union Pay. This was a huge coup for Apple which not a single Android phone in China can match.
Other prospective competitors won't arrive until the end of the quarter or later. Samsung's (OTC:SSNLF) Galaxy S7 will probably feature the Exynos 8 processor, but this isn't due until the usual April release time. Similarly, smartphones with Qualcomm's (NASDAQ:QCOM) Snapdragon 820 processor probably won't arrive until mid-year. Until these phones show up, Apple's iPhone 6s will reign unchallenged at the pinnacle of the smartphone market.
The macro environment doesn't look all that bad in China either. As I pointed out in my China telecom article, the largest mobile phone carrier, China mobile, still has about 500 million of its 800 million customers using 3G and older technology. This is a huge upgrade market and it is precisely the market that iPhone targets. The pool of prospective iPhone customers in China is still huge and iPhone has by no means saturated the market in China.
Last year, Apple had a huge fiscal Q2 on the strength of its 71% y/y revenue growth in Greater China and its 48% y/y growth in Rest of Asia Pacific. These areas fueled Apple's 27% y/y revenue growth for the quarter. While I certainly expect growth to moderate this year, I don't see how it's conceivable that Apple should suffer a y/y sales decline in iPhone sales.
Also, even though Watch sales can be expected to decline sequentially from the December quarter, the Watch constitutes a revenue stream that didn't exist in fiscal 2014 Q2. So even if sales settle to the 2-3 million range for the quarter, that's still an extra ~$1 billion in revenue that wasn't there last year.
On the basis of continued iPhone unit sales growth and the additional revenue due to Apple Watch, I expect Q2 guidance to point to moderate 5-10% revenue growth y/y.
Investor Takeaway
At this point, Apple has been so beat up in the media that it's probably a pretty safe buy. The bad news is priced in. If Apple did guide to a revenue decline for the fiscal Q2, I doubt that Apple's share price would drop significantly below $100/share.
On the other hand, good news in the form of positive Q2 guidance will probably come as a surprise to many in the market. Whether that surprise will translate into share gains is debatable. If the guidance for Q2 constitutes a strong repudiation of the supply chain rumors, as I expect, then investors will probably find this reassuring and Apple's stock price will begin to rise again.
However, I doubt that the Peak iPhone theme will go completely away. It's very likely that it will simply be repackaged for the next quarter, but the support for it will draw upon other sources than supply chain data.
In the end, investors may have to look beyond iPhone to other growth opportunities such as Watch and the Apple Car. Until other products become more important as revenue sources, it will always be too easy to scare investors with Peak iPhone.
I certainly expect the next generation Apple Watch, which is expected some time this Spring, to be a catalyst for further growth in the smart watch category for Apple. Even Huberty pointed to the Watch as a source of revenue to more than offset her asserted decline in iPhone sales. Eventually, there will be a Peak iPhone, but I expect that Watch will have already taken up the slack.
I remain long Apple and recommend it as a buy.
Disclosure: I am/we are long AAPL.
I wrote this article myself, and it expresses my own opinions. I am not receiving compensation for it (other than from Seeking Alpha). I have no business relationship with any company whose stock is mentioned in this article.
Editor's Note: This article discusses one or more securities that do not trade on a major U.S. exchange. Please be aware of the risks associated with these stocks.