China has attained a new phase of its emerging economy. Once a magnet for capital investment, the economy is now turning inward, shifting from a manufacturing exporting economy to one of self-sustaining domestic economic production and consumption. This metamorphosis might create a vacuum for cost and labor efficient industries. As China began its transition several years ago, the cost of manufacturing has increased. Initially, the low cost of production was the result of the government support of state owned enterprises. This type of state sponsored capitalism was never intended to last, nor could it ever achieve the levels of growth and innovation as would a much less government managed free market economy. China's economic planners were well aware of this. In October of 2015, at the end of the fifth plenum meeting, an outline of a new five year plan was made public. The new plan is designed to create a moderately prosperous economy through higher levels of income and to continue to phase out state support of commercial enterprise. In other words, China can no longer be depended upon as the only attractor of fixed capital investment nor a large importer of strategic commodities and energy.
However, the new global economy still demands the industrial services which the old China economy offered. Hence the question becomes that of determining who will take-up-the-slack. There is no shortage of emerging economies who would gladly accept the opportunity to create jobs, income and a higher standard of living for its citizens. However, there's only one standout, not yet emerged with an extraordinarily high potential to duplicate China's achievements over the past three decades: the Republic of India.
India, often referred to as the world's largest democracy, has a bicameral federal parliamentary system and constitutionally based government. The government is currently led by the pro-growth, free market reform movement of Prime Minister Narendra Modi. India has one particular advantage which the emerging Chinese economy didn't. Although India is comprised of a multitude of different cultures and languages over its many regions, English is one of its two official languages! This is a major advantage for doing business in India, particularly when it comes to dealing with the bureaucracy, business partners, law, education and a host of other things where the nuances of translation does not require an expert interpreter. Secondly, India has a young population; over 31% are between the ages of 20 and 40 years of age as well as a high literacy rate.
By GDP, India's economy ranks 9th, matching Russia, and ahead of Australia, South Korea and even Saudi Arabia. However, by per capita GDP, it's a different story. India ranks 150th out of 194 nations, having a per capita GDP of about $1600, as reported by a 2014 United Nations survey. Further, the World Bank gives India an 'ease of doing business' ranking of 130 out of 189 economies; plenty of room for improvement. However, Prime Minister Modi's efforts to reform the heavy bureaucracy of past decades is beginning to show results. The World Bank has upgraded key areas: Starting a business, dealing with construction permits and getting electricity. Note that these improvements have something in common: infrastructure.
There are several ways to invest in India, but only one fund focuses on India's infrastructure. That is the EGShares India Infrastructure ETF (NYSEARCA:INXX) from Emerging Global Advisors' portfolio of ETFs. The first thing that needs to be said is that this fund is best suited for a risk tolerant investor, with risk capital. The fund's objective "...Seeks investment results that correspond (before fees and expenses) to the price and yield performance of the Indxx India Infrastructure Index..." The expense ratio is higher than average at 0.85%. The average market cap of the holdings is about $7.68 billion. The fund trades at about 1.8 times book and has a decent average trading volume of about 37,500 shares, daily.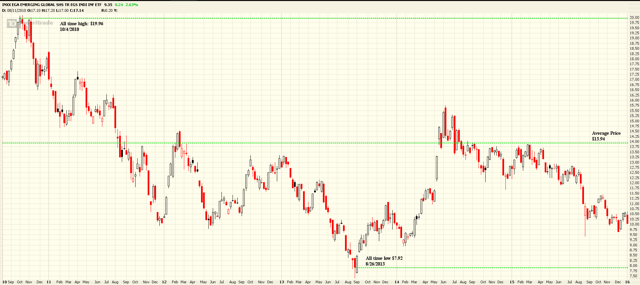 As might be expected in an infrastructure fund, industrials and utilities are heavily weighted.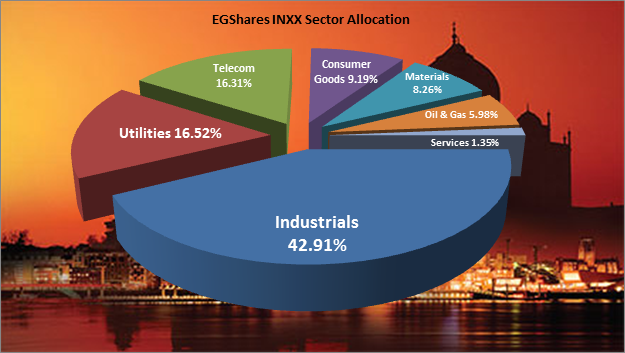 Data from EGA
The fund further breaks down the allocation into subsectors.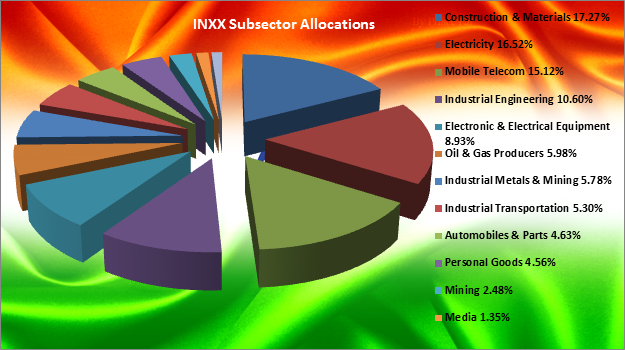 Data from EGA
The fund has only 30 holdings which is an advantage for individual investors who wish to diversify their own personal ETF portfolios. In general, having several ETFs with, say, less than 50 holdings avoids 'overlapping' investments in other funds. Further, it makes it simpler to become familiar with the individual companies held in those funds. Being able to keep close tabs on individual holdings is a near impossibility with funds having hundreds of holdings. Hence, in the case of an emerging market fund, with a specific objective, the fewer the better. Having said that, it's worth taking a look at the individual holdings of this fund. Because many of the holdings trade in a foreign exchange, some information was difficult to come by. Further, many of these companies are very diversified. Hence they are grouped into five categories with a brief description and a few key metrics. The exchange rate used was 0.015 Rupee per U.S. Dollar.
The first set includes industrial manufacturing. It should be noted that there are in many cases, a strong and long standing global partnership with India based companies and brand name companies. Eicher Motors (OTC:ECQRY) is one such company. Apparently, its Royal Enfield motorcycle is as recognizable in India as a Harley-Davidson (NYSE:HOG) is in the U.S. However, its main business is commercial vehicles. They partner with Volvo (OTC: OTCPK:VOLVF) for commercial vehicles and Polaris (NYSE:PII) for the new line of personal vehicles. Cummins (NYSE:CMI) also has a long standing presence in India under its own name as well as Siemens (OTC: OTCPK:SMAWF). It should be noted that the websites of many Indian companies make a point of their environmental responsibilities. True, air quality in parts of India need improvement, to say the least, but large cap industrials are already on-board and addressing environmental issues.
Manufacturing Companies, Ticker and Fund Weight

Brief Description and some available metrics

Eicher Motors Ltd

Fund Weight: 4.73%

Eicher Motors is a subsidiary of Eicher Group also partners with Volvo Group and Polaris Industries. EML is best known for its Royal Enfield Motorcycle, (as popular there as Harley is here). However, the main business is now the manufacture of fuel efficient commercial vehicles, busses and currently starting up a line of automobiles. Aside from complete products, the company also manufactures vehicle components.

The company has a market cap of about $6.612 billion USD, and pays a small dividend amounting to about 0.31%. By S&P standards, the P/E is high at 53 with a market price at 4 times sales.

Cummins India Ltd (OTC: OTC:CMQMY)

Fund Weight: 4.61%

Cummins India is a 50 year old joint venture with U.S. bases Cummins and India based Kiroskar Group. It's interesting to note that Cummins R&D is in large part done in India, including having established a women's engineering college in Pune, India. The company manufacture Automotive, marine, reconditioned and industrial engines; power generation via diesel or gas, generators and alternators; components include fuel systems turbochargers, emissions and filtration systems, lubricants, batteries, engine repair and overhaul kits.

The company's market cap is about $4.042 billion has a 1.44% dividend, a five year average dividend of 2.08% and a P/E of 34.5. The shares trade at 31 times cash flow.

Aditya Birla Nuvo Ltd. (OTC:ADYBY)

Fund Weight: 4.56%

Aditya Birla Nuvo Ltd. is a subsidiary of Aditya Birla Group a multinational with operations in 36 countries. The company is very diversified with Financial Services, Fashion and Lifestyle consumer products and Telecom Services. Some familiar brands include Louis Philippe, Van Heusen and Planet Fashion. The company also manufactures textiles as well as high voltage insulators. Although it may seem unusually diversified, it one of India's top tier companies.

It's market cap is $3.936 billion, offers a small yield of 0.36% with a P/E of 17.39. The shares trade at 17 times cash flow and price to tangible book is 2.40 times.

Siemens Ltd (OTC: OTC:SMQFY)

Fund Weight: 3.95%

Siemens Ltd in India is part of the famous worldwide Siemens AG. Operations include energy efficiency, sustainability, intelligent infrastructure, smart grids and mobility. Some product groups include automation, energy, financial solutions, motors and drivetrains. It is essentially Siemens' well known and well recognized business, but in India.

The market cap is $5.654, offers a small dividend of 0.57% and a high P/E of 62.36. The company trades at 45 times cash flow and 8.64 times tangible book.

Amara Raja Batteries (OTC: OTC:ARJQY)

Fund Weight: 2.67%

The company specializes in applying new technology to traditional lead acid batteries for passenger vehicles as well as 'stacked' configurations for industrial uses. The company has won numerous achievement awards from major global customers such as Ford, Johnson Controls, Daimler Chrysler and GM.

The company has a market cap of $2.085 billion, a small dividend of 0.44%, P/E of 34, trades at 24 times cash flow and 7.15 tangible book.

Voltas Ltd. (OTC: OTC:VLTQY)

Fund Weight: 2.61%

Voltas prides itself as being India's largest air conditioning company and as a global provider of HVAC engineered solutions. Voltas' engineered systems go beyond buildings and are used wherever HVAC is needed: electro-mechanical projects, textile industry, mining and construction equipment, water management and treatment.

Market cap of $1.391 billion, P/E of 24, a dividend of 0.80%, selling at 23 times cash flow and 4.25 times tangible book.

Havells India Ltd. (OTC: OTC:HVLQY)

Fund Weight (2.31%)

Havells specializes in electro-mechanical equipment such as circuit protection, industrial relays and switches, electrical motors, capacitors and various types of lighting and many other products, the company is a global distributor in over 50 countries, 8 manufacturing plants in Europe and 14 in India.

The company's market cap is $2.632 billion with a dividend yield of 1.07%. The company is a little short on positive metrics likely due negative earnings. In spite of this recent setback, the company has been in business over 60 years and has global reach.
Data from Reuters, Yahoo! and individual company websites
Utilities make up the next largest group. There's an important point to note here. Many of the largest utilities are 'state-owned undertakings'. This is quite understandable in an emerging market and as already been noted, India has made great improvement with its electric services grid. Under progressive government improvements and outside consulting partnerships it may be quick in the making. However, on the other side of the coin, eventually these companies will unwind from the state's support leading to dislocations in the economy. There are already some major players in utilities, such as the Tata Group (NYSE:TTM) of globally diversified subsidiaries.
Utility Companies, Ticker and Fund Weight

Brief Description and some available metrics

NTPC Ltd (OTC: OTCPK:NTPZY)

Fund Weight: 6.28%

NTPC is a government owned undertaking and India's largest power distribution utility. Its purpose is to generate power and redistribute in bulk. The company is a giant by any standards.

It has a nearly $17 billion market cap and one of the fund's better yielding assets at 1.83%; a low P/E of 11.11 when compared to the fund average and a price to book multiple of 1.37 times. Essentially, it is the power generator in India and as such, vital to the economy.

Gail (OTC:GAILY)

Fund Weight: 5.89%

Like NTPC, Gail India is a state owned undertaking but in this case, the country's largest provider of natural gas and petroleum gas products. Its pipeline network covers nearly 8100 miles, seven processing plants as well as other petrochemical processing facilities. It should also be noted that Gail leverages its existing pipeline right-of-way with about 8100 miles of a fiber optic, broad band network.

Gail also has wholly owned exploration and development assets in Singapore, the U.S. and China.

The company's market cap is $6.3 billion and provides a dividend of 1.79%, a P/E of 17.5 and trades at about 14 times cash flow.

Tata Power Co Fund Weight: 4.63%

A subsidiary of the global Tata Group, Tata Power is established in the Asia Pacific with holdings of Indonesian, Singaporean and Australian energy assets. Tata generates electricity in South Africa and has generating facilities in Bhutan and Vietnam.

Its market cap is $2.5 billion with a dividend of 2.11% and P/E of 23.10, trades at nearly 5 times cash flow and less than 2 times tangible book.

Reliance Infrastructure Ltd (OTC:RELEY)

Fund Weight 2.78%

Reliance Infrastructure is a subsidiary of Reliance Group, a leading development and construction company. The infrastructure subsidiary specializes in energy through a wholly owned subsidiary, Rinfra providing electric generation, transmission and distribution as well as energy trading.

Other infrastructure includes road, rail and airports. The company provides its own engineering solutions for its projects as well as for clients.

The company's market cap is just under $2.0 billion, has a dividend yield of 1.62%, a low P/E of 7.35% and trades at a low 6.12 times book.

Reliance Power (National Stock Exchange: RPOL)

Fund Weight: 1.58%

Also a subsidiary of Reliance Group its focus is on power generation through coal, hydro and renewable such as solar utilizing market carbon credits. The company also provides management and support services.

The company's market cap is over $2.1 billion, a 1.96% yield, a P/E of 11.69 and trades at just over 7 times cash flow.

CESC Ltd.
Fund Weight 1.18%

A smaller electric generating company servicing an area overlapping the cities of Kolkata and Howrah for about three million customers.

The company's market cap is $900 million, pays a 1.99% dividend, a P/E of 20.00 and trades at about 13 times cash flow.

JSW Energy (National Exchange: JSWE)

Fund Weight 0.86%

Also a smaller but diversified power company, primarily in the business of power generation but also holding mining assets and engaging in energy trading.
Data from Reuters, YaHoo! and individual company websites
With the global economy slowing, India is sure to be affected and no sector more so than materials and mining. Eventually, this sector will prove to be an asset, particularly so because of India's proximity to emerging markets in Asia. With China now on a different course, there will be new markets for India's building materials sector as well as its smelters. Just one note one of the largest steel manufactures, Steel Authority of India, is a state owned company.
Materials Companies, Ticker and Fund Weight

Brief Description and some available metrics

Ambuja Cements (OTC: OTC:AMBUY)

Fund Weight: 4.96%

Essentially basic building materials: cement, aggregates, ready mix and similar products.

Market Cap $4.448 billion, a good yield for this fund of 2.51% and a P/E of just over 20; trades at 20 times cash flow.

Ultratech Cement (NASDAQ:UTEK)

Fund Weight: 4.85%

This company manufactures what one might expect from a building materials company with a unique twist of using alternative fuels, recovering waste heat and reducing carbon dioxide emissions; i.e., an environmentally responsible company.

The company has a market cap of $10.871 billion, a small 0.34% yield and an above average P/E of just over 34; the company trades at 21.76 times cash flow and 3.82 times tangible book.

Vedanta (NYSE:VEDL)

Fund Weight 3.62%

Metals mining and smelting plus some energy generation. Metals include zinc, lead, silver, iron ore, copper and aluminum. Interestingly, the company lists on the NYSE consolidated exchange, has a $3 billion market cap and an unusually high yield of over 11%. This is one of the few companies in this fund which is institutionally owned at 3.40%.

Shree Cement (OTC:SHRQY)

Fund Weight 3.36%

A basic cement producer with several brands, generates power and also practices environmental responsibility. The company has a market cap at $5.1 billion a small yield of 0.39% and a P/E of almost 34. The company trades at 24 times cash flow and 8.80 times tangible book.

NMDC Ltd (OTC:NMQDY)

Fund Weight: 2.6%

Essentially a metals and minerals mining company: copper, iron, tin, diamond, phosphate, limestone, gypsum and graphite to name a few. The company has a $5.03 billion market cap, a high yield of over 10% and a low P/E of 5.26. It trades at 5.10 times cash flow and 1.12 times tangible book.

Steel Authority of India

Fund Weight: 1.8%

As advertised, a manufacturer of steel and steel products. The company is a state owned enterprise with nine plants and by far the largest of its kind in the country. The market cap is $2.596 billion, a yield of 4.77%, a P/E of 2.51% and trades at 2.14 times cash flow.
Data from Reuters, YaHoo! and individual company websites
The real key to the fund are companies engaged in construction, especially those focusing on infrastructure; precisely what this fund targets. To this end each and every company in the table develops, engineers, constructs, manages or services critical infrastructure assets. One company, National Building Construction Ltd (NSE: NBCC) is a state owned enterprise. The investor needs to keep in mind that with a heavy state presence in industry, but with a bias towards reform, future major undertakings will likely involve those companies already positioned in India's infrastructure construction industry.
Construction Companies, Ticker and Fund Weight

Brief Description and some available metrics

Bharti Infratel Ltd (OTC:BHRYY)

Fund Weight: 5.64%

Mainly communications infrastructure solutions, towers and related construction. The company has a large market cap at $10.799 billion, a reasonable yield of 2.90%, a P/E of 32.5, trades at 16 times cash flow and 4 times tangible book value

Larsen & Toubro Ltd

Fund Weight: 3.72%

This is a widely diversified company but mainly engages in engineering solutions and infrastructure construction: roads, rail, metro transportation, water, power and communication. Other businesses include automation, defense, materials and financial services. The company also has several subsidiaries covering power, shipbuilding and building materials. The market cap indicates it's size in the economy at $15.135 billion. It carries a yield of 1.50%, a P/E of 22.28, trades at 28 times cash flow and 2.52 times tangible book.

Adani Ports and Special Economic Zone (OTC:ANRTY)

Fund Weight: 3.65%

A subsidiary of Adani Group specializing in port infrastructure development, operation, management, cargo storage and logistics. The company is sizable with a $6.8 billion market cap but a small 0.60% yield.

Bharat Heavy Electricals (OTC:BRHTY)

Fund Weight: 3.25%

Mainly engineering, construction and power transmission infrastructure from both hydrocarbon and renewable resources. Market cap of $5.2 billion, a yield of 0.82%, P/E of 11.16, trades at 10 times cash flow.

Gujarat Pipavav Port Ltd (national Stock Exchange: GPPL)

Fund Weight 1.68%

A smaller port operation, transport, storage and management company at Pipavav Port. The company is a small cap $11.00 million small cap.

National Building Construction (National Stock Exchange: NBCC)

Fund Weight: 0.47%

Another small cap with a $16 million dollar market cap and engages mainly in civil engineering services. It has a 0.61% dividend and P/E of 36.71.
Data from Reuters, YaHoo! and individual company websites
The last group is communication services. This may be perhaps the fasting growing group in the fund. It should be noted that there are on average 93 connection for every 100 citizens and with a population of 1.364 billion, there are 1.277 billion cell phones; staggering numbers considering that the U.S. follows India with a mere 327.58 million cell phones and 103 connections per 100 citizens. Bharti Airtel ltd (OTC:BHRYY) is the clear leader operating in 20 countries in South Asia and in Africa; it has the third largest mobile network on the planet with over 325 million subscribers.
Communications Services Companies, Ticker and Fund Weight

Brief Description and some available metrics

Bharti Airtel LTD (National Stock Exchange: BRTI)

Fund Weight 4.5%

The largest of India's telecom services company providing the full spectrum of services, 2G, 3G, 4G, fixed line, broadband, television, enterprise services and more. The company has an $18 billion market cap, a 1.28% yield, and P/E of 20.81 and trades at 4.63 times cash flow

Idea Cellular (National Stock Exchange: IDEA)

Fund Weight: 4.32%

A holding company in a niche market providing Global Mobile Services, international long distance and general telephony. Market cap $6.018, yield of 0.54%, P/E of 11.64 and trades at 4.25 times cash flow.

Dish TV India (National Stock Exchange: DSTV)

Fund Weight: 1.36%

The satellite TV service provider in India providing equipment, multi-lingual , HD and SD services and content. With a $1.3 billion market cap and voted as one of the most trusted companies in India, it is the best in class direct-to-consumer TV. The company services India, Sri Lanka, Pakistan, Afghanistan, Nepal and Bhutan.

Tata Communications Ltd (National Stock Exchange: TATA)

Fund Weight: 1.24%

A smaller part of the Larger Tata Group providing the usual communication services but in addition leases bandwidth through its undersea cable. A $16.870 market cap company
Data from Reuters, YaHoo! and individual company websites
At this point, it would be inaccurate to say that this fund is 'not for the faint of heart'; that would be incorrect. What goes largely unnoticed is that many of the holdings have been in existence for quite long periods of time. Some going back a century of more. Although they've gone through many changes over many decades, they manage to adapt. Some with state support, some by partnering with other global companies and a few entirely new startups having grown into multi-billion dollar global corporations. On the other hand it is certainly more accurate to say that this fund is not for the short term investor. With the global economy slowing and Prime Minister Modi still fighting an uphill battle in his efforts to bring India up-to-speed in order to compete in a global market, it might be quite some time before the fund yields real developing economy results, as did China.
The key point which investors need to focus on is the infrastructure theme. An infrastructure buildout must necessarily precede higher levels of economic growth and foreign capital investment. That's why this fund, at this time, might be the best long term ETF investment for future capital gains.
Hence, for those investors interested in investing in India through a fund, this may be one of the better avenues. It's concise and focused on the most necessary asset of any well-functioning economy: the nation's infrastructure.
Disclosure: I/we have no positions in any stocks mentioned, and no plans to initiate any positions within the next 72 hours.
I wrote this article myself, and it expresses my own opinions. I am not receiving compensation for it (other than from Seeking Alpha). I have no business relationship with any company whose stock is mentioned in this article.
Additional disclosure: CFDs, spreadbetting and FX can result in losses exceeding your initial deposit. They are not suitable for everyone, so please ensure you understand the risks. Seek independent financial advice if necessary. Nothing in this article should be considered a personal recommendation. It does not account for your personal circumstances or appetite for risk.
Editor's Note: This article discusses one or more securities that do not trade on a major U.S. exchange. Please be aware of the risks associated with these stocks.