Another weekend has come and gone without seeing a Vatican-inspired "puff of white smoke" emanating from the chimney of NorthStar Asset Management (NYSE: NSAM), the external manager of NorthStar Realty Finance (NYSE: NRF).
Shareholders have been on pins and needles waiting to learn more about what changes management will make, and what it portends moving forward, for the NorthStar REITs.
However, Mr. Market did have the weekend to digest Friday's Land and Buildings letter, and it now appears investors are betting that any outcome will be favorable for NSAM shareholders.
NSAM is an asset manager which sponsors non-traded REITs, in addition to currently managing NorthStar Realty Finance, and recent NRF spin-out NorthStar Realty Europe (NYSE: NRE).
NRE contains the pan-European portfolio of Class-A office buildings, heavily weighted toward gateway cities in Western Europe.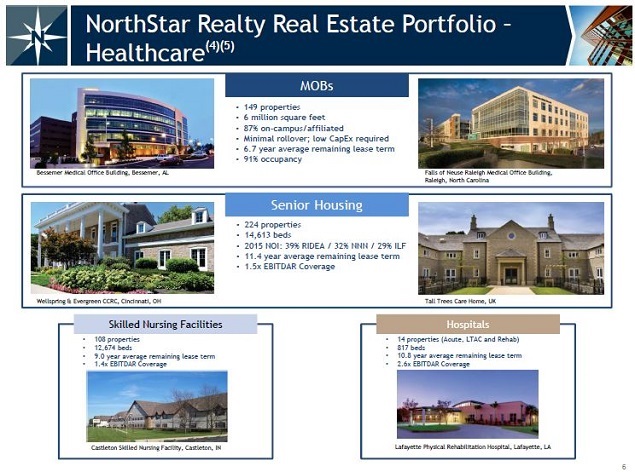 Source: NRF - November 2015 presentation
NorthStar Realty owns a diverse group of assets, with the largest components of the portfolio comprised of health care assets and hotels.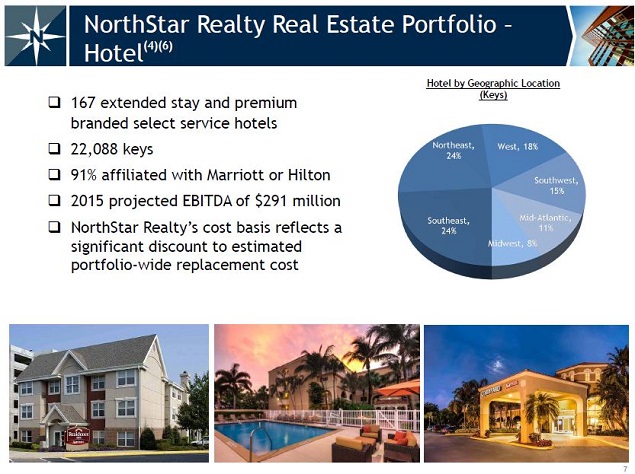 Source: NRF - November 2015 presentation
Notably, lodging REITs have been under selling pressure across the board by REIT investors. However, the implied valuations of the assets owned by NorthStar are far lower still.
Overview - NorthStar's Recent Developments
NorthStar Realty had previously operated as a commercial mREIT prior to transitioning to a diversified equity REIT.
NRF shares underwent a 1:2 reverse-split, immediately following a 1:6 distribution of NRE shares to NRF shareholders at the end of October, 2015.
Prior to NSAM being spun-out of NorthStar Realty, there had been many years of successful operations as an internally managed REIT. Mr. Market's views on the NorthStar family of REITs soured due to the NSAM fee structure and incentive compensation granted to executives of the external management firm.
The background regarding these transactions, as well as the rationale for my bullish thesis can be found in "NorthStar Realty Finance - Make 2015 Hedge Fund Pain Your Gain In 2016." This article was originally published on Dec. 23, 2015, for SA PRO readers who had exclusive access for 30 days.
Subsequently, on January 12, SA published my NRF focus article, "NorthStar Realty Finance External Manager NSAM Hires Goldman Sachs - Time To Double Down?" It has garnered over 245 comments as of this writing, a testament to the bull vs bear tug-or-war and strong views about NRF shares.
The second article updated investors regarding NSAM Chairman David Hamamoto's announcement on January 11, when I wrote:
Hamamoto announced the asset management firm had hired investment bank Goldman, Sachs & Co. (NYSE: GS), his alma mater, "…to assist NorthStar Asset Management in exploring possible strategic alternatives to maximize shareholder value." Hamamoto, acknowledged the obvious in the brief announcement:

"We believe our current share price undervalues the Company. Our Board of Directors and management have always been committed to acting in the best interests of our shareholders and we are aggressively seeking ways to maximize shareholder value."
My bullish thesis for NRF was based upon two catalysts: 1) the NAV (net asset value) of the real estate being irrationally discounted by Mr. Market; and 2) I predicted that there would be "second order change" in the NSAM agreement/relationship with NRF and NRE.
NRF Distribution - The Elephant In The Room
On a more tactical level, NorthStar Realty shareholders have always been attracted by a relatively high dividend yield. The $3.00 per share annual distribution is now yielding 26%, based on the latest NRF closing price of $11.50 per share.
Clearly, the fear of a cut in the REIT's $0.75 quarterly distribution appears to be priced into the NRF shares by the hedge funds and institutions that hold over 85% of the shares.
During the 3Q'15 conference call, executives stated that the dividend distribution was covered by CAD, and would not be cut. However, the lack of reassurance from NorthStar executives regarding the fate of the regular dividend in the face of the ongoing selling pressure on NRF shares has perplexed many investors.
This lack of communication, combined with the uncertainty of what will come out of the Goldman Sachs discussions, has resulted in the NRF shares continuing their nasty slide based on rumors and fear.
Meanwhile, the valuation of the underlying real estate has essentially remained the same. Arguably, with the 10-year Treasury interest rate now hovering around 2 percent, cap rates for the various real estate assets owned by NorthStar may have compressed a bit since November, 2015.
NorthStar Shares Under Selling Pressure
It has been a rough sledding in January, 2016, for all equities, including the broader REIT sector. However, the downward slide in NorthStar shares has continued unabated. The price destruction has been far worse than the broader market sell-off, widely blamed on China's economic slowdown and the depressed price of oil.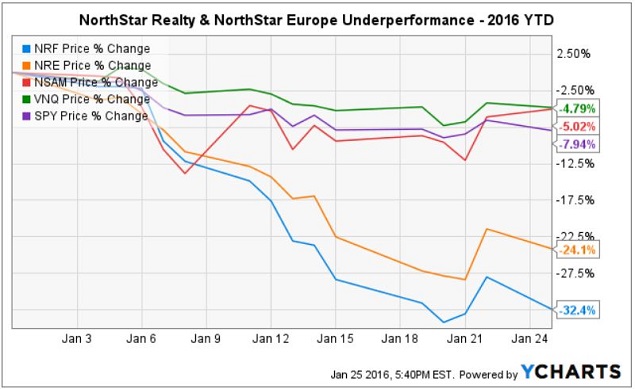 During trading back on Wednesday, January 20, NRF shares bounced off of an intraday low of $10.21 per share. NRF shares then traded higher the following Thursday and Friday, closing the week at $12.26 per share.
On Monday, January 25, the overall markets had a weak session to kick off the week, down ~1.5%. This again was correlated with a large slide in the price of oil, which fell back below $30.00 per barrel.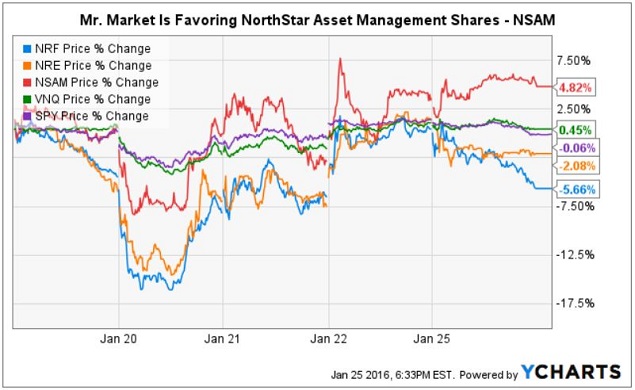 Notably, NorthStar Realty shares slid 6.2% on Monday, far worse than the broader market. However, external manager NSAM shares rose close to 1%, in an uncharacteristic show of relative strength vs the broader market.
This divergence is a notable change from the tandem-style trading that has been seen in the past for NRF/NSAM share prices.
Land and Buildings - NSAM Letter
Given the trading activity on Monday, I think there is enough "meat" included in last Friday's Land and Buildings letter to merit including it in its entirety for readers to study.
January 22, 2016

David Hamamoto
Executive Chairman
NorthStar Asset Management
399 Park Avenue
New York, NY 10022

Dear David:

We believe NorthStar Asset Management ("NSAM" or the "Company") is materially undervalued and there are numerous paths to unlock that value.

There is one straightforward solution that should be at the top of the list: recombining NSAM and NorthStar Realty Finance ("NRF").

Since the grand experiment of spinning off NSAM from NRF in the summer of 2014, the shares of both companies have fallen over 50% from their highs. Externally managed REITs, such as NRF, have historically struggled to gain institutional investor support given the misaligned incentives between the manager and the REIT.

The $200-million largely perpetual, non-cancelable annual management fee NRF/NRE pays to NSAM, if sold, could be worth nearly $2.6 billion at a 7% yield, after taking a $20 million G&A allocation. NRF is the most logical buyer, although the contract could be a coveted asset to other investors. In order to purchase the contract, NRF could sell manufactured housing, apartment and other assets at yields well below 7% in addition to utilizing retained earnings to acquire the management contract from NSAM accretively. Once reconstituted, NRF could again be positioned to grow as it will be an internally advised and managed REIT.

NSAM could pay a special dividend of $2.6 billion in proceeds from the sale of the public REIT management contracts, or $13 per share, to NSAM shareholders, which is 20% more than the current share price. The remainder of NSAM would have considerable value with the highly regarded Townsend asset management and consulting business as well as the real estate management contracts with several private REITs and a nicely producing broker-dealer. These remaining businesses at modest valuations are likely worth $7 per share or more as a going concern or in a sale scenario. As of the end of the third quarter 2015, NSAM had no debt.

An NSAM/ NRF recombination appears to us to be the right thing to do and the right time to do it for all NRF and NSAM shareholders. However, consistent with its fiduciary duties to NSAM shareholders the Board must explore and evaluate all options, including an outright sale of the entire company to a third party.

While exploring a sale of the NRF/NRE contract and the entire Company, the significant upside to net asset value, which we believe could be in excess of $20 per share, should be catalyzed through several other avenues as well, including corporate governance enhancements, margin expansion opportunities by reducing a heavy G&A load, debt issuance and stock buybacks.

The NSAM Board of Directors made an important first step in the right direction by hiring Goldman Sachs to evaluate strategic alternatives. However, we are disappointed that the Board of NSAM has neither extended the deadline for shareholders to nominate directors nor immediately added new independent directors on the Board to oversee the strategic review process as we requested over a week ago. We continue to be adamant that Board reconstitution to add shareholder representatives in the boardroom is essential to ensure that shareholders' interests are prioritized and options are explored open-mindedly as the Board goes through the process of evaluating all viable alternatives to create value.

I look forward to a prompt reply.

Sincerely,

Jonathan Litt

Founder & Chief Investment Officer, Land and Buildings
Essentially, Litt is making many arguments which are similar to my thesis. The NSAM external REIT management experiment has been a failure. (Personally, I think New Coke would have been a great analogy for him to use).
However, his letter is looking through the lens of boosting NSAM, when he suggested the existing management agreement be capitalized at 7% net of G&A, and bought out in cash by NRF.
Litt also urged management to explore an outright sale of the undervalued REITs. He ends by agitating for a chance to vote on new board members.
Bottom Line
While I am in agreement with many parts of the letter, I think that NRF selling real estate assets to buy out NSAM for cash is a non-starter.
It would gut the NRF portfolio, and leave it an empty shell of its former self. Of course, selling European office assets to pay NSAM cash would essentially put NRE out of business, too.
However, another NSAM buyout approach would be to issue additional NRF/NRE shares utilizing a formula which takes into account management's NAV of the real estate. This would also help to realign the interests of all of the shareholders once again.
I am sure that Hamamoto and his friends at Goldman Sachs could come up with a compensation arrangement for the re-internalized management team that ALL of the stakeholders could support.
I am in total agreement with Litt that the sale of NorthStar Realty and NRE should be explored, along with any M&A possibilities that exist for the NSAM non-traded REIT operations.
An orderly liquidation of the NRF/NRE assets would be another option which would unlock shareholder value. The value of the sum of the parts is far greater than the current market capitalization.
Investor Takeaway
The NSAM discussions with Goldman Sachs announced just two weeks into 2016 are still presumably underway. It remains to be seen if they will become the catalyst that I have suggested.
After having had the weekend to digest the Land and Buildings letter, apparently Mr. Market concluded that NSAM shareholders may benefit from any new arrangement at the expense of NRF/NRE shareholders.
I think that investors long NRF may want to think about hedging their bets by establishing a position in NSAM shares. The divergence in trading on Monday was too large to ignore.
I remain a proponent of owning NRF/NRE shares based upon the irrationally low valuation vs the value of the underlying assets. The mispricing of assets catalyst is certainly still in play.
However, it appears that Mr. Market is trying to tell retail investors to take a long look at the external manager.
Disclosure: I/we have no positions in any stocks mentioned, but may initiate a long position in NRF, NSAM, NRE over the next 72 hours.
I wrote this article myself, and it expresses my own opinions. I am not receiving compensation for it (other than from Seeking Alpha). I have no business relationship with any company whose stock is mentioned in this article.