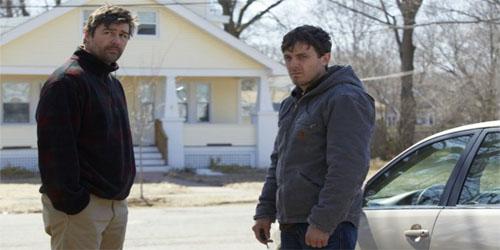 Image courtesy of Pearl Street Films
While Netflix (NASDAQ: NFLX) may have been the first streaming network to pursue an award campaign for a full-length feature film, it certainly won't be the last.
Over the weekend, rival Amazon (NASDAQ: AMZN) struck a deal at Sundance for Manchester By The Sea and in the process outbid a number of the bigger studios. As first reported by Deadline, Manchester was acquired for $10 million in a competitive battle between such powerful names as Universal (NASDAQ: CMCSA), Sony (NYSE: SNE), Fox (NASDAQ: FOXA) and Lions Gate (NYSE: LGF).
The film has awards-bait written all over it and follows a Boston handyman who becomes the caretaker of his 16-year-old nephew after his brother's sudden passing. Matt Damon is a producer on the project and was slated to star but eventually had to step back and enlisted Ocean's Eleven pal Casey Affleck for the lead role. Friday Night Lights star Kyle Chandler and Brokeback Mountain's Michelle Williams also highlight the cast.
Keep in mind Netflix has been busy as well grabbing The Fundamentals of Caring and Tallulah for $7 million and $5 million, respectively, before the festival officially started. Caring stars Paul Rudd, while Tallulah is fronted by Ellen Page.
Investor Analysis
Taking the competition between Netflix and Amazon out of the equation for a minute, this situation brings up an interesting similarity both companies share. While rivals, each company is essentially forced to pay higher than usual amounts for its acquisitions as they come with a wild card. Investors know that's the price the streamers are going to have to pay to get into the game and many seem okay with the tradeoff.
Amazon tried to acquire Brooklyn last year, but was turned away because it was a streamer. Producers, instead, decided to go with Fox's Searchlight studios for fear Amazon couldn't deliver the same awards campaign. As it stands it looks like a good call as Brooklyn scored three major nominations including Best Actress, Best Screenplay and Best Picture.
Netflix conversely tried to launch its film division into award season with Beasts of Nations. While Beasts did break through in a number of key and influential critics' groups and guilds, it failed to land with the one they really wanted. Despite the talented Idris Elba as its star and acclaimed director Cary Fukunaga helming the pic, the Oscars slighted the drama.
Sometimes having the biggest checkbook doesn't help as producers want to give their film the best chance to rule award season and to date, the studios are still the best option. The industry still clearly has people willing to roll the dice but it's not been as easy as some had thought.
While Netflix and Amazon have infiltrated the Emmys, the Academy Awards are going to be a tougher road to go down. Oscar voters are very stuck in their ways, which is incredibly ironic given the Emmy voters are massively more notorious for the same thing…but even they've come around.
Still, Amazon made it a point to come to Sundance and make a splash. The studio wanted to spend big to show it was big and it succeeded (for now). Investors can clearly see Amazon's made some significant strides in the last year alone and this was the next logical step.
Sundance still has some major films up for grabs and it will be interesting to see if more producers are willing to take a risk.
Disclosure: I/we have no positions in any stocks mentioned, and no plans to initiate any positions within the next 72 hours.
I wrote this article myself, and it expresses my own opinions. I am not receiving compensation for it (other than from Seeking Alpha). I have no business relationship with any company whose stock is mentioned in this article.