Dow Chemical (NYSE:DOW) has been taking major steps to strengthen its business portfolio. The company is actively seeking to move toward high-margin, high-growth businesses. These moves are not only enhancing the company's portfolio, but are also strengthening its cash position and balance sheet. In the recent couple of quarters, Dow has divested several of its low-performing businesses, including ANGUS Chemical Company and its sodium borohydride businesses, as well as separating from the chlor-alkali and other downstream derivatives.
These divestments have contributed great strength to both its cash position and its balance sheet. In the latest quarter, the company experienced 41% growth in its operating cash flows compared to the same quarter of last year. These operating cash flows are creating a huge opportunity for potential dividend increases along with investing in growth opportunities. Simultaneously, Dow is actively working to reduce its outstanding shares. It will accelerate its three-year, $5B buyback program this year; it repurchased $1B-worth of stock in Q4 and plans to purchase the rest during 2016.
Combined with its strong cash position and asset divestments, the company's strategy of investing only in high-growth, high-margin businesses is working. Dow is looking to expand its Performance Plastics, Consumer Solutions, Performance Materials & Chemicals, and Electronics sectors, along with its Infrastructure Solutions businesses.
In Q3 of 2015, it saw strong margin expansion from these businesses with Consumer Solutions increasing 216 basis points, Performance Plastics up more than 700 basis points, Infrastructure Solutions expanding by 128 basis points and Performance Materials & Chemicals up 187 basis points. Overall, its operating earnings per share increased by 14% over the same quarter of last year.
This is a very strong performance by any company in such a volatile environment, where many other companies are falling due to currency headwinds, sliding downhill with the energy sector, and floundering in a depressed economic environment. This company is likely to post another quarter of strong performances for the final quarter of 2015, thanks to its focus on high-margin businesses. Its dividend growth is safe and its focus on buying back outstanding shares will add major support to both its share price and its earnings per share.
Recently, the company announced plans to merge with E. I. du Pont de Nemours and Company (NYSE:DD). This could be the biggest merger we have seen in the history of the stock market. Many analysts are citing it as an opportunity to unlock even greater value for both companies. They expect the merger to cut costs by more than $5B in the coming days. I share their opinion. I believe the combined companies will demonstrate greater potential to expand their market share as well as to perform well against both domestic and international competitors.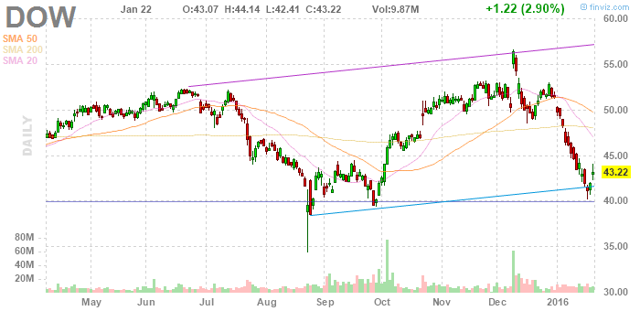 Dow's share price dipped in the past two months due to uncertainties in the environment, the recent plunge of the Chinese economy and tumbling oil prices. Nevertheless, I see the dip in Dow's share price as a buying opportunity for investors. The company's dividend yield is strong and its shares show massive upside potential in its merger with DuPont, because of a strong cash position and a consistent exposure to high-growth, high-margin businesses.
In Conclusion
Dow Chemical has minimal exposure to the oil and gas industry, which gives it an edge over other companies and makes it a strong pick for defensive investors in a volatile environment. In a few days, the company will post strong results for the fourth quarter and for fiscal 2015, which I believe will provide a major boost to its share price. The merger with DuPont will result in a unique massive company; this new entity will hold extensive market shares and its sheer size will minimize its competition. Buying this stock at present will result in ownership in the combined company. I suggest investors to buy this stock ahead of the fourth quarter earnings call and before the finalization of the merger with DuPont.
Disclosure: I/we have no positions in any stocks mentioned, and no plans to initiate any positions within the next 72 hours.
I wrote this article myself, and it expresses my own opinions. I am not receiving compensation for it (other than from Seeking Alpha). I have no business relationship with any company whose stock is mentioned in this article.