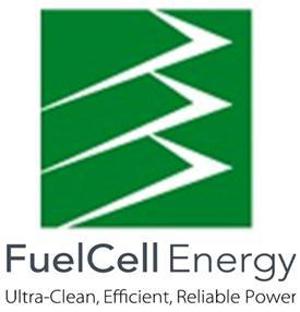 It looks like FuelCell Energy (NASDAQ:FCEL) will finally be able to come out of its slump this year. After a woeful time in 2015, FuelCell has got off to a strong start in 2016 and has already gained close to 7%, driven by a rapid slowdown in the rate of decline in its revenue in the fourth quarter that was reported in the middle of December.
Additionally, FuelCell received a massive shot in the arm earlier this month after the Connecticut Siting Council gave it the approval to build a 63.3 MW fuel cell park, which will be the biggest in the world. Now, this news alone pushed FuelCell shares up by 20% in a day as the project is valued at $500 million by analysts at Cowen, who have a price target of $23 on the company. This clearly indicates that as fuel cells gain momentum across the globe and the company lands more such projects, it should be able to continue improving its financial performance.
In this post, we will take a look at the reasons why FuelCell Energy will be able to keep up the momentum that it has gained so far this year going forward.
FuelCell has a strong backlog
The fact that FuelCell's business is gaining traction can be easily gauged from the fact that its backlog is getting better. In fact, at the end of the previous fiscal year, FuelCell's total backlog stood at $381 million. This was up from backlog of $338 million recorded at the end of the preceding quarter, which clearly indicates that the company is gaining traction in the end market.
On taking a closer look at the backlog, we can see that FuelCell's total backlog includes product sales backlog of $90.8 million, service backlog of $254.1 million, and technology contract backlog of $36.5 million. In comparison, a year ago, FuelCell had product sales backlog of $113.1 million, service backlog of $196.8 million, and technology contract backlog of $24 million. This makes it evident that FuelCell's product backlog has decreased on a year-over-year basis, while the other two segments, which mainly focus on providing services, have seen impressive growth.
This is a good move from FuelCell as an increase in the service backlog should ideally lead to better margins going forward as the company won't have to invest in infrastructure development. This is a key reason why FuelCell's gross profit margin and EBITDA fared better than its revenue performance in 2015, as shown in the chart given below: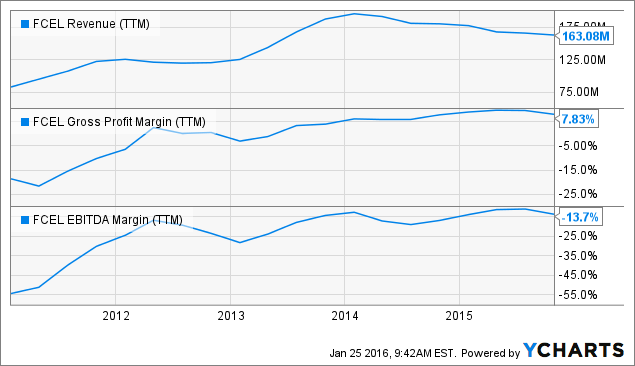 FCEL Revenue (NYSE:TTM) data by YCharts
Moreover, another key point that investors should note is that FuelCell's backlog of over $380 million is way higher than the revenue of $163 million that it has generated in the last year. This indicates that FuelCell should be able to improve its top line performance going forward, and since a majority of the backlog is driven by services, its gross margin performance should also get better.
Carbon capture will present robust opportunities
FuelCell's focus on driving renewable and clean energy solutions is a key reason why its addressable market will get better in the long run. For instance, a key area where the company is focusing is that of carbon capture. Given the focus on global governments on reducing emissions, the concept of carbon capturing is gaining steam.
This process involves "capturing waste carbon dioxide (CO2) from large point sources, such as fossil fuel power plants, transporting it to a storage site, and depositing it where it will not enter the atmosphere." Now, this particular process is gaining a lot of traction as governments are looking to curb pollution. As a result, FuelCell is already engaged in advanced discussions with a couple of coal plants in the U.S. to install its carbon capture solutions for a project sized 25 megawatts.
In addition, in the previous quarter, FuelCell had also gained carbon capture projects worth $24 million from the Department of Energy in the U.S. Going forward, FuelCell should gain more such contracts in the U.S. as under President Obama's Clean Power Plan, carbon pollution in the U.S. has to be brought down by 32% in 2030 as compared to 2005.
Since FuelCell Energy's carbon capture solutions reduce carbon emissions from coal and gas plants to the tune of 70%, while also enhancing power without additional costs, I won't be surprised if the company gains more traction in this area.
Conclusion
FuelCell Energy has got off to an impressive start in 2016 and given the company's strong backlog and resilient margins, it is likely that it will be able to keep up its strong momentum going forward. The company is focusing on key growth areas such as carbon capture, which will open up a sizable addressable market for it, while the growth in the services segment will lead to an improved margin profile.
So, according to me, it makes sense to remain invested in FuelCell Energy for the long run as its financial performance should get better due to the points stated above.
Disclosure: I/we have no positions in any stocks mentioned, and no plans to initiate any positions within the next 72 hours.
I wrote this article myself, and it expresses my own opinions. I am not receiving compensation for it (other than from Seeking Alpha). I have no business relationship with any company whose stock is mentioned in this article.