Silver Wheaton (NYSE:SLW) is a company that should be in your portfolio, one way or another. It's the largest precious metals streaming company, has adequate leverage to provide required annual returns, and a diversified exposure to silver and gold. I said last time around that SLW was going to be a turbulent investment and that you should consider even going short on the back of empty catalysts and a low cash profile. Since then, the stock is down 21% and that short would have proven to be highly useful.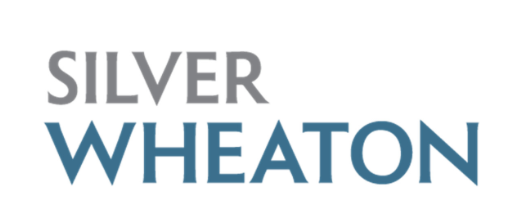 Source: Silver Wheaton
Limited Growth Potential
As I've said before, the business model is so unique in that it creates value arbitrage and I do not want to belittle that. Being able to purchase silver and gold at below market prices by purchasing a percent of the output from mines that they do not operate allows to them create substantial margins all the while mitigating risk. The company estimated for 2015 that it produced 44.5 Moz of silver, with Salobo, Penasquito, and San Dimas again comprising a large majority. The company wants to achieve 55 Moz by 2019, which is an excellent growth target. The revenue composition is roughly 63% silver and 37% gold. So, we seemingly have everything we need from a diversified precious metals company to start thinking about a long position.
After penning two large deals with Vale (NYSE:VALE) for Salobo II and Glencore's (OTCPK:GLCNF, OTCPK:GLNCY) Antamina, however, we're starting to see the company's cash run thin, now at just $75.96 million. While these are excellent pickups, especially given the point in the commodities cycle where the deal was struck, they come as a large blow to liquidity, which isn't necessarily a wise move in a stifled precious metals market.
A large portion of trading SLW effectively revolves around our ability to chart precious metals prices. This is coming from the data we're receiving about jobless claims as well as the larger trends of bankruptcy in the energy space as lower for longer prices persist.
Not only are energy prices continually weighing on the entire market with their sharp amount of volatility (i.e. the 7% bounce in Friday's session to a 3% decline in today's session, despite being up in Tokyo as there was seemingly resistance above the $32 mark), but also there's weight from the stronger dollar. If the dollar continues to strengthen against a basket of global currencies, we can reasonably expect precious metals to act negatively. Yet, this may not be the case as the Fed remains a wild card in that if the American economy shows signs of letting up, the proposed four rate hikes will likely not occur.
Below is Silver Wheaton against the gold and silver spot, and while the stock should have a much stronger correlation to these prices, we see that over the last month there's been a strong divergence.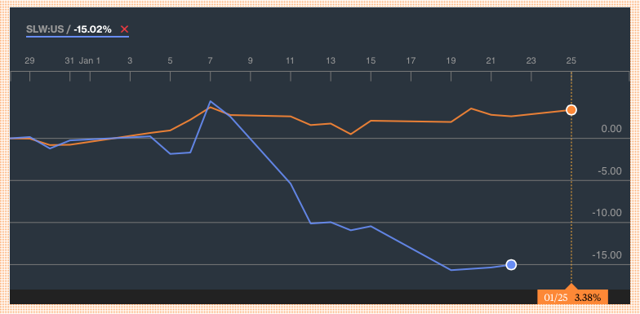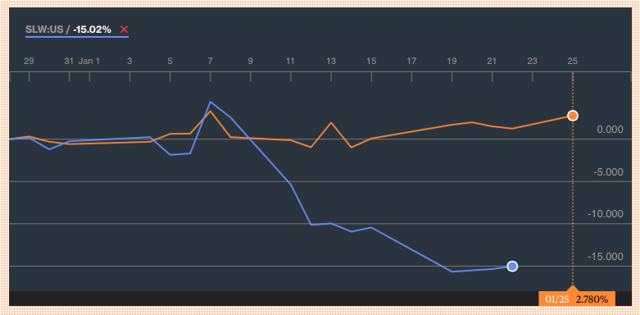 Source: Bloomberg
Thus, watching this company's liquidity and cash position is going to be so crucial moving through 2016 where gold and silver prices are going to be heavily volatile with increased macro activity. $1.375 billion left in the revolving credit facility, but $610.8 million in LT debt. Fortunately, there's no ST debt, but I'd still like to see cash assets get propped up.
Two exceptional growth catalysts are the Rosemont and Constancia streams. These are the two largest potential streams on their probable and proven reserves sheet. It's estimated that there is 279.5 mt of silver for Rosemont and 506 mt for Constancia. However, Rosemont is nothing more than a plot of land at this point that analysts have been leaning on for years now. Constancia, on the other hand, is a massive source of revenue for Silver Wheaton, but the contract details show that their interest in gold production from this mine will drop from 100% to 50% at the end of 2016. That's concerning considering they're expecting a much larger contribution from the mine this year than last year and on there track to achieve 50% production growth by 2019.
Rosemont could also be an exceptional catalyst for SLW, but has failed to receive the required permits to start construction on the mine. That construction is expected to take two years and average production is expected to be 2.9Moz Ag/15koz Au, they have a 100% stream agreement on silver and gold for the life of the mine, but so long as there are delays on the permits, then this has to be put on the back burner. Furthermore, they've had this agreement in place since 2010 and it's becoming very difficult for shareholders to retain hope in the agreement considering the first revenues we'd see from the mine is Q1 2018. They're also projecting 4Moz by 2019 for this asset average production. Interestingly enough, it's listed as a cornerstone asset, but hasn't produced a dime of income.
SLW is relying on Barrick (NYSE:ABX) for Pascua Lama, a massive gold mine with a projected useful life of over 25 years. Now, Pascua Lama is Barrick's best LT growth catalyst, but for SLW shareholders it currently represents an inadequate return. When SLW took a $625 million interest in the mine in 2010, they contracted that the mine had to be at 75% operating capacity by 2020. This is an exceptionally high standard, but without seeing any operating results from Pascua Lama, the company is in jeopardy of wasting years worth of time waiting for potential returns. Shareholders will likely feel the full force of this pain. Still, 9 Moz projected by 2019 is a massive revenue stream when we think about their current gold streamof 44.5Moz.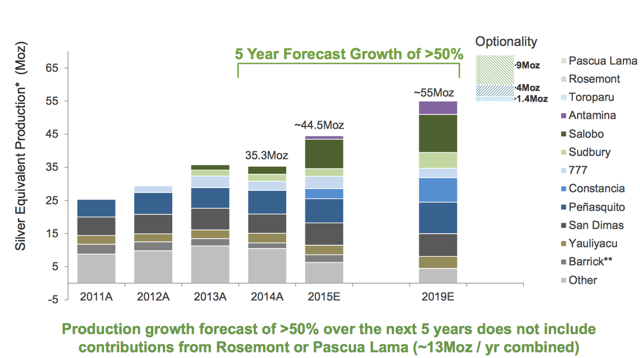 Source: Investor Presentation
Another headwind involves the CRAReassessment. Silver Wheaton, through its foreign subsidiaries earns income on the streaming deals it has with various miners. The CRA wants to tax them $310 million based upon an increase in streaming revenue from 2005-2010, but the penalty doesn't stop there. The CRA also announced that it will be looking at other tax years for SLW to see if further taxes are owed. Notice of appeal was just filed in the Tax Court of Canada. Naturally, there are many unknowns surrounding this reassessment, but nonetheless is hanging over SLW's head as potential dent into future quarterly earnings. Furthermore, it's another reason a long entry is deterred.
Which Way To Trade?
While the RSI is showing that SLW is trending towards oversold, it's arguably justified. The recent spike in global volatility to kick off the new year has proved to be detrimental to SLW longs. The tax loss selling in December was also notable, especially in the first two weeks of the month. With the company sitting well under both its 50 and 200 DMA, it recorded a decline of 40.4% in 2015 and investors fear a repeat.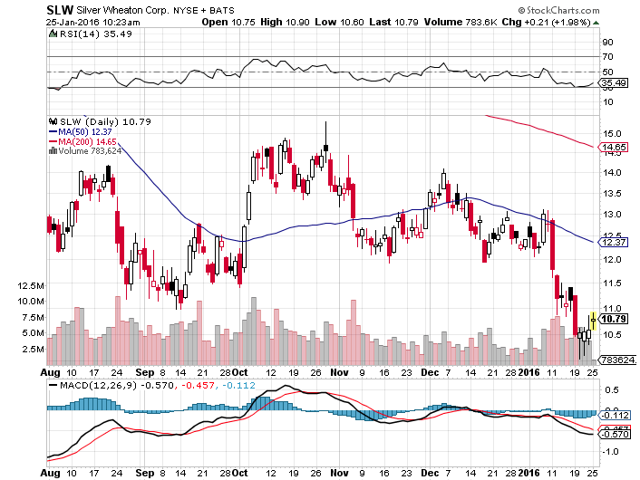 Source: StockCharts
Now there is the 5%, 20.2 million share buyback still active that was initiated back in September, and while it comes at an attractive pricing level for SLW given how low the stock is trading, it's arguably a move that hinders liquidity. The need to conserve cash assets here is vital and after the deals with Glencore and Vale, they are running thin.
With the limited cash profile, what we don't want to see is a repeat of March 2015, whereby there is an additional equity offering making current shares prone to dilution. Perhaps, however, you pick up SLW because of the improved risk reward scenario and current yield of 1.86%, but even then, there's macro headwinds that would argue against the improved r/r and the yield is trailing the S&P 500 average yield of 2.29%. Let's not forget their dividend policy of 20% of TTM OCF being paid out to shareholders each quarter and the fact that management values the dividend as a top priority. Perhaps you use SLW as a small hedge against a broader market downturn, collecting a small yield along the way, but there are arguably better equities to allocate capital to.
Conclusion
Earnings note Now, CIBC just upgraded SLW to sector outperform, which is rather interesting. If you want 100% precious metals exposure, Silver Wheaton is the stock for you, but you should note the divergence in correlation due to the CRA news dip. The asset base is well diversified with no one mine accounting to more than a fifth of total revenue, but even so this stock has significant risks. Furthermore, with the CRA reassessment hanging over its head, Silver Wheaton seems to be a weaker equity than normal, thus justifying the stock trading near its 52 week lows. The company will report Q4 earnings in mid-March, so there is still plenty of time before speculation creates higher volatility in this stock.
Disclosure: I/we have no positions in any stocks mentioned, but may initiate a short position in SLW over the next 72 hours.
I wrote this article myself, and it expresses my own opinions. I am not receiving compensation for it (other than from Seeking Alpha). I have no business relationship with any company whose stock is mentioned in this article.