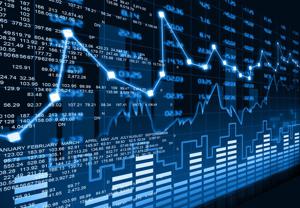 I've been getting a lot of questions lately as to whether or not we are seeing the beginning of a bear market. Given that the S&P is down -8.2% year to date and that the mere thought of the last major bear market still causes investors to quake in their boots, the question is certainly understandable.
But let's be clear about one thing. Unless you have a functioning crystal ball, one can never know the answer to such a question without a healthy dose of hindsight. And although there is never any shortage of prognostications on what Ms. Market will do next, no one has been able to consistently "call" the major moves in the market with any consistency for any real length of time.
However, I do have some good news that I'd like to share with everyone this morning on the subject of bear markets.
The Bad News
But first the bad news. According to the definition of a bear market at Ned Davis Research, the Dow Jones Industrial Average closed Monday a mere 219 points away from the bear distinction. Yep, that's right; one more bad day for oil and/or the yuan and we may be hearing an awful lot more talk about bear markets.
On that note, NDR tells us that the average bear market creates losses of -27% on the Dow. Ughh.
Before we get too far though, it is also worth noting that not all bears are alike. History shows that the bear markets associated with a recession in the United States tend to be far more damaging than those that are not. According to NDR, the average decline for bears since 1900 that were accompanied by a U.S. recession has been -32.3%.
The Good News
But... In the last 50 years things have become a little more complex in the financial markets and as such, further distinctions can be made.
For example, NDR's analysts found that for every bear market that was accompanied by a recession, there were two bear markets that were not. Further, these non-recession bears tended to be far shorter and less severe.
There have been seven of these non-recession or "mini" bears over the last 50 years. These bears sported a median decline of -19.3% (with the average decline being -23.2%). Oh, and the average length of these declines is about seven months versus eighteen months for the "recession bears."
Since the DJIA has not made a new high since May 20, 2015, it is worth recognizing that if this is indeed a bear market, we are already eight months in.
Asking the Right Question
In addition, I believe it can be argued that those asking whether or not a bear is upon us are really asking the wrong question. From my perch, the question should be: Will there be a recession in the United States?
While the argument of which way stocks go from here will likely rage on, the state of the U.S. economy is not really in question - well, at least at this stage of the game.
Sure, there have been a fair amount of punk numbers on the economy of late. However, it is critical to keep in mind that the stinky data have come primarily from the manufacturing sector. And the good news is that manufacturing only accounts for very small percentage of GDP. Remember fans, it is the services sector (i.e. the consumer) that really drives the economy in the good 'ol USofA.
It is also positive to note that in general terms, the U.S. consumer is doing just fine, thank you. As such, unless things start to fall off a cliff in a big hurry, the economy does not appear to be at risk of a recession at this time.
Continuing the line of thought, this would seem to suggest that using the last 50 years as a guide, IF (key word) the U.S. stock market does enter a bear market, it is LIKELY (yes, also a very key word) to be of the less-severe variety. This would also suggest that the decline would be somewhere in the neighborhood of half-way complete should the DJIA break below the 15,666 line of demarcation.
So, while bear markets are no fun, history does seem to suggest that if the bears do win the day, the bear market may not be as bad as many fear and not likely to be a replay of 2008.
Publishing Note: I am traveling for the next week and a half and will publish reports as my schedule permits.
Turning to This Morning
Despite a big sell-off in Chinese stocks and a weak open in Europe, the day is looking a little here on this side of the Atlantic. The reason for the improved mood is simple as there is now movement from oil producers on the subject of price. First, Iraq's oil minister said overnight that Saudi Arabia and Russia are now being more flexible on making production cuts. This follows a report from OPEC secretary general calling for all major producers to work together to come up with a solution to counter the oil price rout. And finally, Kuwait's OPEC governor said this morning that OPEC is ready to cooperate to stabilize the oil market. This has put a bid under crude and not surprisingly, U.S. stock futures have moved from red to green.
Today's Pre-Game Indicators
Here are the Pre-Market indicators we review each morning before the opening bell...
Major Foreign Markets:
Japan: -2.35%
Hong Kong: -2.48%
Shanghai: -6.42%
London: -0.44%
Germany: -0.08%
France: -0.01%
Italy: +0.73%
Spain: +0.16%
Crude Oil Futures: +$0.38 to $30.72
Gold: +$7.40 at $1112.70
Dollar: lower against the yen, higher vs. euro and pound
10-Year Bond Yield: Currently trading at 2.009%
Stock Indices in U.S. (relative to fair value):
S&P 500: +6.42
Dow Jones Industrial Average: +47
NASDAQ Composite: +10.47
Thought For The Day:
Nothing is more honorable than a grateful heart -- Lucius Annaeus Seneca
Current Market Drivers
We strive to identify the driving forces behind the market action on a daily basis. The thinking is that if we can both identify and understand why stocks are doing what they are doing on a short-term basis; we are not likely to be surprised/blind-sided by a big move. Listed below are what we believe to be the driving forces of the current market (Listed in order of importance).
1. The State of the Oil Crisis
2. The State of China's Renminbi
3. The State of Global Central Bank Policy
4. The State of the Earnings Season
The State of the Trend
We believe it is important to analyze the market using multiple time-frames. We define short-term as 3 days to 3 weeks, intermediate-term as 3 weeks to 6 months, and long-term as 6 months or more. Below are our current ratings of the three primary trends:
Short-Term Trend: Negative
(Chart below is S&P 500 daily over past 1 month)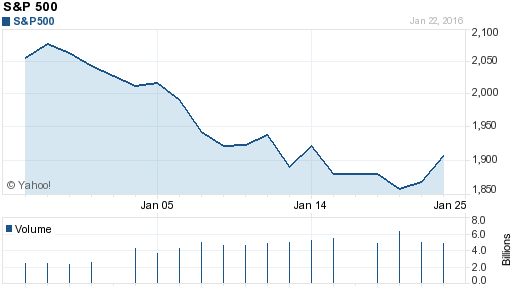 Intermediate-Term Trend: Negative
(Chart below is S&P 500 daily over past 6 months)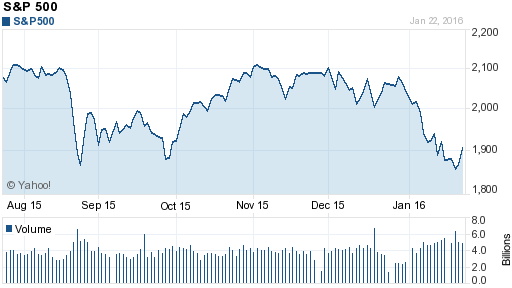 Long-Term Trend: Neutral
(Chart below is S&P 500 daily over past 2 years)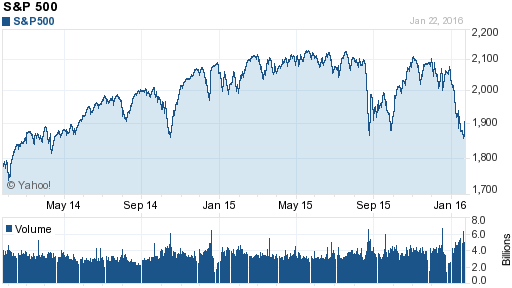 Key Technical Areas:
Traders as well as computerized algorithms are generally keenly aware of the important technical levels on the charts from a short-term basis. Below are the levels we deem important to watch today:
Key Near-Term Support Zone(s) for S&P 500: 1850
Key Near-Term Resistance Zone(s): 1950-1980
The State of the Tape
Momentum indicators are designed to tell us about the technical health of a trend - I.E. if there is any "oomph" behind the move. Below are a handful of our favorite indicators relating to the market's "mo"...
Trend and Breadth Confirmation Indicator (Short-Term): Neutral
Price Thrust Indicator: Negative
Volume Thrust Indicator(NASDAQ): Negative
Breadth Thrust Indicator (NASDAQ): Negative
Short-Term Volume Relationship: Negative
Technical Health of 100+ Industry Groups: Negative
The Early Warning Indicators
Markets travel in cycles. Thus we must constantly be on the lookout for changes in the direction of the trend. Looking at market sentiment and the overbought/sold conditions can provide "early warning signs" that a trend change may be near.
S&P 500 Overbought/Oversold Conditions:

- Short-Term: Oversold

- Intermediate-Term: Oversold

Market Sentiment: Our primary sentiment model is Positive
The State of the Market Environment
One of the keys to long-term success in the stock market is stay in tune with the market's "big picture" environment in terms of risk versus reward.
Weekly Market Environment Model Reading: Negative