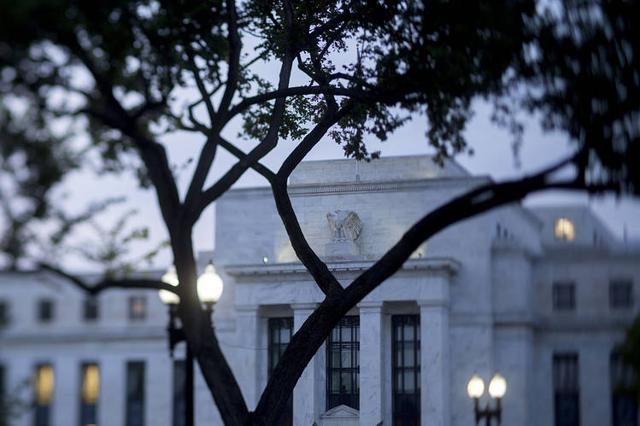 The Federal Reserve.
Every week, we closely monitor net speculative positions on the COMEX as well as ETF holdings inasmuch as the historical economic behavior of gold prices suggests that over a short-term horizon (<3 months), gold prices are largely influenced by changes in the forward fundamentals, reflected in changes in net spec length and ETF holdings.
Speculative positioning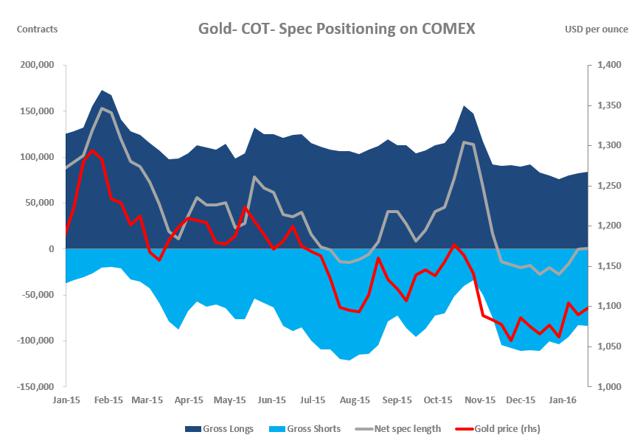 Source: CFTC.
Gold. According to the latest Commitment of Traders report provided by the CFTC, money managers, viewed as a relevant proxy for speculators, raised slightly their net long positions in the week ending January 19, while spot gold prices edged 0.14 percent higher over the period covered by the data (January 12-19).
The net long fund position now stands at 439 contracts, up 347 contracts from the previous week. The improvement in spec positioning for the third straight week was essentially driven by long accumulation of 1,146 contracts as shorts also raised their exposure by 799 contracts.
Money managers were not inclined to take an aggressive stance on the long side last week, mainly because US real interest rates and the dollar were broadly stable in spite of investors' fears over the global economy and the subsequent sell-off in broad equities.
Although the speculative positioning is not overstretched on the short-side as it was at the end of 2015, we continue to believe that a stronger wave of short-covering will emerge in the coming weeks, underpinning the positive swing in sentiment toward gold.
Money managers will probably pay a close attention to the January 27 FOMC meeting in order to assess more accurately the path of the current Fed's tightening cycle. The turbulence in the financial markets combined with the recent disappointing US data should prompt the Fed to adopt a cautious tone and therefore deliver a more dovish message to the market.
Looking ahead, we continue to expect gradual increases in the net spec length toward "normal levels".
Investment positioning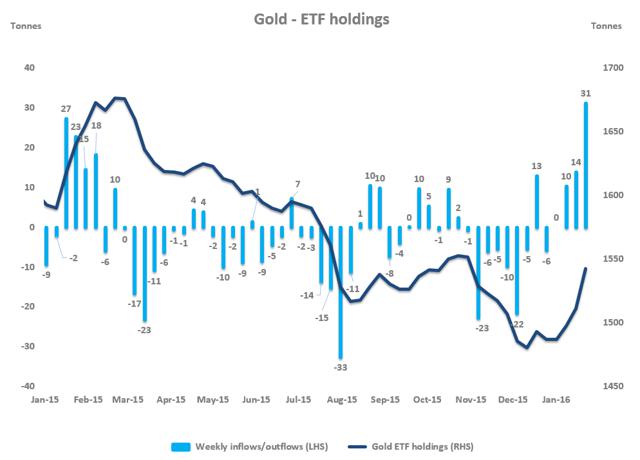 Source: FastMarkets.
Gold. ETF investors bought gold at a record pace for the third straight week of January, pushing total ETF holdings up to 1,542 tonnes as of January 22.
ETF investors bought a total of 31 tonnes of gold last week, at the largest pace since August 2011, after accumulating 14 tonnes in the prior week.
We believe that tactical investors were inclined to further increase their long exposure to gold ahead of the FOMC meeting to play the hypothesis according to which the Fed will revisit its tightening cycles in light of recent disappointing US data, which should translate into weaker economic performance and lower inflation, a well as the ongoing deterioration in global economic growth, partly due to weaker oil prices.
So far this year, ETF investors have bought 61 tonnes of gold after liquidating 24 tonnes in December and 44 tonnes in November, according to FastMarkets's estimations. As a reminder, ETF investors sold 112 tonnes of gold in 2015, after liquidating 158 tonnes in 2014 and 889 tonnes in 2013.
Looking ahead, we continue to expect gradual ETF inflows over the next few weeks, as the current macro environment will probably exert further downward pressure on US real interest rates, prompting tactical investors to accelerate their buying.
Spec positioning vs. investment positioning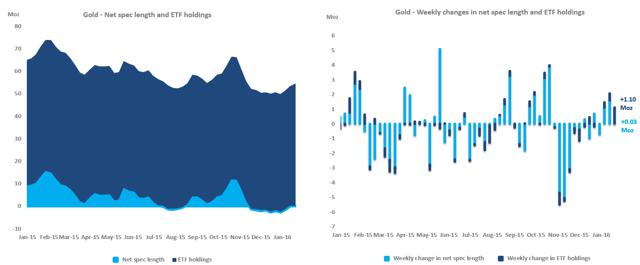 Source: MikzEconomics.
My GLD positioning - weekly chart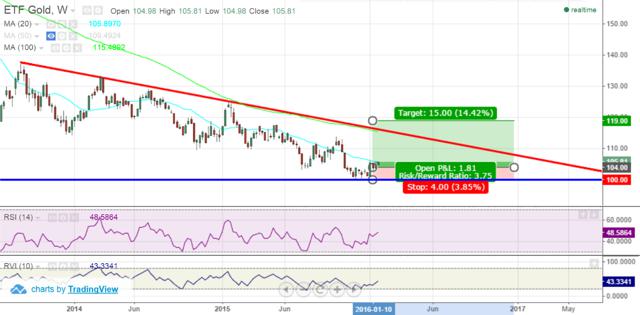 Source: TradingView.
Last week, GLD market action was quite positive. But the pull-back we expected did not occur, which has prevented us from completing our long GLD position.
As a reminder, we built 50 percent of our long GLD position at $104 on January 6, with a stop loss at $100, and a target profit at $119, offering a risk-reward ratio of 1:3.75 (see our article).
From a technical perspective, the 20 WMA has continued to act as a strong resistance and will probably be tested this week. The RSI is slightly oversold, suggesting that there is some room for upside over the weeks ahead.
Although we expect a dovish message from the Fed this week, resulting in a stronger rally in gold prices, we acknowledge that a hawkish Fed, focusing mainly on the resilience of its own economy, could raise the likelihood of a Fed rate increase at its March FOMC meeting and thereby send downward pressure on gold prices. Should that be the case, we would be inclined to complete our long GLD position.
To sum up, we continue to see an upward trend trajectory for GLD until the remainder of the first quarter although a sharp break below $100 would lead us to revisit our bullish view.
Disclosure: I/we have no positions in any stocks mentioned, and no plans to initiate any positions within the next 72 hours.
I wrote this article myself, and it expresses my own opinions. I am not receiving compensation for it (other than from Seeking Alpha). I have no business relationship with any company whose stock is mentioned in this article.