Carlisle Companies' (NYSE:CSL) business model isn't unique, but that doesn't mean it doesn't work well. The company follows a similar strategy to many consumer and industrial goods companies once it's built up a strong core business: buy quality, complementary operations for as cheap as possible with free cash flow, all while returning excess to shareholders (39 years of consecutive dividend increases).
The company's core business remains manufacturing and supplying roofing materials used in commercial business construction, but over time and through acquisitions, it has built up healthy business operations in its Interconnect Technologies segment (high-performance cables for power and data transmission), its Fluid Technologies segment (coating business), its Brake and Friction segment (calipers, brake pads, and other brake supplies sold to both OEMS and the aftermarket), and its Food Service segment (food preparation/handling, janitorial supplies).
Carlisle's share price has held up remarkably well over the past few years despite some weakness in the end markets the company serves. Is buying shares today an exercise is buying at the top, or is there more outperformance in the company's future? A sum-of-the-parts valuation may give us clues.
Construction Materials Business
To understand Carlisle, you have to understand its roofing business. The gut reaction is to link the company's results and future prospects to residential home sales and new builds, but residential sales are just a fractional part of its business.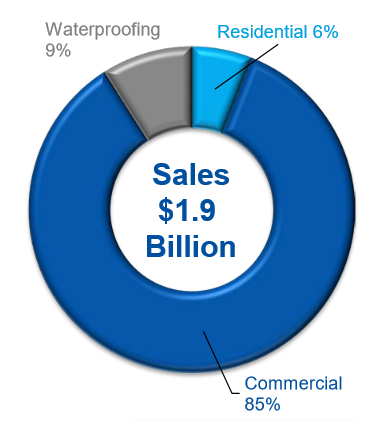 Source: Carlisle Companies, 2015 Investor Presentation
The reason for this is that Carlisle manufactures specific kinds of roofing not normally used for residential construction. Its roofing systems are made of manufactured rubber ("EPDM"), thermoplastic polyolefin ("TPO"), and polyvinyl chloride membrane ("PVC") materials. Such materials aren't commonplace on residential construction, but are often used in commercial structures where there is less focus on curb appeal and more focus on useful life and ergonomics.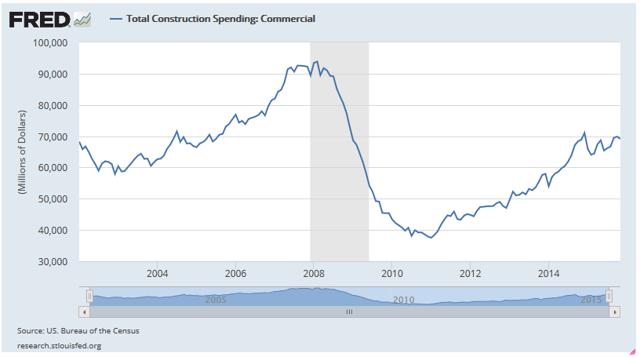 Source: Federal Reserve, Total Construction Spending
Despite only minor growth in overall commercial construction spending as we can see above from the Federal Reserve data, Carlisle notes that it has grown this business segment at a 10% CAGR, most of this being organic growth. On the acquisition front, the company acquired PDT in 2011 and Hertalan in 2012 near cyclical lows. Both companies operated similar businesses to CSL, but instead were based out of Europe. Total consideration was roughly $200M for both companies, and the acquisitions gave the company a foothold in Europe to use to expand its overseas operations. There is plenty of pent-up demand for commercial roofing materials, provided the United States economy continues to marginally improve.
Despite this overseas expansion, sales internationally remain just 15% in this segment. While management has made it a goal of expanding internationally, it luckily did not do so before the U.S. dollar made its strong move and appreciated versus most foreign currencies. Now would be the optimal time to make further overseas purchases while international markets remain weak. The company's financials at the end of Q2 2015, $350M in cash, low debt ($750M), and the relatively weak business environment, make now a prime time to make another overseas acquisition. I expect that management is looking very closely at possibilities in Europe, such as Bauder or Imper Italia.
I expect the domestic business to continue to grow and improve. There is pent-up demand for investment in commercial building infrastructure, most often at larger factories where Carlisle products make the most sense. These properties have seen a bit of neglect over the past 10 years as the United States economy exhibited substantial weakness. $50-100M increases in annual EBITDA are likely. Publicly-traded comparables are few and far between, but at 10-11X EBITDA (more than warranted given the continued operating strength in a weak macro environment), this business line is worth $3.2-3.5B based on 2015 EBITDA of $320M.
Carlisle Interconnect Technologies
Selling a variety of high-quality cables and transmission lines, this is the highest growth segment of Carlisle, with sales fast approaching $1B annually. The company is set to benefit from one of the most followed and pervasive trends in investing today: the growth in commercial aerospace builds. Most investors are familiar with the years-long backlogs at Boeing (NYSE:BA) and Airbus (OTCPK:EADSY), but the true growth in this segment is set to come from the healthcare industry.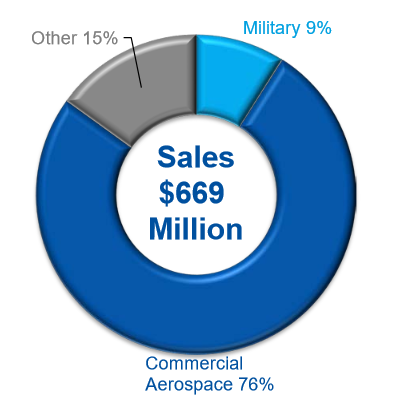 Source: Carlisle Companies, 2015 Investor Presentation
While cable and data transmission seems like a low-margin business, extreme robustness and accuracy is demanded in the healthcare industry (and commercial aerospace). The potential liability risks due to poor patient treatment leave hospitals more than willing to spend a little extra to ensure that all metering and monitoring devices are both robust and correct.
Carlisle is positioned to capitalize on two macroeconomic trends in this segment. As a result, EBITDA has increased to approximately $160M in fiscal 2015 from $70M in fiscal 2012. This is a high-margin, quality business that should be worth 10-11x EV/EBITDA on a standalone basis, or $1.6-1.8B.
Carlisle Brake and Friction Segment
This has been the most troublesome segment for Carlisle of late. Revenue in the segment will have fallen 30% since 2012 by the end of fiscal 2015. This revenue drop has accompanied rapidly eroding margins. The brakes the company supplies primarily serve the construction, mining, and agriculture industries (70% of sales). And unfortunately, only 35% of sales are aftermarket, with the majority of sales going to OEMs. It isn't a surprise then that the downturn in commodities has impacted sales so greatly.
Carlisle's performance here isn't poor - it is simply in line with the downturn all companies in this sector are experiencing. Industry leader Caterpillar (NYSE:CAT) will see similar revenue contraction over the same time period. Currently, this business segment is worth about 6-7x EBITDA based on larger peer comps like Caterpillar or Joy Global (NYSE:JOY), or roughly $150-175M in today's environment. A simple return to 2012 levels, however, would value the business line at $550-600M. As a result, the leverage present means this business is small enough that I think if it erodes further, it can be shuttered without much impact to the long-term value of shares. With that said, the potential is there to give earnings a nice bump if the commodity market improves and demand returns for heavy equipment.
Sum Of The Parts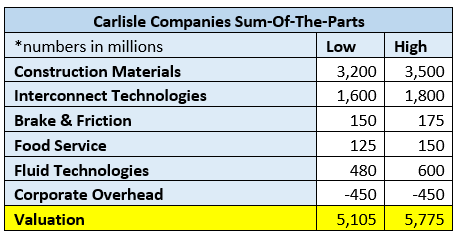 Sourced from my own estimates
Normalized corporate overhead has been included above, based off of $50M in annual corporate overhead costs multiplied by the blended EV/EBITDA of 9x, resulting in dinging overall valuation for $450M.
With the Fluid Technologies segment being so new and unproven, there are some growing pains here that likely aren't reflected in results. The Fluid Technologies business was recently acquired, bought for $600M in cash from Graco (NYSE:GGG). Obviously, the company hopefully didn't buy a business line for 20x EBITDA ($30M EBITDA run-rate if the business was held for the full year), so I'm going to assume at minimum $60M in EBITDA once the reorganization is complete. I do want to see management prove that this is a quality business before giving it a higher valuation at the price paid - so I've valued it a 20% discount to purchase. Could it eventually perform like larger coatings businesses like Nordson (NASDAQ:NDSN)? Possibly.
The Food Service business has been stagnant for some time, and shows little signs of growth. 5-6x EBITDA seems fair given its disconnect from the rest of the company's business lines; I would prefer to see this business line sold off if possible. It just doesn't mesh.
With shares currently trading at an EV of 5.6B, shares seem fairly priced at current levels. This is further supported by the free cash flow yield. With $300M in free cash flow for 2015 ($400M operational cash flow, $100M capex), shares trade on a fiscal 2015 free cash flow yield of 5.3%; attractive, but not so much as to really draw me in and make me want to buy.
Conclusion
Management has two really strong, growing business lines right now in its core roofing and cabling businesses, and the heavy-duty braking business has the potential to recover if we see a reversal in commodities. I would like to see the Food Service business sold; there is little synergy here with the other businesses, and it isn't fitting with the image that the company is trying to put forth.
Overall, management has done a great job of managing to grow and improve the business during what has been a tough operating environment for industrials. Carlisle deserves to be on investor watch lists, just to see if pricing improves. The company gets a strong Hold rating from me.
Disclosure: I/we have no positions in any stocks mentioned, and no plans to initiate any positions within the next 72 hours.
I wrote this article myself, and it expresses my own opinions. I am not receiving compensation for it (other than from Seeking Alpha). I have no business relationship with any company whose stock is mentioned in this article.
Editor's Note: This article discusses one or more securities that do not trade on a major U.S. exchange. Please be aware of the risks associated with these stocks.