A recovery session may be in order on Tuesday after fresh losses topping 1% for the leading stock averages leave the S&P 500 (SPX) and the Dow Jones Industrial Average ($DJI) each down roughly 8% so far in 2016. Stocks are trading above last Wednesday's low for the year.
The SPX has tracked oil futures virtually every trading day of 2016 and this one may be no different. Oil futures (/CL) fell initially overnight but were up about 1% in early action, nearing $31 a barrel. China's Shanghai Composite Index shed over 6% to close below 2,800 for the first time since December 2014. European stock markets are near flat after two-sided trading. The dollar index trades little changed, while gold nosed higher.
It's against this volatile market backdrop that the Federal Reserve gathers for a two-day monetary policy meeting starting today and wrapping with a statement release Wednesday afternoon. The meeting isn't expected to result in a follow-up interest rate hike to December's move, but there's not guarantee. Plus, traders should be wary as even slight adjustments in the Fed statement could shake up this sensitive market. For one thing, traders may be looking for Fed members to rectify the gap between an expected two 2016 rate hikes priced into the futures market and Fed chatter pointing to the possibility of four rate hikes.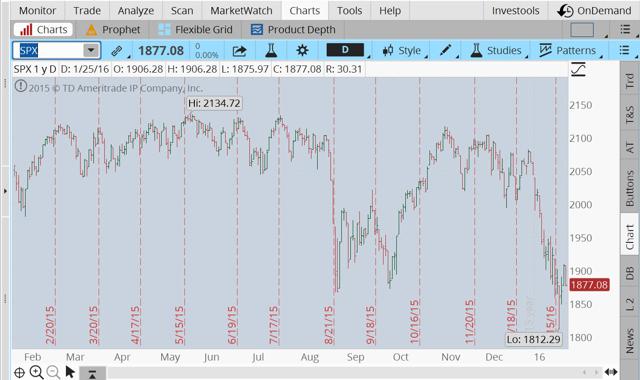 Figure 1: Now What? A tough start to 2016 has chewed up the charts of major stock indices, including the S&P 500 (SPX). It's plotted here through Monday on TD Ameritrade's thinkorswim platform. Data source: Standard & Poor's. For illustrative purposes only. Past performance does not guarantee future results.
Pre-Bell Reports: PG, JNJ, COH. Wide-ranging sectors are out with their latest earnings results. As a general theme, earnings are tending to beat lowered Street expectations. But revenue figures are disappointing, with some companies continuing to feel the sting from a stronger dollar on global profits. Here's a quick round-up: P&G (NYSE:PG) beat the Street with its adjusted quarterly profit; DuPont (DD) missed expectations with its revenue; J&J (NYSE:JNJ) and Coach (COH) topped industry analyst expectations with profit figures but with revenue that came up short.
Apple Due to Report Post-Close. Apple (NASDAQ:AAPL) will share performance figures and operations insights when the technology giant reports earnings post-close today. Its news can carry psychological weight for the entire market. Analysts reporting to Thomson Reuters are looking for record results with a per-share profit of $3.23 on top line sales of $76.61 billion. But those analysts may be more attuned to specific iPhone sales results. These sales, industry analysts argue, aren't growing as much as they had been. Anything lower than 2% gains in iPhone sales sets off alarms, some industry analysts say.
China's Crude Imports Rise. Here's some interesting stats-a mixed impact for crude prices if you look closely. China's oil imports in December were up 9.3% from a year earlier to 33.2 million metric tons, but the country's slowing economy is likely to weigh on domestic demand for the fuel presently and possibly in coming months. China's total crude oil imports in 2015 rose 8.8% from the previous year to 335.5 million tons, China's General Administration of Customs said Tuesday. The government's push to fill up strategic petroleum reserves likely helped buoy imports and local refiners have been taking advantage of weak oil prices to shore up inventories, industry analysts said.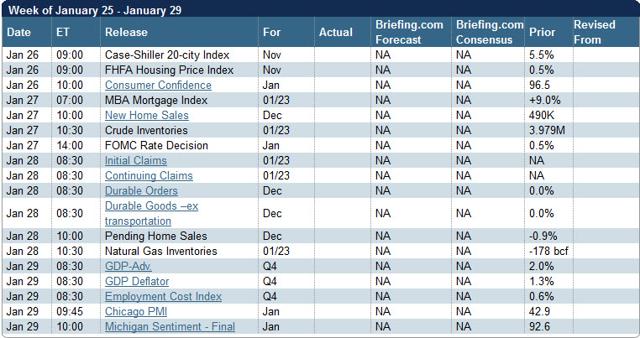 Figure 2: Economic Agenda. This week's U.S. economic report calendar. Source: Briefing.com.
TD Ameritrade, Inc., member FINRA/SIPC. TD Ameritrade is a trademark jointly owned by TD Ameritrade IP Company, Inc. and The Toronto-Dominion Bank. Commentary provided for educational purposes only. Past performance is no guarantee of future results or investment success.
Disclosure: I/we have no positions in any stocks mentioned, and no plans to initiate any positions within the next 72 hours.
I wrote this article myself, and it expresses my own opinions. I am not receiving compensation for it. I have no business relationship with any company whose stock is mentioned in this article.