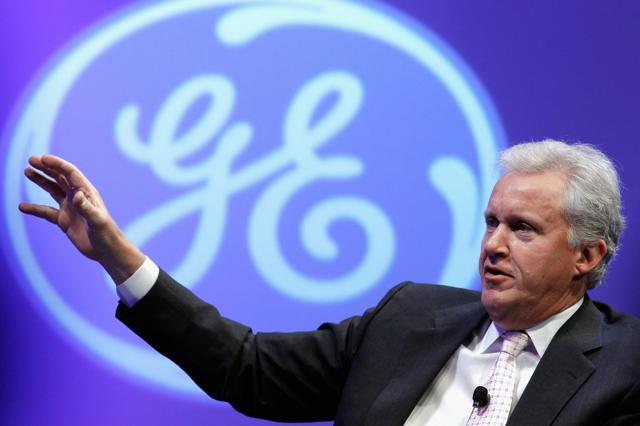 Source: Forbes
General Electric (NYSE:GE) reported Q4 earnings on Friday. The company delivered revenue of $33.9 billion and adjusted EPS of $0.52. Revenue was 6% below what analysts were expecting and GE sold off over 1% to $28.24.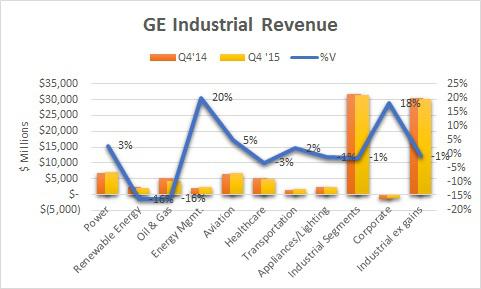 Source: Shock Exchange
GE's Industrial revenue (excluding Verticals and other) of $31.3 billion was down 1% Y/Y - unbecoming of a growth stock GE is known for. Meanwhile, operating profit was off 8%. I had the following takeaways on the quarter:
Oil & Gas Was A Disaster
Power and Aviation are the company's two largest segments and both posted single-digit revenue gains. The quarter will most likely be marked by GE's underperforming businesses. Heading into the quarter, I suspected the Oil & Gas segment would be a problem. Revenue for the segment was off 16% Y/Y and operating profit fell 19%. Oil prices are over 70% off their Q2 2014 peak; oil and gas E&P is down as well. GE has exposure to North America land drilling which is the hardest hit sector of the oil services market. It also has sizable share of the subsea sector, which is experiencing a dearth of new orders.
Declines in the sector may not abate anytime soon. The company expects Oil & Gas revenue to fall by double digits in 2016, and expects to wring out $400 million in costs. However, cost cuts may not keep pace with revenue declines. CEO Jeff Immelt has spent over $10 billion in acquisitions in the sector when oil prices were much higher. Politically, its underperformance could weigh on management.
Renewable Energy Is a Question Mark
Revenue from Renewable Energy was off 16% and segment profit was down 79% due to an 18% decline in orders of wind turbines. According to management, the segment was hurt by a delay in orders that will spill over into 2016 and a product line shift. Q4 2014 revenue may have been spurred by production tax credits (PTC) for the production of renewable energy facilities; in 2015, the PTC included a multi-year phase out. That's a long-winded way of saying Q4 2014 was a pretty high bar to overcome. The backlog was up 27% Y/Y, but I am keen to see whether a slow down in the global economy further impacts this segment in 2016.
What Will GE Do With Appliances' Proceeds?
GE has finally agreed to unload its appliances unit to China's Haier for $5.4 billion. I understand the fact that the unit probably did not meet the company's ROE hurdle; its segment profit was only 11% of total revenue, the third-lowest of all segments. However, it was only one of three units whose segment profit actually grew Y/Y - Transportation (up 8%) and Aviation (up 12%) were the others.
Some questions remain: What will Immelt do with the proceeds from the sale of appliances? And will he find another investment that can deliver consistent earnings growth and a decent ROE? After his foray into Oil & Gas, I remain skeptical.
Disclosure: I/we have no positions in any stocks mentioned, and no plans to initiate any positions within the next 72 hours.
I wrote this article myself, and it expresses my own opinions. I am not receiving compensation for it (other than from Seeking Alpha). I have no business relationship with any company whose stock is mentioned in this article.