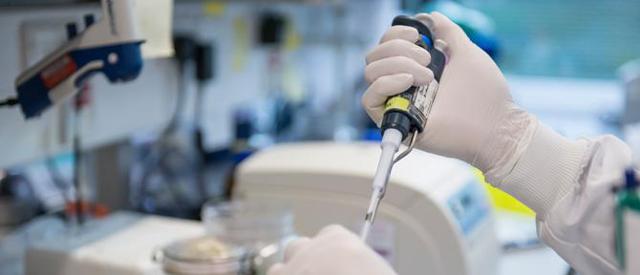 In President Obama's final State of the Union address on January 12th, he announced an ambitious plan to cure cancer; an initiative he called the country's new "moonshot," a reference to the similarly ambitious Cold War plan of President Kennedy to land a man on the moon. Vice-President Biden has been put in charge of the initiative.
This plan, which has been in action to a lesser extent since 2014, has already seen action in Congress. Biden was able to help in getting a $264 million increase in the National Cancer Institute's 2016 budget. For investors in medical research, an incredible opportunity may be just on the horizon.
With curing cancer now publicly on the government agenda, businesses involved in cancer research are set up to benefit in at least two ways. An increase in government research will be a boon to the industry, as more scientists will be put to work creating knowledge that can be used by businesses to further their own development of cancer-fighting treatments. Having a larger array of more effective treatments naturally brings more customers, and more customers means higher revenue.
This initiative could also take the path of increased subsidies for cancer research. No-strings attached infusions of cash are hardly ever (never?) bad for a business, and would obviously be beneficial to the companies that receive them.
Another hurdle that could be drastically reduced with governmental support is regulatory issues. Anyone who has run a business knows just how cumbersome and counterproductive regulatory adherence can be, and this is no different in the field of cancer research (just ask this researcher). With the government on board, some of the non-justifiable regulations may finally be repealed. This will give cancer researchers more freedom to come up with workable solutions where they couldn't before.
To make things even easier, there are several ETFs that focus in this issue or related ones. Loncar Funds just released an ETF centered around cancer research: the Loncar Cancer Immunotherapy ETF (CNCR). This ETF seeks to track Loncar's Cancer Immunotherapy Index. This index is compromised of companies that are attempting to come up with therapies for treating cancer using the body's immune system. The index, and thus the ETF is comprised of 30 biotech companies, each having an average weighting of about 3%, with Amgen (NASDAQ:AMGN) being the largest weighting at 4.1% and ZIOPHARM Oncology (NASDAQ:ZIOP) having the lowest at 2.47%.
The fund is fallen alongside the rest of the market, now resting $4.72 to $22.26 below it's IPO price of $26.98. While I believe this will continue to decline further in sync with the broader market, getting in anywhere around these prices shouldn't be a problem in the span of this 5-15 year investment idea.
CNCR is really the only ETF specifically for investing in cancer-related biotechnology. If you would rather invest in the broader biotech industry, you may instead prefer the iShares Nasdaq Biotechnology ETF (NASDAQ:IBB). This ETF invests broadly in the Biotech sector, consisting currently of 192 stocks, with Celgene (NASDAQ:CELG) being the largest holding at just under 9.25%.
For those who wish to avoid some of the smaller, more volatile names, the Market Vectors Biotech ETF (NYSEARCA:BBH), could be what you're looking for. This holds only 26 companies, with Gilead Sciences (NASDAQ:GILD) being the largest holding at about 13% and Puma Biotechnology (NYSE:PBYI) being the smallest holding at just over 0.25%.
With all this investment has going for it, now could be the time to jump into what could be one of the best performing investments of the next 10 years. And if its not, at least you helped, in a small way, in the fight against cancer.
Disclosure: I/we have no positions in any stocks mentioned, and no plans to initiate any positions within the next 72 hours.
I wrote this article myself, and it expresses my own opinions. I am not receiving compensation for it (other than from Seeking Alpha). I have no business relationship with any company whose stock is mentioned in this article.