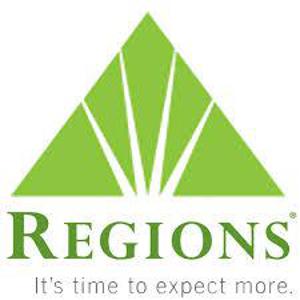 Regions Financial (NYSE:RF) generated net income of $269 million in Q4 2015, up 11.2% q/q and 34.5% y/y, resulting in 9.61% ROATCE for the quarter. For FY 2015, the bank recorded an EPS of $0.75, which was below the market consensus of $0.78 and my estimate of $0.77, on revenues of $5.1 billion that remained flat when compared to last year.
In 2015, Regions saw its average total assets growing by 3.2% to $122.3 billion where loan book led with a growth rate of 4.4%. On the liabilities side, average deposit book increased by 4.3% to $97.5 billion, taking L/D spread to 82.8% in 2015 from 81.6% in 2014. During the same time frame, the average shareholders' equity grew by 1.05% and equity/total assets improved to 13.6% from 14.1%. Admittedly, 2015 was exceptional for Regions regarding the volume growth. That said, the bank has potential for further growth, considering its current leverage which is way lower the industry average.
On the NII side, Regions recorded a growth of 1.2%, mostly due to lower cost of long-term borrowings. The lending growth seemed to be offset by the depressed margin as NIM declined by 8 basis points from 3.21% to 3.13%. Note that due to some accounting changes NII was $15 million lower which resulted in a 5 basis point decline in Q4 2015. Yet still, the low rates continued to hamper the bank's earning through putting pressure on NIM.
On annual basis, fee income was 13.7% higher while expenses increased by 5.1%. Insurance and capital markets were the business lines that helped the top line most during the fiscal year. On a positive note, the bank will be looking for more growth there, as the management guided for possible acquisitions in the non-banking space. That, on the other hand, may pose some risks for the revenue outlook with increasing the share of non-interest income in the top line. Salaries and employee benefits were 4% higher in 2015. Regions will take more aggressive steps for expense management as the management aims to eliminate $300 million of core expenses over the next three years. The efficiency ratio of the bank is expected to be less than 63% this year as well as positive operating leverage is to be in the 2%-4% range.
For 2015, the provisions for credit losses totaled $241 million, significantly higher than figure of $64 million reported for the previous year. In Q4 2015, total NCOs increased $18 million to $78 million and represented 38 basis points of average loans primarily due to one large charge-off in the energy loan portfolio. Total business services criticized and classified loans increased $117 million. Allowance for loan losses was down by 2 basis points q/q at year and the coverage ratio was 141% (and 171% for energy portfolio). The management foresees no higher than 35 basis point NCO while considering the bank's exposure to energy manageable. However, one should expect that further deterioration in credit quality, specifically thanks to falling oil prices, will require Regions to build more reserves, not just for its exposure to the energy industry. The indirect hit that Regions would take from the shrinking energy market at the macro level might be huge. That is for sure will be the key risk factor for the stock performance this year.
Considering its strong capital position, the bank has a significant growth potential in business volume, however, according to the management guidance, a loan growth in 3%-5% range and a deposit growth in 2%-4% range are expected. Regions will probably continue to growth prudently this year amid concerns rising around the oil market. I believe this prevents the bank from emerging as an outperformer in the banking space this year, despite maintaining some positive views on the bank's fundamentals.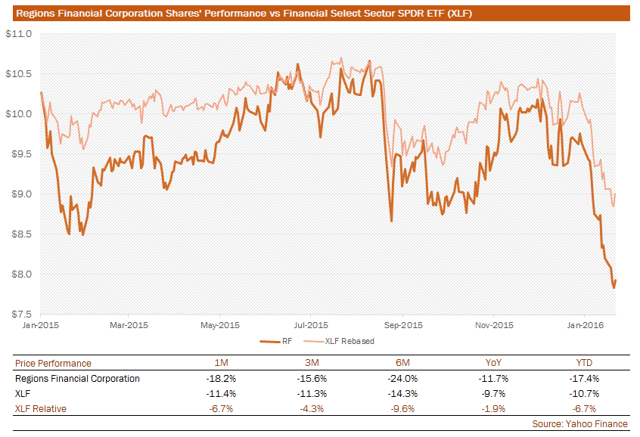 Regions is trading at a 2016E P/E multiple of 9.05x, which implies a 9.3% discount to its peers. Despite the compelling valuation, I do not see this gap to be closed by the market anytime soon, and maintain market performer recommendation for the medium term.
Disclosure: I/we have no positions in any stocks mentioned, and no plans to initiate any positions within the next 72 hours.
I wrote this article myself, and it expresses my own opinions. I am not receiving compensation for it (other than from Seeking Alpha). I have no business relationship with any company whose stock is mentioned in this article.