DSR Quick Stats
Sector: Technology (Semiconductors)
5-Year Revenue Growth: 4.88%
5-Year EPS Growth: 3.51%
5-Year Dividend Growth: 8.79%
Current Dividend Yield: 3.24%
What Makes Intel (NASDAQ:INTC) a Good Business?
Intel is the leader in computer microprocessors with roughly 80% of the market share. However, throughout the years, INTC has become a lot more than a PC chip maker. As you can see, revenue streams are gradually shifting from its original PC chip towards a more integrated and added value segment in the cloud business: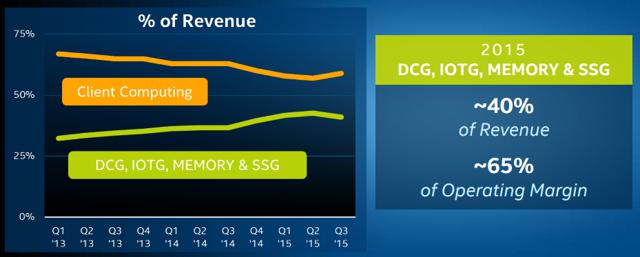 Here's a brief list of definitions to help you follow me through the rest of the analysis:
DCG: Data Center Group - The group makes processors and other components for servers, workstations, networking, and storage hardware.
IOTG: Internet of Things - A proposed development of the Internet in which everyday objects have network connectivity, allowing them to send and receive data.
SSG: Service & Software Group - A worldwide provider of software products and services, designs resources, technical expertise and consulting.
In other words, Intel now helps connect things to the cloud, integrate with existing infrastructure, and securely manage data. While the company has clearly missed the smartphone train, it has made sure to get back on the rail at the next station by helping connecting the smartphones and other devices together.
Ratios
Price to Earnings: 12.67
Price to Free Cash Flow: 11.54
Price to Book: 2.291
Return on Equity: 19.92%
Revenue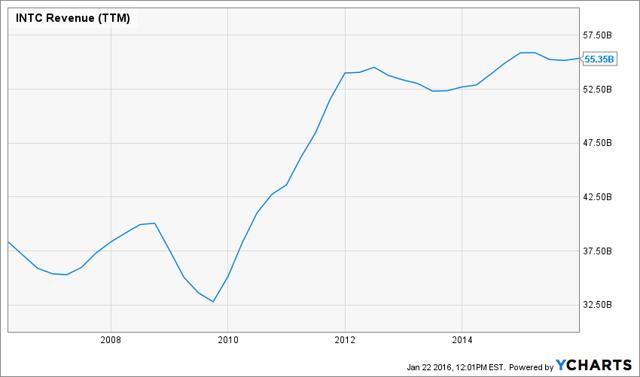 While PC sales are slowing down, INTC has moved towards other sources of revenues. This is how the company is able to increase its revenue year after year as the IOTG and Data Center needs are continuously increasing.
How INTC fares versus My 7 Principles of Investing
We all have our methods for analyzing a company. Over the years of trading, I've been through several stock research methodologies from various sources. This is how I came up with my 7 investing principles of dividend investing. Let's take a closer look at them.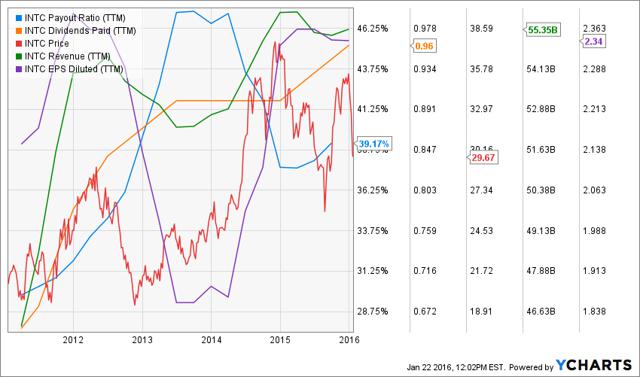 Principle #1: High Dividend Yield Doesn't Equal High Returns
My first investment principle goes against many income seeking investors' rules: I try to avoid most companies with a dividend yield over 5%. Very few investments like these will be bought in my case (you can read my case against high dividend yield here). The reason is simple; when a company pays a high dividend, it's because the market thinks it's a risky investment… or that the company has nothing else but a constant cash flow to offer their investors. However, high yield hardly comes with dividend growth and this is what I am seeking most.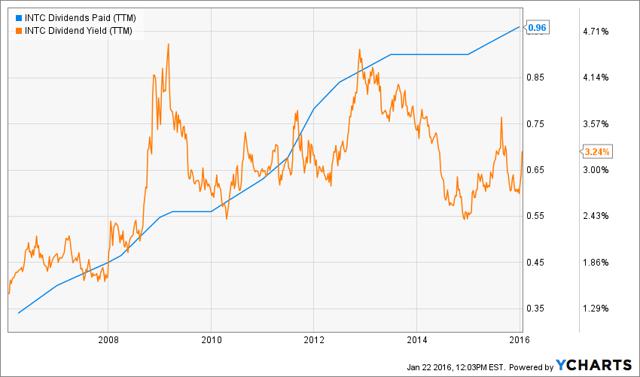 Intel has become an interesting dividend payer since the 2008 crash. Prior to this period, the company's dividend yield was under 2%. On the other hand, the stock never paid a yield over 5% that is my line to define a high dividend yield. At 3.25% right now, the yield is in a very good position while the company continues to increase its payment. INTC meets my first principle.
Principle #2: Focus on Dividend Growth
My second investing principle relates to dividend growth as being the most important metric of all. It proves management's trust in the company's future and is also a good sign of a sound business model. Over time, a dividend payment cannot be increased if the company is unable to increase its earnings. Steady earnings can't be derived from anything else but increasing revenue. Who doesn't want this from a company that shows rising revenues and earnings?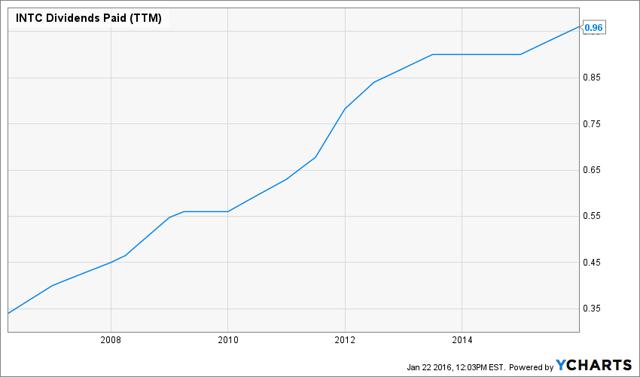 Intel has increased its dividend payment consecutively for the past 11 years. The company is generating a consistent cash flow providing the ability to increase the dividend payment each year. Over the past 5 years, the dividend growth shows an impressive 8.79% CAGR. Following this trend, the dividend payment will double every 8-9 years. INTC's strong dividend growth meets my second principle.
Principle #3: Find Sustainable Dividend Growth Stocks
Past dividend growth history is always interesting and tells you a lot about what happened with a company. As investors, we are more concerned about the future than the past. This is why it is important to find companies that will be able to sustain their dividend growth.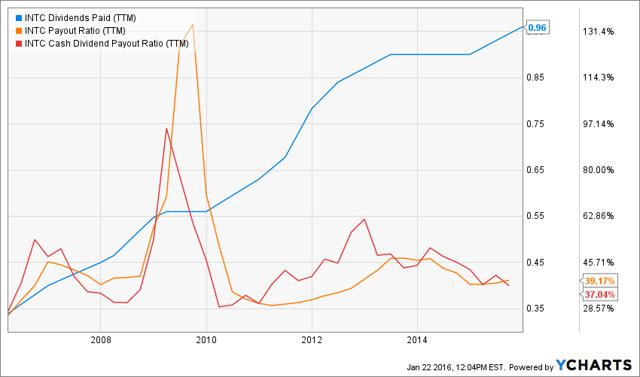 The company never stops increasing its dividend, and at the same time, the payout ratio and cash dividend payout ratio are stable since 2010. Management has lots of room in the future to keep its high dividend growth rate with a payout ratio under 40%. INTC meets my third principle.
Principle #4: The Business Model Ensure Future Growth
Intel differentiates itself from other competitors by executing Moore's law, which predicts transistor density on integrated circuits will double about every two years, meaning subsequent chips have substantial power, cost, and size improvements. The company uses substantial cash flow in R&D to pursue its leadership and #1 worldwide position in its business. The company will also benefit from an extension of Moore's law to 2.5 years. This means the company will have more time to sell the same chips.
Many devices now connect to each other and this phenomenon is increasing daily. At one point in time, your car will be "talking" to your phone that is "talking" to your house to tell it that you are coming home and the house will "talk" to your heating system and oven so they start warming up your place and cooking dinner. This is not fiction anymore and Intel found its perfect spot being in the middle of each interaction through the Internet of Things. This will enable the company to survive the eventual death of the classic computer and generate more cash flow in the future.
What Intel does with its cash?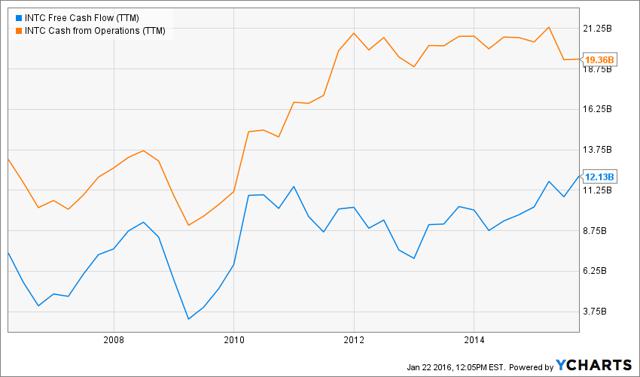 As you can see, INTC is a true money printing machine. The company is known to be shareholder friendly through consistent dividend growth and stock repurchase programs. The company recently used cash and debt to purchase Altera in 2015 to serve large data center customers looking for customized server processors. This was a great move as the future of Intel is definitely the IOTG and Data Centers.
INTC shows a strong business model and meets my fourth principle.
Principle #5: Buy When You Have Money in Hand - At The Right Valuation
I think the perfect time to buy stocks is when you have money. Sleeping money is always a bad investment. However, it doesn't mean that you should buy everything you see because you have some savings put aside. There is important valuation work to be done. In order to achieve this task, I will start by looking at how the stock market valued the stock over the past 10 years by looking at its P/E ratio: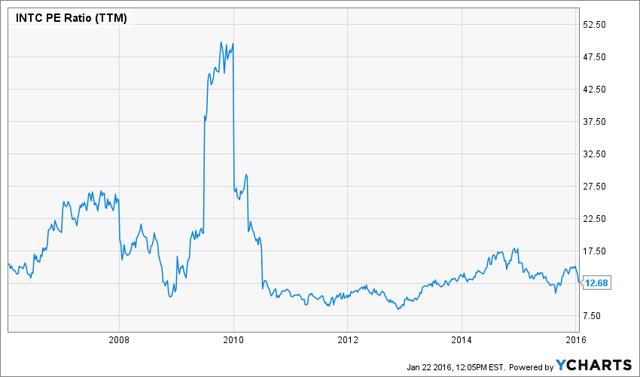 It has been a common fact that Intel seems like a value trap. By definition, a value trap is a company that shows a low valuation and invites investors to buy its shares in the hopes of unlocking this value in the future. However, Intel had a hard time getting back its post 2008 valuation multiple. At 12.68 P/E ratio, it definitely seems a great opportunity. But will it ever gain a higher multiplication ratio?
As a dividend investor, I'm not too worried about the fact whether INTC is a value trap or not. In the end, if the company has the ability to increase its dividend year after year, this is worth more for me than seeing the stock price skyrocket. I use the Dividend Discount Model (DDM) with a double stage dividend growth rate. Last year, I used a 9.95% growth rate for the first ten years to value INTC. This year, I'm getting more conservative as the 5-year dividend growth rate has reduced to 8.79%. This is why I'll be using 8% for the first 10 years and then 6% to keep a conservative approach. As far as discount rate goes, I use a 10% rate mainly because techno stocks are always at risk of the coming of a new technology in my opinion.
| | |
| --- | --- |
| Input Descriptions for 15-Cell Matrix | INPUTS |
| Enter Recent Annual Dividend Payment: | $0.96 |
| Enter Expected Dividend Growth Rate Years 1-10: | 8.00% |
| Enter Expected Terminal Dividend Growth Rate: | 6.00% |
| Enter Discount Rate: | 10.00% |
Calculated Intrinsic Value OUTPUT 15-Cell Matrix

Discount Rate (Horizontal)

Margin of Safety

9.00%

10.00%

11.00%

20% Premium

$48.07

$35.84

$28.51

10% Premium

$44.07

$32.85

$26.13

Intrinsic Value

$40.06

$29.87

$23.76

10% Discount

$36.06

$26.88

$21.38

20% Discount

$32.05

$23.89

$19.01
Source: Dividend Monk Toolkit Excel Calculation Spreadsheet
The company seems fairly valued at this point from a dividend growth investor's perspective. Considering I used very conservative growth rates, I'm comfortable saying INTC is fairly valued with an upside potential in the years to come. INTC meets my fifth principle.
Principle #6: The Rationale Used to Buy is Also Used to Sell
I've found one of the biggest investor struggles is to know when to buy and sell his holdings. I use a very simple, but very effective rule to overcome my emotions when it is the time to pull the trigger. My investment decisions are motivated by the fact that the company confirms or not my investment thesis. Once one of the reasons (my investment thesis) why I purchase shares of a company are not valid anymore, I sell and never look back.
Investment thesis
I personally like companies that are the leader in their industry. Intel owns 80% of the PC microprocessor business and it can use its leadership to effectively switch its business model towards the internet of things. The company shows strong cash flow generation ability, putting most of its competitors on the slow road while INTC is driving the train of data centers and connectivity.
INTC could unlock its valuation model and eventually offer a greater multiplier to its shareholders. The stock price could surge upon growth potential if Wall Street confirms INTC will grow faster as more devices are connected together.
This scenario may or may not happen as we are solely talking about potential here. However, the company remains a strong dividend payer in the meantime and dividend growth investors will be pleased by management's shareholder friendly policy.
Risks
As INTC missed the smartphone train, it could also miss other opportunities ahead. Its growth potential from the PC industry will never be like the 90s again. Therefore, if the company misses the revenue shift towards data centers and IOTG, the company will become an "old timer" in short order. So far, the transition is successful, yet not fully completed.
INTC investment thesis meets my sixth principle.
Principle #7: Think Core, Think Growth
My investing strategy is divided into two segments: the core portfolio built with strong and stable stocks meeting all our requirements. The second part is called the "dividend growth stock addition" where I may ignore one of the metrics mentioned in principles #1 to #5 for a greater upside potential (e.g. riskier pick as well).
Having both segments helps me to categorize my investments into the "conservative" or "core" section or the "growth" section. I then know exactly what to expect from it; a steady dividend payment or greater fluctuations with a higher growth potential.
Considering the fact this is a techno stock and that it could unlock a massive valuation increase in the event of a successful transition towards the cloud business (Data Center and IOTG), I believe INTC would fit more into a growth portfolio. This investment isn't without risk and would be more suitable for a growth oriented investor than a conservative one. While the dividend payment is secured and increasing, don't think this is a sleep-well stock for the years to come. There is still a difference between a consumer defensive stock and a techno stock. Never forget this.
Final Thoughts on INTC - Buy, Hold or Sell?
In the light of this analysis, I think INTC is a hold for most investors. However, you may think I'm too conservative and use a different growth rate in your DDM valuation. In this case, INTC would become a buy. Personally, I still think it's too early to qualify this company as a "buy".
Disclosure: I hold INTC in my DividendStocksRock portfolios.
Disclaimer: The opinions and the strategies of the author are never intended to be a recommendation to buy or sell a security. The strategy the author uses has worked for him and it is for you to decide if it could benefit your financial future. Please remember to do your own research and know your risk tolerance.
Disclosure: I am/we are long INTC.
I wrote this article myself, and it expresses my own opinions. I am not receiving compensation for it (other than from Seeking Alpha). I have no business relationship with any company whose stock is mentioned in this article.