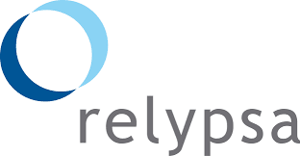 Monday, January 25th was a significant day for Relypsa (NASDAQ:RLYP) investors as new clinical data virtually eliminated the overhanging concerns related to drug interactions seen in non-human (test tube) trials. Previously, Relypsa's hyperkalemia drug Veltassa (patiromer) was shown to bind to 14 of 28 drugs when studied in non-human trials, which were designed to maximize drug interactions. Based upon this limited data, the FDA took a cautious step forward and placed an unexpected drug interaction warning label on Veltassa, which caused the stock price to plummet. Since non-human drug interaction studies are generally not very useful in determining whether or not interactions will be seen when the drugs in question are taken by actual people, Relypsa designed and recently completed a human drug interactions trial.
Vastly Improved Veltassa Drug Interaction Data
The latest clinical data showed that when Veltassa was coadministered with twelve of the medications shown to bind in a test tube, nine of these twelve demonstrated no significant drug interactions. Only three drugs (Metformin, Ciprofloxacin and Levothyroxine) showed any significant drug interactions, and two of these were only questionably clinically significant. In addition, separation of administration by just three hours eliminated clinically significant drug interactions entirely. Relypsa held a conference call Monday evening to discuss the data and their intent to discuss a potential label change with the FDA.
Veltassa showing clinically significant binding with just a couple of other medications is very similar to drug interaction profiles demonstrated by other approved "binding drugs," none of which have a boxed warning regarding drug interactions.
Meanwhile, Regulatory Action Looms for ZS-9
Understanding health culture and policy trends in the United States is a fundamental aspect of successful biopharmaceutical investing. "Preventative medicine" is one such trend, which is gaining momentum in the face of the unsustainable expense of the United States healthcare system.
Originally built upon a foundation of "one cannot put a price on human health," tax payers and U.S. policy makers have since realized that there is in fact a price on human health. Health is not cheap. Strategies employed by governmental and independent policy makers have emphasized a shift towards "preventative medicine." As the name implies, preventative medicine focuses on control of fundamental factors, such as blood pressure, cholesterol and obesity, which if left uncontrolled would result in the development of disease.
Sodium Awareness Is Going Viral
"Sodium awareness" (the knowledge that decreasing sodium consumption significantly decreases health risks) is an example of preventative medicine. Daily sodium consumption in excess of 1500-2300 mg is linked to high blood pressure, as well as development or worsening of heart and kidney disease. In 2010, the annual cost associated with cardiovascular disease was around $444 billion. Given the extraordinary cost of treating these diseases, policy makers have turned to prevention as a means to improve national health while saving some coin. As part of the increasing momentum behind preventative medicine, sodium awareness is for all intents and purposes going viral.
That there is a relationship between sodium consumption and disease is no longer in question. The New England Journal of Medicine published an international study combining data from 66 countries, concluding that "1.65 million deaths from cardiovascular causes that occurred in 2010 were attributed to sodium consumption above a reference level of 2.0 g per day." New York State recently passed a law requiring high sodium foods to be branded with sodium warning labels. On January 8th, the Center for Disease Control sounded a sodium alarm regarding the relationship between sodium consumption and hypertension leading to cardiovascular disease. The CDC states that the vast majority of Americans are eating too much sodium. This increased sodium intake beyond 1500 to 2300 mg daily leads to increased rates of morbidity and mortality (illness and death).
The specific sodium guidelines set forth by the CDC are as follows. Healthy adults should consume no more than 2300 mg of sodium daily. People over the age of 51, African-Americans and individuals with heart or kidney disease should not consume greater than 1500 mg of sodium daily. Even small reductions in sodium are considered significant, as the CDC projects that reducing average daily sodium consumption by just 400 mg would avert 28,000 deaths and save $7 billion in healthcare costs annually.
High Sodium Drugs Increase Health Risks, Just Like High Sodium Foods
National Public Radio very recently discussed the sodium epidemic in the context of "We Eat Too Much Sodium Because Companies Keep Dumping It In Our Food." Unfortunately, individuals hoping to improve their health need to be aware that companies are dumping it into some of our medications as well.
It is uncommon for pharmaceutical companies to create high sodium formulations of drugs, presumably in part due to the limitations that a high sodium content would place upon the drugs' tolerability in patients sensitive to sodium. An increase of several hundred milligrams of daily sodium consumption in a medication is no different than daily consumption of several hundred extra milligrams of sodium in food. Both are associated with an increased risk of developing or worsening cardiovascular and/or kidney disease.
One example of a high sodium drug is Xyrem by Jazz Pharmaceuticals (NASDAQ:JAZZ), a treatment for narcolepsy. Most patients taking Xyrem are not sodium sensitive (sodium sensitive patients include those with heart disease, hypertension or kidney disease). However, the Xyrem Label does contain a warning regarding use "in patients sensitive to salt intake (e.g., those with heart failure, hypertension, or renal impairment) consider the amount of daily sodium intake in each dose of Xyrem."
Given that most of the above sodium restriction guidelines are for relatively healthy adults, what happens when a high sodium drug is developed specifically for daily use in patients highly sensitive to salt? Sodium Zirconium Cyclosilicate is a drug, which is pending FDA approval for the treatment of hyperkalemia (high potassium in the blood). Sodium Zirconium Cyclosilicate was developed by ZS Pharma (NASDAQ:ZSPH), recently acquired by AstraZeneca (NYSE:AZN), and has been given the name "ZS-9" in clinical trials. ZS-9 is approximately 8% sodium by weight. The proposed doses of ZS-9 for the treatment of hyperkalemia range from 5 g to 15 g, which would result in a patient consuming between 400 and 1200 mg of additional sodium for every single dose. Although some patients with high potassium will only need to take a potassium lowering therapy for a short period of time, the reason drugs like ZS-9 are being developed is to treat a population of people who would take the medication chronically, potentially every day for the rest of their lives.
400 mg of extra daily sodium such as is contained within even the lowest dose of ZS-9 is significant according to the CDC. If the entire US population were taking the lowest dose of ZS-9, simply switching to a non-sodium medication would avert 28,000 deaths and save $7 billion annually. Kayexalate is another high sodium drug, which is also used to treat hyperkalemia; however, due to problems with tolerability, Kayexalate is rarely used chronically. Intermittent or short-term use of high sodium drugs such as Kayexalate and ZS-9 in sodium sensitive populations is understandable, but to prescribe them for daily use is equivalent to prescribing increased risk of worsening hypertension, heart failure and kidney disease.
Patiromer (Veltassa) is a non-sodium hyperkalemia drug that demonstrates no significant difference in efficacy relative to ZS-9. It remains unclear why a physician would prescribe a high sodium drug like ZS-9 to sodium sensitive patients in any situation where it is possible to prescribe an equally effective non-sodium drug like patiromer.
The FDA Considers Sodium Content And Target Population
ZS-9 is currently under review by the FDA with an expected PDUFA date May 26, 2016, although long-term safety data is not yet complete. Given the uncertainty surrounding the drug, investors in AstraZeneca and in competitor Relypsa would be wise to become familiar with the potential regulatory scrutiny ZS-9 faces.
During regulatory review of Veltassa, the FDA commented upon the sodium content of Kayexalate and the fact that Veltassa does not contain sodium. The following FDA quote is from section 2.4 titled Important Safety Issues: "Because of the sodium content of [Kayexalate], the label advises "caution" when [Kayexalate] is administered to patients who cannot tolerate even a small increase in sodium loads (e.g., severe congestive heart failure, severe hypertension, marked edema)."
The FDA reviewer comment was: "Veltassa does not use sodium as a counter-ion, hence Veltassa would not be expected to contribute to the sodium load in patients who use the product."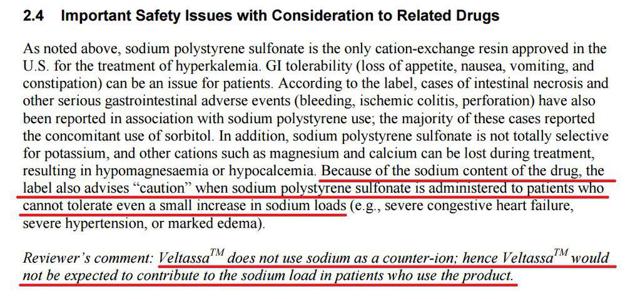 In contrast, ZS-9 does use sodium as a counter-ion. As such, it is reasonable to assume that ZS-9 will contribute to the sodium load of patients who use the product. The latest analysis by Morgan Stanley's Andrew Berens quoted a physician stating that "rates of background edema in his general nephrology patients are as high as 70-80%." It is unknown how the FDA will react to the knowledge that a significant percentage of the hyperkalemia population cannot tolerate increases in sodium.
An article published by BioPharm Insight further explores the sodium related problems of ZS-9, specifically with regard to safety scrutiny ahead of FDA review. EP Vantage also discusses ZS-9 data raising questions related to safety.
Conclusion
New clinical data demonstrates that Veltassa is on par with other binding medications regarding drug interactions.
How the FDA will respond to Relypsa's clinical drug interaction data is unknown. However, since the new data is similar to other approved drugs, which do not have DDI boxed warnings, it is reasonable to be hopeful of a favorable outcome.
ZS-9 is the first high sodium drug developed with the intent to be used almost exclusively in sodium sensitive patients, posing unique drug related health risks and creating a significant regulatory dilemma.
With the potential for the Veltassa DDI boxed warning to be significantly improved upon or "unboxed" and with Veltassa and ZS-9 demonstrating no significant difference in efficacy, physicians are left with the decision of whether or not to prescribe extra sodium for their sodium sensitive hyperkalemia patients.
Disclosure: I am/we are long RLYP, IONS, CELG, BIIB, GILD.
I wrote this article myself, and it expresses my own opinions. I am not receiving compensation for it (other than from Seeking Alpha). I have no business relationship with any company whose stock is mentioned in this article.