Introduction:
Since initiating Alibaba (NYSE:BABA) last year with a sell - you can see it for yourself here - Alibaba has corrected over 14% based on their closing price last Friday. Regular followers of BABA will recall that the main thesis for my sell initiation then was that the suite of acquisitions that they have made before and after their listing in September 2014 failed to realize crucial synergies for shareholders. Nonetheless, I think the recent price correction has made current valuations now much less demanding. I am neutral on BABA at this level but am currently short.
Third Quarter Results boosted by strong showing in Double-Eleven and Double-Twelve
BABA is set to report third quarter 2016 results on the 28th of January before markets open. The current market consensus is for BABA to report RMB33 billion in revenues, which is a 26.3% increase from a year ago (see image below).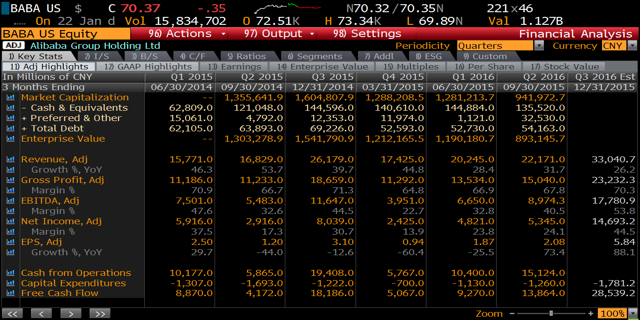 Source: Bloomberg
Following their successful Double-Eleven and Double-Twelve events, analysts are generally bullish about BABA being able to meet their earnings expectations. This is evidenced by the flurry of earnings upgrade by analysts before the results announcement.
The Single's Day Event falls on the 11th of November and was originally devoted to singles who wanted a day to commemorate being single. The event has now become the world's biggest online retail event.
But what about the Double-Twelve event? (If you guessed another commercial opportunity, you were right) The Double-Twelve event, which falls on the 12th of December every year, is a play on the double 12 on that date. The event, jointly organized by Alibaba and JD.com (NASDAQ:JD), allows users another opportunity to grab some of the discounted items that they might have missed out on during the Single's Day event.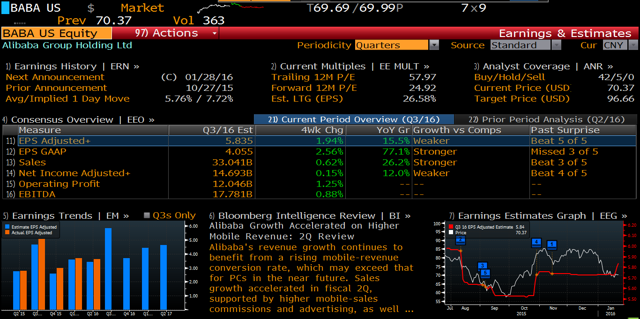 Source: Bloomberg
Referring to the image above, analysts have been revising their estimates for the upcoming quarter upwards in the last four weeks. The consensus estimate for EPS is now 1.94% higher, whereas top-line has been adjusted upward by 0.62%. I think the earnings revision is a positive, but this can cut both ways as the higher earnings expectations also create higher pressure on BABA to meet.
I think a word of caution is necessary here. While both the Single's Day and Double-Twelve events this year were successful, investors should take heed of possible cannibalizing between the two events (though admittedly, I think the impact of this might be small).
Overall though, while top-line is expected to grow at a respectable 26.3%, this still marks a notable slow down in the growth rate from a year ago when they grew at 39.7% on a year-on-year (yoy) basis. For 2016, I think that as long as the news on the Chinese macro front continues to be weak, BABA might continue to remain depressed throughout the year.
Where I differ: Projected margins look a little too optimistic
In my initiation report on BABA last year, I argued about why their different acquisitions risk stretching themselves too thin and narrowing their margins going forward. Such acquisitions in my view can actually be replaced with joint ventures instead, which is less costly and risky.
The consensus EBITDA margin for this quarter is 53.8% (see first image) as compared to the 44.5% they managed last year. This is way too optimistic (a 930 basis points increase!) in my view, given the various different new investments that they have embarked on since last year.
Key Operating Metrics: Valuations
I will use the EV/EBITDA (trailing) and P/E (trailing) methodology to value BABA. I think at 35x EV/EBITDA and at 57x historical earnings, BABA is undemanding at this level. The increased expectations of analysts however mean that there is a lot of pressure for BABA to meet earnings expectations.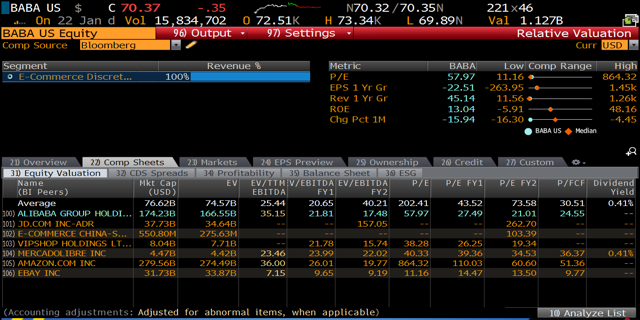 Source: Bloomberg
Considerations
According to research by the National Bureau of Statistics of China, e-commerce transaction values saw a 39% increase from a year ago, marking the continued shift of consumer spending online. The increase in the pie however is not shared equally. Smaller players like JD have managed to grow gross merchandise value (GMV) much faster than BABA.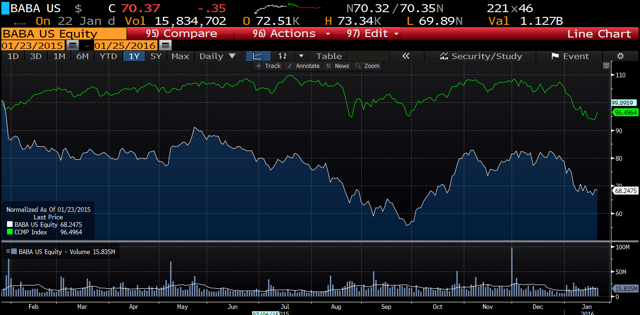 Source: Bloomberg
The result of course is that over the last year, BABA has continued to underperform the Nasdaq (see image above). The green line is the Nasdaq Composite index, and BABA has been trailing the Nasdaq over the past year. I think the question moving forward is can BABA's new initiatives like Tmall Grocery help them regain market share over their peers? At this moment, I think they stand a good chance, as management appears focused on regaining market share in China. But they will have to act fast to regain shareholder confidence.
Disclosure: I am/we are short BABA.
I wrote this article myself, and it expresses my own opinions. I am not receiving compensation for it (other than from Seeking Alpha). I have no business relationship with any company whose stock is mentioned in this article.