If you had a chance to read my last piece on ConocoPhillips (NYSE:COP), you know that I advocated for a short. That was on December 22, for which the stock is now down 16%. The aggravated decline in energy prices in January was something that very few individuals expected and shareholders hoped that the new year would bring new longs to energy equities ignored the supply and demand fundamentals. You have to ask yourself the tough question, is this the right time to buy COP? I'm going to argue that further pain in the operating environment is imminent and is going to weigh negatively on the equity.

Where Are We Running Now?
With Iran now coming online with a near guarantee of 500k barrels/day, with a higher amount likely (speculation goes as high as 3 million), the global supply glut continues to weigh negatively on E&Ps. Iran's supply is largely priced into oil prices at this point, but the uncertainty revolving around the additional amount above 500k is creating havoc.
We can pan over to the record inventory levels, with the EIA showing a natural gas inventory of 3,297 Bcf, above the five-year average of 2,824 Bcf. We're starting see the Henry Hub erase a good amount of the gains made in the back half of December, even with Jonas, a brutal blizzard, hitting the east coast this past weekend.
Rig counts continue to fall, specifically with oil rigs falling to 637, down 996 rigs from this time last year. While this is a sign that E&Ps are cutting capex across the board to help conserve liquidity, I fear that the rig count figure is a double-edged sword. From a large majority of E&Ps in 2014 and 2015 we saw operating efficiencies increase dramatically on the back of better drill technologies and practice. That allowed for drilling activity to produce record levels of oil per producer. Just because the rig count is declining does not mean that production is. It's been falling all throughout 2015 and yet, here we are, with $31/barrel oil. To substantiate this further, COP is projecting $2 billion in operating savings this year compared to 2014, yet still plans on seeing 1-3% production growth YOY. That's with a 25% cut in capex for the full year 2016.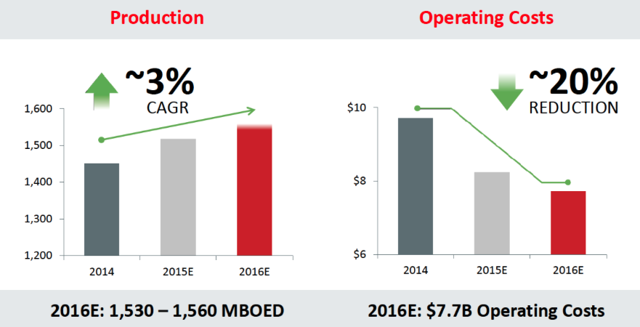 Source: Investor Presentation
Has oil fallen considerably over the last 18 months? Yes, and is it testing new lows? Also yes. However, I can't just sit back and ignore what's going on in the operating environment let alone COP's inadequate reaction to it. The company has cut capex 55% since 2014 and a further capex cut is certainly not out of the question.
I'll reiterate that if you have the patience to wait for a return, then perhaps three to five years down the line you'll find that your cost basis for COP is exceptional and that shorting was something only viable in the short-term. I don't have the patience to wait and watch my capital take 6% hits per session. If you do not have the time to monitor a position in COP, then shorting isn't for you. By all means, sit back, relax, and wait five years.
Below is COP versus the WTI within the last month: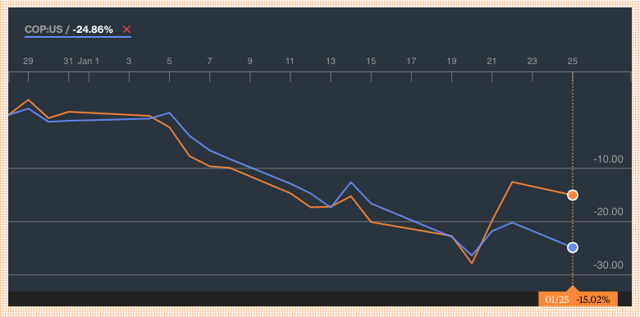 Source: Bloomberg
Furthermore, COP sold $2.3 billion worth of assets last year, while they could've just cut the dividend by half to make up that amount over a single year. It is so unfortunate to have to see this, because while we haven't necessarily hit a bottom in oil, it's well below multiple-year lows. The fact that these funds haven't been used to pay down debt, for which LT debt stands at $24.72 billion, is concerning about what their priorities really are. The company has plans to continue to sell off non-core assets through the next two years.
Volatility In Trading
We saw oil up over 7% in Friday's session, yet in Monday's session we saw a heavy sell off, making Friday look like nothing more than a bounce. The stock is in and out of oversold territory, with the RSI flipping over the 30 mark. It's well below its main moving averages and the slope of declines has increased dramatically thanks to the sell-off in oil.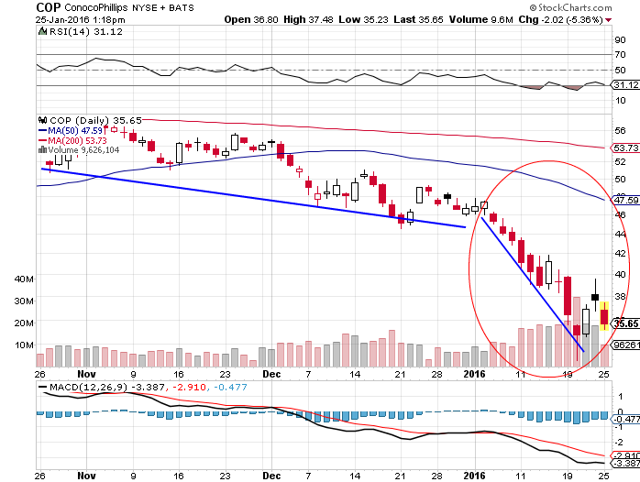 Source: StockCharts
The long investment certainly takes patience and with an improved risk/reward scenario, it's certainly hard to say no. The stock fell 32.25% in 2015 and has fallen 24.94% in January already. Shorting, furthermore, requires a full understanding of your risk tolerance and exit points. I always try to stick to a 25% gain/loss for shorts before I'm out, and then re-evaluate.
The Yield Is Huge
The problem with high yielding equities right now is that the pessimistic speculation surrounding commodity prices places a target on them. That being said, this 8.43% current yield isn't safe by any respect. The company needs to conserve cash, especially in light of their interest burden at $392 million per quarter. It concerns me that the company has listed the dividend as their "top priority use of cash" rather than paying down debt which could end up posing a risk to their credit rating if prices continue to worsen. They are currently rated A by S&P and Fitch, A2 by Moody's.
From what I've read, individuals seem to view ConocoPhillips as a very high quality stock. If that was the case, why haven't we seen more individuals flock to its high yield? They should cut the dividend, in my opinion, and while it's very easy for me to say that from behind a computer, at some point this company has to start thinking about LT stability and the very real possibility that we hang around $30/barrel for the LT. The company is committed to this dividend, I'll give them that, as there will likely be more cuts to capex and opex before the yield is slashed.
As a reminder, COP is shelling out $920 million/quarter in dividends, with Q3 OCF showing $1.93 billion. Paying out 47.6% of OCF as dividends in this kind of environment is a red flag, in my opinion.
A lot of individuals are worried that the yield is too much for a short position to handle. While that's already been disproved by January's returns, the dividend expense can be placed on your Schedule A and is effectively an itemized deduction, set to reduce your taxable income. That's quite the silver lining. Additionally, the ex-dividend isn't until after the company reports earnings.
Conclusion
We're at a pivotal point in trading considering that Q4 earnings are rapidly approaching. The company is set to report on February 4. Clearly, I'm heavily pessimistic on oil and gas fundamentals, and to be very frank, I'm not entirely sure where the bulls are gaining their optimism from. On the earnings report, there are going to be a few key things to look for: cash flow neutrality, FX translation loss as their global diversification is susceptible to the dollar's strength, and any changes to their current leverage.
Disclosure: I am/we are short COP.
I wrote this article myself, and it expresses my own opinions. I am not receiving compensation for it (other than from Seeking Alpha). I have no business relationship with any company whose stock is mentioned in this article.