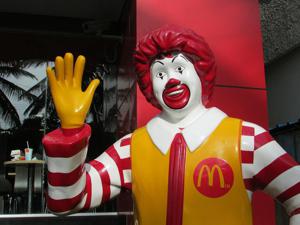 McDonald's (NYSE:MCD) reported Q4 earnings that surprised to the upside driven by the success of its all-day breakfast rollout. The stock reacted positively on this news and I think this is a good sign that the US comps is seeing signs of stabilization and that overseas units could be on the path towards a gradual recovery. I was initially skeptical at MCD's breakfast initiative in that the complexity of offering both breakfast and lunch could require additional employee training and add complexity to the consumer experience. However, the NPD data from a few months back and Q4 reporting suggested that the initiative is certainly gaining traction and this supportive of the company's medium-term outlook on the recovering traffic and comps. While I still think it is too early to conclude that MCD is weathering the structural shift in consumer preference towards fast casual dining, I give credit where it's due and I think MCD's all-day breakfast rollout is mitigating the soft comp sales. In the mean time, I will continue to frequent MCD in the lunch hours to pick up my McGriddle and reiterate my cautious view on the stock but note that the sentiment is certainly improving here.
Revenue of $6.3b, -3.5% y/y was largely in-line with consensus while EPS of $1.31 beat by $0.08 driven by positive comps across all segments. Global comps of +5% is impressive, driven by +5.7% in the US thanks to the all-day breakfast rollout while overseas market saw comps growth of +4.2%. MCD's effort in extending breakfast hours is a direct response to the structural challenge that it faces in that many millennial are migrating towards fast casual concepts that are perceived to be healthier than MCD. However, the all-day breakfast initiative appears to be executing with increased store traffic and higher spending per user with over 60% of the breakfast customers include non-breakfast items, per NDP data.
Surprisingly, China was up +4% on a lower base in the wake of the tainted food scandal but I see some level of sustainability to this comps growth as MCD regains credibility and further expands its digital order/pay similarly to how Starbucks (NASDAQ:SBUX) has been rolling out its digital services in North America that was highly accretive to comps and loyalty. Net-net, the company expects positive comps across all geographic segments and I believe that the expected rollout of all-day breakfast in Australia and the value menu in Germany will likely to be accretive to comps. Additionally, +250 new stores in China highlights the company's ambition to penetrate deeper into China's lower-tier cities on the back of rising consumer spending.
As for Japan, CFO Ozan confirmed that the MCD is considering selling a portion of its MCD Japan stake, and this is not entirely surprising given the challenges that MCD has been facing in the country with lower comp sales, weaker consumer demand/perception and heavy local competition. Selling the stake allows MCD to focus on the higher growth international markets such as China and Russia in the long-term.
Finally, mobile will be a key focus for MCD given the amount of investment SBUX and YUM Brands have put into in North America. If MCD wants to differentiate and compete, I think this is one area where they could leverage their store network to ensure a speedy/consistent mobile service/delivery platform similar to the one they have in China. In my view, MCD's digital initiative is severely lagging that of its peers. In my view, rather than promoting coffee cup sticker MCD should be digitizing its loyalty program and incorporate mobile order and delivery/pickup into the app similar to that of SBUX and YUM. This will drive further upside to average spending and incremental loyalty to its stores.
Disclosure: I/we have no positions in any stocks mentioned, and no plans to initiate any positions within the next 72 hours.
I wrote this article myself, and it expresses my own opinions. I am not receiving compensation for it (other than from Seeking Alpha). I have no business relationship with any company whose stock is mentioned in this article.