It is the nature of merger arbitrage that a single failure will typically destroy many times more value than a single success generates, a situation sometimes likened to picking up pennies in front of a steamroller. That's why evaluation of downside risks is of paramount importance when considering an arbitrage opportunity.
The dominant risk in a typical merger arb is that the deal may not be consummated as planned, whether due to regulators, funding issues or even a change of heart on the buyer's part. However, there are other types of risk too.
Many mergers have extra conditions that complicate the math for arbitrageurs. That is often a good thing since it may discourage vast hordes of yield chasers and make the return more attractive for those willing to do their research. One good example is Harrison Street's offer for Campus Crest (NYSE:CCG), where part of the consideration is in the form of a nontransferable contingent value right. Arb funds may have overlooked the deal, especially since initially the CVR represented a larger portion of the total consideration. However, after some developments, over 99% of the consideration is to be paid in cash. Thus the merger arb is attractive even if the CVR is assumed to have no value.
At other times, however, the conditions hide a major risk.

The offer for C1 Financial (NYSE:BNK) by Bank of the Ozarks (NASDAQ:OZRK) looks like a promising merger arb at a glance. The impressive growth of OZRK in recent years has in large part been due to its acquisition and successful integration of several other regional banks. The strategic rationale for the deal seems clear, the small size of the target makes regulatory issues unlikely, and the spread is 4.5%, an attractive return for a deal expected to finish in 1H 2016. Granted, there is some uncertainty over certain Brazilian assets that must be sold off before the deal completes, but presumably the arb spread already accounts for that risk.
Another Seeking Alpha author has covered the deal in detail. I'm keeping this warning message short, so I recommend reading their work for more background on the two companies. However, I must take issue with their statement that it is a way to "make higher returns with less risk (more alpha)". If the deal sounds so good, why do I have misgivings? Let's dive in to the calculations.
As per the merger agreement, the consideration of $25 per share is paid in OZRK common stock, not cash. That's not a problem in itself, but there is additionally a collar in place for the price of OZRK used in the calculating the consideration, with a minimum and maximum price of $39.79 and $66.31 respectively. The recent market turmoil has affected OZRK to the extent that its share is now less than 3% above the minimum price. Let's see what will happen should OZRK fall further:
Effect of OZRK price on BNK
| OZRK price | Consideration per BNK share | Merger arb return |
| --- | --- | --- |
| $39.79 or above | $25.00 | 4.5% |
| $39.00 | $24.50 | 2.4% |
| $38.00 | $23.88 | -0.2% |
| $37.00 | $23.24 | -2.9% |
| $36.00 | $22.62 | -5.5% |
The return figures are relative to Monday's closing price of BNK of $23.93. Since a picture is worth a thousand words, here's the same thing for visual types: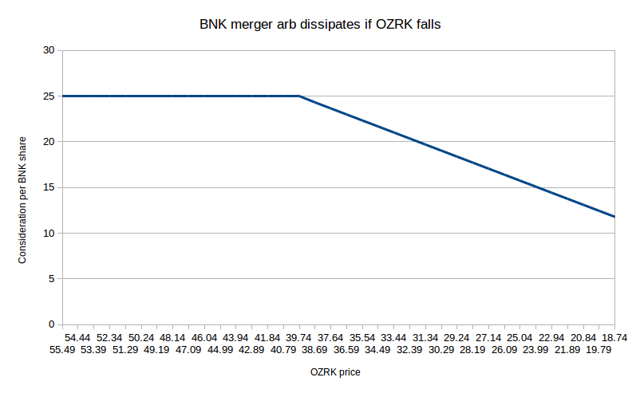 At the current price, all potential profit would be wiped out should OZRK decline to $38.08, a fall of less than 7%. OZRK has already declined by over twice that much since the beginning of the year, so the trend should be worrying to any would-be arbitrageur. You could buy puts in OZRK to protect against the risk, but the cost of that protection completely annihilates the potential profit.
One could argue that OZRK's valuation is compelling at current levels, hence its price is likely to recover or at least not fall much further. There is merit to the valuation argument. Yet, if you believe it, there is no reason to buy BNK, which offers a way to participate in the downward leg of OZRK's price oscillation only with very little upside. You should instead buy OZRK directly.
In summary, BNK is an apparent arbitrage opportunity where the return profile is simply not commensurate with the risks. Those willing to bet on a risky merger arbitrage might want to look at TDK's acquisition of Hutchinson (NASDAQ:HTCH), where the compensation (almost 15% spread) is more in tune with the risk. At a lower risk level, TowneBank's (NASDAQ:TOWN) purchase of Monarch Financial (NASDAQ:MNRK) is another regional bank deal. While the spread, around 3.6%, is slightly lower than the OZRK-BNK merger, the deal conditions are straightforward, making it a preferable option.
Disclosure: I am/we are long CCG, HTCH.
I wrote this article myself, and it expresses my own opinions. I am not receiving compensation for it (other than from Seeking Alpha). I have no business relationship with any company whose stock is mentioned in this article.