We have been saying for two weeks now that the balance of probabilities is not in favor of this being a bear market turn: there are 2.26 times as many bears as there are bulls, which demonstrates a high level of fear; the Rydex Bull Funds are at their lowest level since 2013; and this past week, the S&P 500 developed a long bullish tail.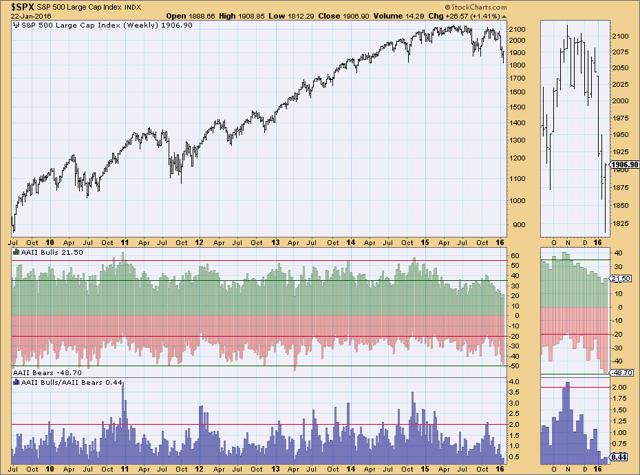 Last weekend, we stated that we expected some further deterioration in the market, but that at least a temporary rally was very likely. That is exactly what happened; a further downside extension in the first few days of the week, then a 100-point rally to produce a long tail (bullish) pattern.
We presented the long-term Rydex versus the S&P 500 relationship and highlighted the divergent pattern that develops before major bear market turns (see below).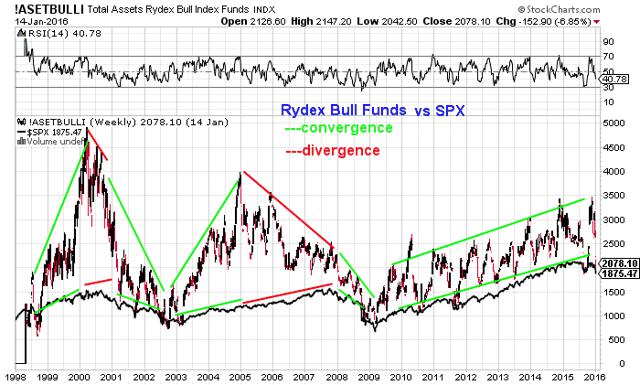 This week, we show that there was a short-term divergence preceding the 2011 correction, and that we again had a short-term divergence last year preceding the present downturn (see below). This further increases the probability that we are in a correction, not a major market turn.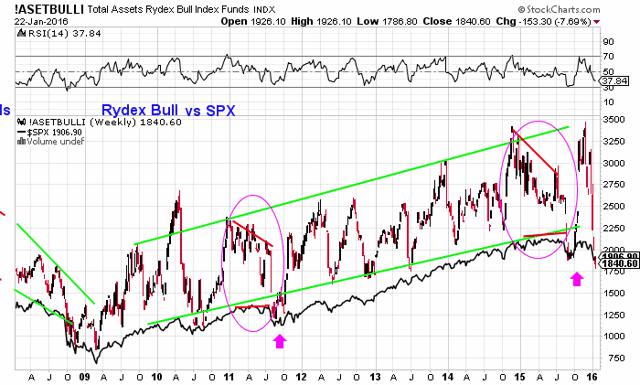 We continue to emphasize, however, that these are only probabilities, not prophesies. If our Price Modelling System turns long-term negative and the price action does not show some follow-through, then we will reassess. At the moment, we still see this as only a correction, and the continuing chorus from the "Chicken Little" crowd only increases our confidence.
Disclosure: I/we have no positions in any stocks mentioned, and no plans to initiate any positions within the next 72 hours.
I wrote this article myself, and it expresses my own opinions. I am not receiving compensation for it. I have no business relationship with any company whose stock is mentioned in this article.