Airlines ETFs Background
Friday, March 15, 2013 marked the last trades of the Guggenheim Airline ETF (NYSE:FAA). FAA certainly was not the most farfetched ETF idea. In addition, FAA also had an unforgettable ticker symbol to boot. So why did it fail? Will its successor, JETS, fail?
Despite the fate of Guggenheim's ETF looming in recent market history less than 3 years ago, we are nearing the first full year of trading for FAA's new counterpart.
We are referring to the US Global Jets ETF (NYSEARCA:JETS), which marks its 1-year launch anniversary late April of 2016.
Higher AUM
FAA had roughly $21 Million in AUM when it liquidated assets. ETFs have a difficult time breaking even at such a small size given low fee generation. However, JETS currently has well over two times that with nearly $47.5 Million in AUM as of January 25th, 2016.
This is optimistic, as the fund's expense ratio of 0.60% (fairly expensive vs. 0.09% for SPY) estimates to roughly $285,000 in management fees collected per year at current AUM/asset prices. Presumably this would be enough to keep the fund above break-even while it gains critical mass and investor popularity.
Lower Oil/Jet Fuel Prices
Shown below is a chart of JETS vs. jet fuel prices on a normalized (%) basis, showing that over 40% lower jet fuel prices have certainly helped JETS and its holdings outperform the S&P 500 over that same period. Compared to March 2013 when FAA shut down, oil prices have dropped drastically. Since oil prices are the underlying determinant of jet fuel prices, they greatly affect airline margins.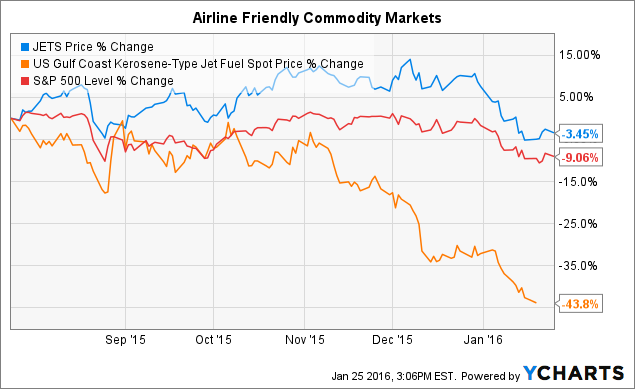 Below is a chart showing oil prices starting before FAA shut down versus now, which provide far friendlier margins to airlines' earnings. WTI was in the $90 range, and The United States Oil ETF, LP (NYSEARCA:USO) was in the mid $30's per share.
USO is down significantly in the last 6 months alone, and JETS shares are nearly flat. Since commodity tailwinds take some time to hit a company's earnings reports, keep an eye out in the upcoming quarters for these airline stocks.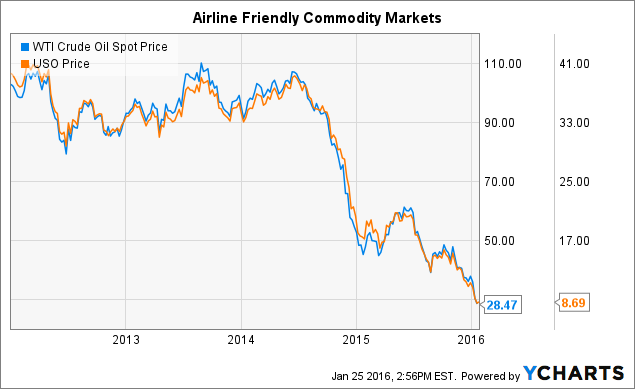 WTI Crude Oil Spot Price data by YCharts
JETS & FAA: Similar Holdings
Now oil is cheap, and so is jet fuel. This means that many of JETS' holdings should be earning fatter margins. Top 5 holdings and their weightings for JETS are listed below as of January 25th, 2016. It is important to note that 3 of these holdings were also in FAA's top 5 holdings.
| | |
| --- | --- |
| % of Net Assets | Holding Name |
| 12.52% | American Airlines (NASDAQ:AAL) |
| 12.13% | Delta Air Lines (NYSE:DAL) |
| 12.00% | Southwest Airlines (NYSE:LUV) |
| 10.67% | United Continental Holdings (NYSE:UAL) |
| 4.62% | Spirit Airlines (NASDAQ:SAVE) |
| 51.94% | TOTAL |
Below is a chart comparing normalized change for the top 5 holdings of JETS vs. JETS over the last 6 months.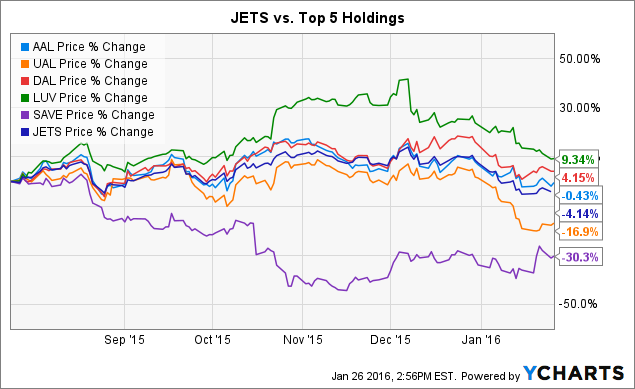 Good Underlying Value
Looking into the value of the top 5 underlying holdings of JETS, airlines seem to be trading at an attractive valuation from a P/E standpoint.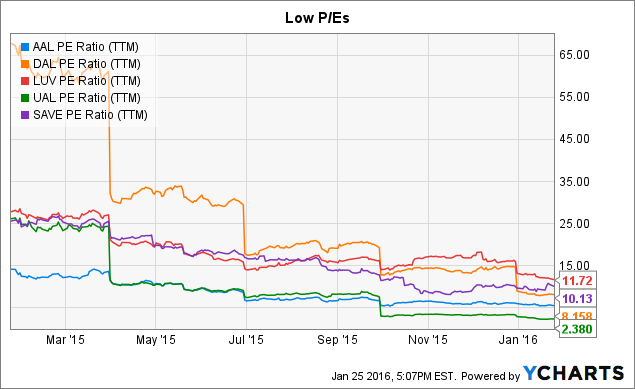 AAL PE Ratio (NYSE:TTM) data by YCharts
Currency Tailwinds
Last but not least, as a currency-focused firm we cannot ignore the effects of a strong U.S. Dollar (via the PowerShares DB USD Bull ETF (NYSEARCA:UUP)) on the holdings of JETS when we see them.
In the time JETS has been trading, the U.S. Dollar has strengthened significantly against certain world currencies. Selected currencies include the Euro (via the CurrencyShares Euro Trust ETF (NYSEARCA:FXE)), Chinese Yuan (via the CurrencyShares Chinese Renminbi Trust ETF (NYSEARCA:FXCH)), and the Swedish Krona (via the CurrencyShares Swedish Krona Trust ETF (NYSEARCA:FXS)).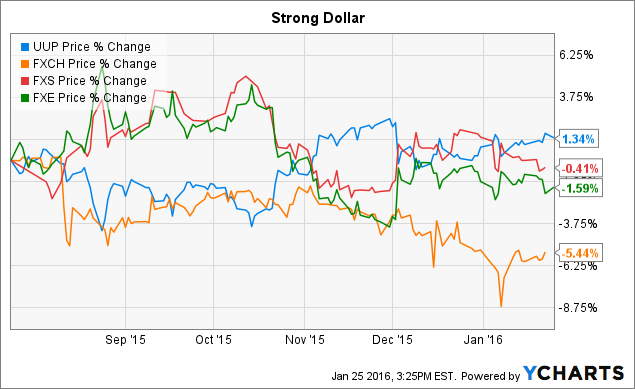 Currencies affects JETS in a few ways:
Travel: This FX environment makes traveling abroad from the U.S. cheaper/more attractive. This causes a positive tailwind for the previously mentioned 5 airline companies, as well as the airline companies which hold a smaller portion of JETS such as Virgin America (NASDAQ:VA) and SkyWest, Inc. (NASDAQ:SKYW).
Major Exporters in JETS: While this has a positive affect on travel in some cases, it has a negative effect on exports of big-ticket items from Boeing Co (NYSE:BA), General Dynamics Corp. (NYSE:GD) and other U.S. based plane and component manufacturers. Both BA and GD happen to be in JETS top holdings.
Foreign Companies Held in JETS: While close to 80% of JETS holdings are U.S. based, JETS has foreign exposure such as 2.03% to China (from airlines like Air China, Ltd. (OTCPK:AIRYY), and more) , and 1.19% to Japan (from airlines like Japan Airlines Ltd. (OTCPK:JAPSY)).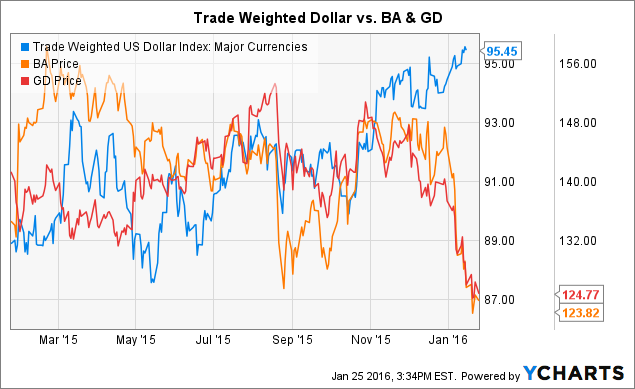 Trade Weighted US Dollar Index: Major Currencies data by YCharts
As mentioned previously regarding commodity tailwinds, foreign exchange tailwinds also take time to appear in earnings reports, so be sure to watch the upcoming quarters.
Expected Airline Earnings Dates
While LUV, DAL, and UAL just recently reported, we have listed a few upcoming airlines earnings reports for investors/traders below:
Hawaiian Holdings, Inc. (NASDAQ:HA): 01/26/2016 After Market Closes
AAL: 01/29/2016 Before Market Opens
SAVE: 02/09/2016 Unknown Timing
VA: 02/16/2016 Before Market Opens
Conclusion
Overall, we applaud the marketplace's re-adoption of an ETF product providing convenient and tradeable basket exposure to the airline industry. Like a phoenix, one airline ETF died, and another rose from its ashes.
This probably means an airline focused ETF belongs in the marketplace. However, ongoing success for JETS could depend on the three major catalysts:
Watch oil markets and jet fuel prices as drivers for the underlying airline holdings of JETS
Watch U.S. Dollar strength relative to major trading pairs as a driver for the underlying planes & parts holdings as well as JETS foreign airline holdings.
Lastly, JETS must maintain AUM traction with aggressive distribution and marketing of the fund, especially at a time when airlines are trading at such attractive multiples when measure by their P/E's.
We look forward to watching JETS and other new ETFs develop as time goes on. We will be sure to update investors as the subject develops.
References
Disclosure: I/we have no positions in any stocks mentioned, and no plans to initiate any positions within the next 72 hours.
I wrote this article myself, and it expresses my own opinions. I am not receiving compensation for it (other than from Seeking Alpha). I have no business relationship with any company whose stock is mentioned in this article.
Additional disclosure: Not Investment Advice.
Editor's Note: This article discusses one or more securities that do not trade on a major U.S. exchange. Please be aware of the risks associated with these stocks.