Over the past several months I've analyzed several utility companies. Most of them were suitable for dividend growth investors. They were mainly what I call "type two" dividend growth stocks, which means medium yield and medium growth when compared to the sector average. So far, my best picks were Wisconsin Energy (NYSE:WEC) and Avista (NYSE:AVA).
I only allocate 2% of my portfolio to the utilities sector, but I've tried to broaden my horizons and become familiar with more companies in the sector. The latest rate hike and pullback in the stock markets around the world can reveal new opportunities in the sector. Therefore, it is important for me to have a large watch list so that I can act quickly if needed. The opportunity to have a yield around 4% with mid-single-digit growth in a monopoly shouldn't be taken for granted.
In this article, I will analyze American Electric Power (NYSE:AEP) and compare it to my two favorite peers of the company. It is an electric utility company that provides generation, transmission and distribution services to customers in Arkansas, Indiana, Kentucky, Louisiana, Michigan, Ohio, Oklahoma, Tennessee, Texas, Virginia and West Virginia. It delivers electricity to 5.4 million customers, which makes it one of the larger utility companies.
Fundamentals
Revenues are up over the past decade. This is really a good sign, because many utilities companies suffer from stagnating revenues. Avista is a good example of a utility company with stagnated revenues. AEP managed to achieve a CAGR of 3.5% between 2005 and 2014. In addition, the company will probably be able to maintain this pace in 2015 with only one more quarter to go. That's pretty impressive in my opinion.
EPS is growing as well, but not as fast as the two peers I am comparing AEP to. From 2005 to 2014, EPS grew in the CAGR of 5%. It is forecast to finish 2015 with another 10% of EPS growth, which will mean 6% CAGR over the past 11 years. The company is forecast to grow at 4%-6% in the medium term, which is a little slower than the forecasts for AVA and WEC.
Dividend growth investors care about the dividend. Well, the dividend was frozen by the company during the financial meltdown, which is a bad sign. However, when looking at the past decade, the dividend grew at a CAGR of 4%. The company also issued 20% more shares during that period. Some might see it as a conservative approach, and others as an unforgivable dividend freeze and shareholder dilution.
The latest increase came in at just 5.7%, and the company now yields almost 4% with a fantastic payout ratio for this sector -- 60%. I believe that looking at the forecasts for EPS growth and the payout ratio, 5%-6% seems like the right figure for dividend growth in the medium term. Together with the almost 4% yield, AEP is a classic "type two" dividend growth stock.
The company is improving its debt-to-equity ratio over the past several years. As you can see in the graph below, the ratio is now lower for its peers as well, partially due to the growing share price. At the moment, the debt-to-equity ratio is similar to its peers. Therefore, at the moment I am less concerned by the debt load of the company.
AVA Debt to Equity Ratio (Quarterly) data by YCharts
Valuation
After looking at the fundamentals, I believe that WEC and AVA still have slightly better fundamentals as they are forecast to enjoy higher EPS and revenue growth without having a larger debt load. The valuation is a whole different story. All three companies trade for fair valuation. They all saw their P/E ratio expanding in the long era of low interest rates. However, when taking into consideration the current interest rate environment and the forecast growth, the P/E seems fair for all three companies.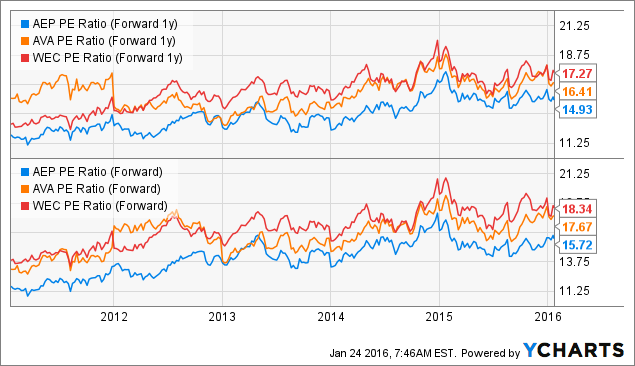 AEP PE Ratio (Forward 1y) data by YCharts
I believe that AEP is fairly valued like its peers. However, I think that its valuation is the most compelling. The P/E should be somewhat lower, but not that lower. It's true that WEC and AVA will probably grow slightly faster, but that's not enough to justify such a large gap in the P/E ratio. I think that AEP is the winner in the valuation competition.
Opportunities
American Electric Power is very diversified geographically. It serves over 5 million clients in 11 states. It has clients in the Rust Belt like Wisconsin Energy, and clients in the South in states that enjoy growth in their demographics and economy, such as Texas. The diversification allows the company to be exposed to many different regulators, and not to a single one, which is very dangerous.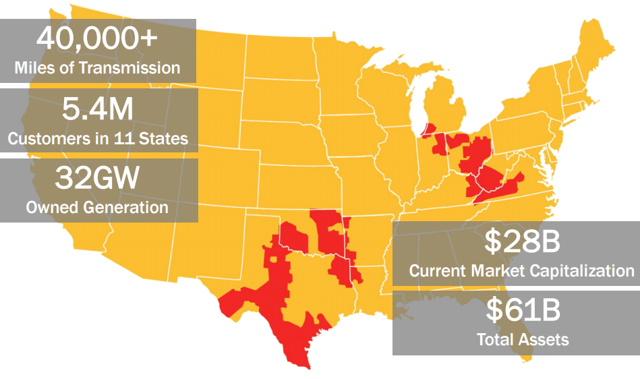 Another growth prospect is the fact that the company is moving toward cleaner and cheaper energy. The company used to produce more than 70% of its electricity from coal a decade ago. Now, only half of the production is from coal. The company is using more natural gas, which is extremely cheap today, and moving toward clean energy sources.
As being green becomes a priority and is encouraged by regulators, the decline in the use of coal and the increase in the use of cleaner energy reduces the amount of emissions created by the plants. In my opinion, it is a very smart move to renovate your business with clean energy.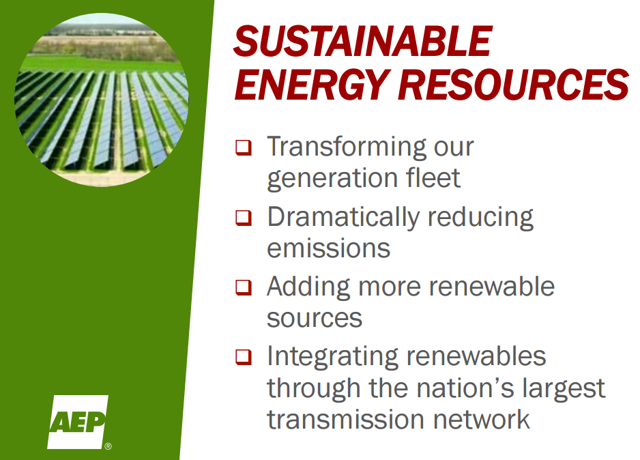 Risks
There are still several risks with regard to this huge company. For one, 50% of the power generated is generated using coal. Coal creates a lot of pollution, and in the current environment with natural gas so cheap, using coal is not the best choice. Transforming the company and building new projects that use different types of fuel require more capital as well.
Another risk is the massive exposure to Ohio -- 25% of the revenues come from Ohio. This state is part of the Rust Belt, and at the moment there is no massive growth there. I believe that this is only a medium- term weakness and that a new balance will be reached in the economies of that area. Also, regulators there are not as welcoming as the company might wish. For example, it was already ordered several years ago to decrease the prices. A regulated company relies on its regulator, and that is indeed a risk.
The last risk is the debt. Utilities require a lot of capital to invest in their infrastructure. AEP already carries over $20 billion in long-term debt, and will deploy over $10 billion in the next several years. It connects to the transformation of the company to a cleaner one, and to the need of massive maintenance to its huge transmission network. In a rising interest rate environment, it will mean larger debt payments.
Comparison With Peers
The risks and opportunities are important, but they are not unique. Avista also carries a lot of debt compared to its size, and WEC is also operating mainly in the Rust Belt. When compared to its peers, I think it's important to see that AEP is moving toward being a fully regulated utility. For a company that big, it will be an advantage to be a giant monopoly.
It's true that its peers enjoy at the moment some interesting growth prospects. WEC is enjoying the assimilation of Integrys, while Avista is investing in non-regulated initiatives that might be sold in the future and increase the net income. However, AEP going for the conservative regulated utility company might also be seen as an advantage.
Conclusion
When I was looking at utility companies lately, I believed that they were either overpriced or not as appealing as my two favorites. However, AEP is very appealing to me. It is cheaper than its peers, grows nicely, and yields almost 4%.
The market is very volatile, and I think that buying this company with a 4% yield is pretty fair. In addition, if the market remains that volatile, we might get the opportunity to buy AEP for $50-$53 -- and then it will be a real buy.
Disclosure: I am/we are long WEC, AVA.
I wrote this article myself, and it expresses my own opinions. I am not receiving compensation for it (other than from Seeking Alpha). I have no business relationship with any company whose stock is mentioned in this article.