Canadian National Railway (NYSE:CNI) reports Q4 earnings on Tuesday. Analysts expect revenue of $3.26 billion and eps of $1.12. The revenue estimate implies a 1% increase sequentially. Investors should sell the stock into earnings for the following reasons:
Anemic Top Line Growth
Canadian National is considered one of the better railroad stocks to own. CNI is off about 25% over the past year, versus a 5% decline for the S&P 500 (NYSEARCA:SPY). Canadian Pacific's (NYSE:CP) unfriendly bid for Norfolk Southern (NYSE:NSC) appears on the rocks, so investors have turned bearish on railroad stocks in general. Based on the company's anemic top line growth, I do not see a rationale for ebullience in CNI.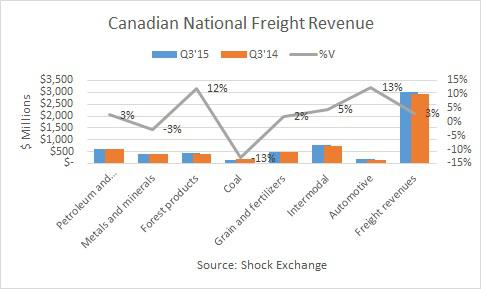 Q3 2015 revenue was only up 3% Y/Y, which I consider anemic. The company's three largest segments -- Petroleum, Forest Products and Grain -- had combined revenue growth of 5%; that is encouraging. Of note is that Canadian National only has 5% exposure to coal -- the company's worst performer. This compares favorably to U.S. railroads like Genesee & Wyoming (NYSE:GWR), CSX (NYSE:CSX) and Norfolk Southern who have double-digit exposure.
Carloads were down 6% Y/Y while revenue per RTM was up 10%. Each product line experienced price increases. Nonetheless, with the global economy in decline it is only a matter of time before Canadian National's freight revenue declines with it. For the week ended January 9th respective U.S. and Canadian rail traffic was down 3.7% and 2.8%. This is another data point illustrating that anemic top line growth will likely continue.
Declining Fuel Costs Are Already Baked Into EBITDA Margins
While Q3 revenue was up by single digits, the company's EBITDA grew 15% Y/Y. As a percentage of revenue each expense bucket either declined in Q3 2015 or was the same as the year earlier period. Fuel costs fell from 14% of revenue in Q3 2014 to 9% in the most recent quarter. It was the biggest driver of the pick up in EBITDA margin from 55% to 50% in Q3 2015.
In my opinion, declining fuel costs are likely baked into the story and the share price. For the company to drive more earnings it must continue to cut costs. That may be problematic as the company's EBITDA margins of 55% are already best-in-class and compare favorably to competitors who have margins in the high-to-mid 40% range.
Canadian National's anemic top-line growth will eventually translate into anemic earnings growth, and its 17x p/e is not justified. I believe CNI will get its comeuppance this quarter or the next.
Disclosure: I am/we are short CNI, NSC, CP, GWR.
I wrote this article myself, and it expresses my own opinions. I am not receiving compensation for it (other than from Seeking Alpha). I have no business relationship with any company whose stock is mentioned in this article.