Higher Volatility To Start Of 2016
Given the mostly downward volatility we have seen to start the year, many investors are at best uncertain and at worse paralyzed when it comes to proactively managing their portfolios. With the CBOE Volatility Index (VIX) back above 20 on all but one day so far this year, income investors should remember that this also has the effect of increasing options premiums. While this means buying protection in the form of puts has become more expensive, it also means that a seller of calls can increase portfolio income as well.
Covered Calls Can Lower Volatility
When an equity, ETF, or index position is matched to a covered call, the price of the call will trend to move inversely to the price of the underlying security, especially in situations where overall volatility remains elevated or even increases. The net effect of this can be to lower the standard deviation of daily returns of the combined holdings. Used extensively, this can also help control the variation in returns across a well diversified portfolio. Executed correctly, this means overall higher risk adjusted returns.
Consumer Staples Uniquely Suited Now
In "normal" market conditions, high quality consumer staple stocks provide conservative investors with fairly stable returns through increasing earnings and dividends helped by growing populations, increasing standards of living, and modest inflation. Of course, markets conditions have been far from normal over the past 7-8 years. Many income seeking investors have increased their weightings in these consumer staple stocks, helping to drive up prices and Beta for the group as seen in the Consumer Staples Select Sector SPDR ETF (NYSEARCA:XLP):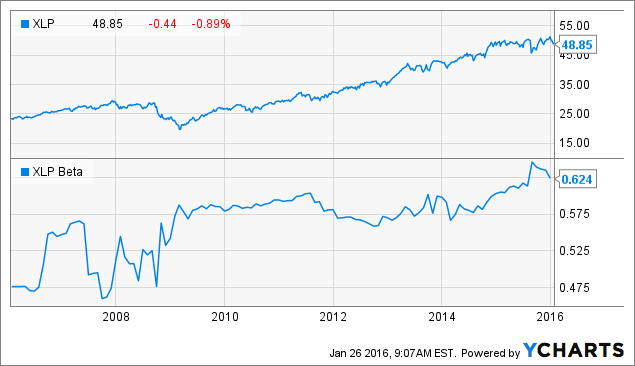 The higher Betas mean that related options have more premium for sellers to take advantage of, even though the average Beta still indicates that these stocks will be less volatile than the overall market. Meanwhile, the higher average prices reduce the likelihood of the stocks further outperforming, thus making the "risk" of having positions called away through options exercise relatively less likely. Of course, writing covered calls does not eliminate downside risk to the underlying security, but it does lower the cost of owning the underlying security by the amount of premium received. In any case, this strategy should only be employed in an overall well diversified portfolio.
Analyzing Three Consumer Staple Calls
My guidelines for covered call writing are to collect about 1% of the price of the underlying security while writing an out-of-the-money call expiring within 60 days. There are other situations in which I use at- or in-the-money calls, but these are special situations which I will cover in another article. The other consideration is the strike price. While I am generally a fundamental analyst, this is one of the situations where I also consult the charts to see if there are any clear resistance levels that I don't expect to be exceeded. In any case, I choose a price where I would be satisfied to sell the underlying security, including consideration of any tax consequences. Also, they are called "options" for a reason. So if the underlying does trade through the strike, I evaluate whether to buy in and close the call or roll into a higher strike price.
Coca-Cola (NYSE:KO), Proctor & Gamble (NYSE:PG), and J.M. Smucker (NYSE:SJM) are all companies that I like fundamentally, with the caveat that they are trading at historically high multiples: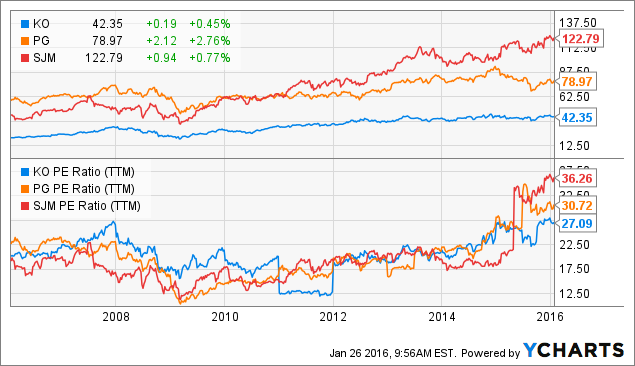 As of this writing, KO has a dividend yield of 3.11%, the PG yield is 3.35%, and the SJM yield is 2.17%. Overall respectable yields, especially compared to a 2.0% 10-year US Treasury. However, with trailing P/E ratios of 27x - 36x, I want more return for the risk of these being re-priced closer to their historical levels. The following table illustrates the potential yield on these stocks from including a call writing strategy:
| | | | | |
| --- | --- | --- | --- | --- |
| 1/26/2016 | KO | PG | SJM | SJM |
| Current Price | $42.39 | $79.20 | $123.31 | $123.31 |
| Call Expiration | 3/18/2016 | 3/4/2016 | 3/18/2016 | 3/18/2016 |
| Days To Exp. | 52 | 38 | 52 | 52 |
| Call Strike | $44.00 | $81.50 | $125.00 | $130.00 |
| Option Bid | $0.42 | $0.64 | $2.70 | $1.10 |
| Premium % | 0.99% | 0.81% | 2.19% | 0.89% |
| Annualized Return | 6.95% | 7.76% | 15.37% | 6.26% |
| Annualized Dividend | $1.32 | $2.65 | $2.68 | $2.68 |
| Dividend Yield | 3.11% | 3.35% | 2.17% | 2.17% |
| Total Potential Yield | 10.07% | 11.11% | 17.54% | 8.43% |
| % OTM | 3.80% | 2.90% | 1.37% | 5.43% |
I have included two different strike prices for SJM to illustrate the importance of this metric. My decision making process would include answering the question, "Do I want to continue to own this stock at these levels?" In this case, do I want to be in it for a potential 5.43% upside, or do I think that it is fully valued and I'd be happy to sell it up another 1.37% in less than 2 months. After all, I might be able to replace it with a higher dividend yielding stock in the same sector, or potentially re-enter the position at a more attractive price later.
Of course annualized returns assume that the option premiums stay steady relative to the underlying stock price and that the same relationships between strike prices and performance recur. However, the analysis does highlight the potential incremental yield to a conservative portfolio including consumer staples.
Anyone looking to pursue these strategies should also be aware of their own tax situations and consult a professional if needed (I am not a tax professional). Covered calls have additional holding period rules to preserve long term favorable tax treatment of dividends and capital gains. However, since covered call writing is considered a less risky option strategy, it is also allowed to be used in retirement accounts that avoid these tax implications.
Disclosure: I am/we are long KO, PG, SJM.
I wrote this article myself, and it expresses my own opinions. I am not receiving compensation for it (other than from Seeking Alpha). I have no business relationship with any company whose stock is mentioned in this article.