Richelieu Hardware (OTC:RHUHF) reported Q4 results on January 21st with the company reporting a 12.5% increase in sales while net earnings rose 10%. The dividend was increased modestly by 6.7% and a 3 for 1 share split announced.
For further information about Richelieu, check out my initial article on the company.
Q4 Results
This was Richelieu's first quarter with revenue above $200 million as sales were driven by 11.2% organic growth and an additional 1.3% from acquisitions. The translation of U.S. dollar revenues to Canadian dollars continued to be a tailwind as constant currency sales growth was 7.1%.
EBITDA margins declined slightly to 12.8% from 13.2% due to lower margins on recent acquisitions and delays passing through price. On the conference call (no transcript available) management also spoke about capital expenditures, which should drop back to $6-7 million (from $11 million) after recent investments in distribution are complete.
Free Cash Flow (in CAD millions)
| | | | |
| --- | --- | --- | --- |
| | 2014 | 2015 | 2016e |
| Net Income | 52.6 | 58.9 | 65.7 |
| + Depreciation | 5 | 5.8 | 6 |
| - Capex | 11 | 11.7 | 6.5 |
| = FCF | 46.6 | 53 | 65.2 |
The company now trades at 20x estimated 2016 FCF and, according to Morningstar, 18.7x consensus forward earnings. The company remains in a net cash position and achieved a 17.5% return on equity in 2015 - in line with 2014 and above the 5-year average.
Canadian Segment
On the call, management outlined regional growth rates, which are looking more bifurcated as a result of a slowing Alberta economy . For example, Ontario and Western Canada delivered 15% and 11% growth for the year but in Q4 the ongoing weakness in Alberta began to emerge and Western Canada sales growth decelerated to 6%. Alberta isn't a particularly large market for Richelieu (Western Canada also includes B.C. and hot housing market Vancouver) but it was growing well. Fortunately, Ontario renovation spend appears to be picking up for the time being driven by increases in home prices
United States Segment
Organic growth in the U.S. 3.4%, which is significantly lower than the full-year figure of 8.5%. Management noted some "hesitation" on the part of manufacturers to commit to buying as sales to retailers remained robust at 18.3%. The company made one acquisition in Texas in the fourth quarter as they continue to consolidate in key Eastern U.S. markets.
Purchasing
The decline in the Canadian dollar continues to put upward pressure on purchasing costs. Sales in Canada are still ~70% of total sales and most buying occurs in US dollars. Management is passing through higher prices to manufacturers but price increases to retailers will take upwards of 90 days. This will increase renovation costs as a time when all imported goods (e.g. produce) are seeing rising prices.
The decline in the Canadian dollar continues to be a risk to Richelieu's acquisition strategy. While management remains positive on acquisitions, Canadian earnings can no longer be as easily deployed into the U.S.
What was nearly par two years ago is now worth 71 cents.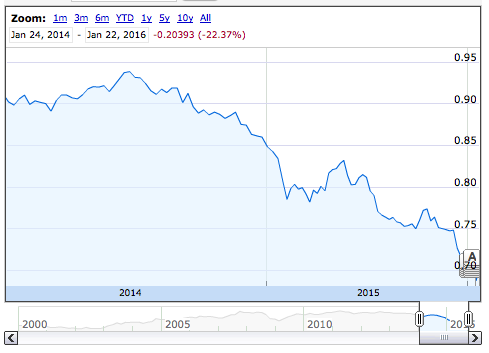 A Look at Oil Exposure
Richelieu's last two acquisitions have been in Texas: Single Source (located in Dallas) in June and Cornerstone (located in Houston) in December. On the conference call, management characterized it as an important market so we could see further acquisitions.
We could describe the expansion Texas is either ill-timed or opportunistic. In November, the average price of a Houston home fell by 3.5% - the first time in nearly 4 years. Home sales fell by more than 10%. With oil at ~$40, it may be the beginning of more weakness.
While Texas is relatively small, the market mirrors a larger market for Richelieu. Western Canada, including Alberta, represents ~22% of total sales and is feeling the effects of lower oil prices. Calgary home prices fell 5% in November while home sales fell more than 20%.
So while Richelieu mainly serves the home renovation market, the sale of houses (new or used) has an indirect impact on their business. First, many owners renovate their home before a sale. If the prospective sales market is weak, they may defer the sale or choose not to invest in a renovation. Second, individuals are more likely to invest in their homes when home prices are rising and the likelihood of recouping their investment is higher. Without that incentive, renovation spending can decline.
Further, rising unemployment can influence demand for homes as well as funds available for renovations. The result is, as mentioned earlier, a sharp deceleration is Western Canada growth from 10%+ to 6% in Q4.
Final Thoughts
With that said, Texas is still a very small market for Richelieu and management is likely taking the long-view and using the downturn to establish itself. The company behaved similarly during the last recession when they acquired four U.S. companies in 2010.
The short term exposure to Canada, specifically Western Canada, poses the largest near-term risk. If economic weakness spreads to Ontario, specifically Toronto, organic sales growth, which has been very strong recently, could begin to slow.
Fortunately, the company is an excellent position to weather any storm. They have $26 million of net cash on the balance sheet and should generate ~$50 million of FCF after dividends in 2016. With no debt, they remain well positioned to continue tuck-in acquisitions and repurchase shares.
Disclosure: I/we have no positions in any stocks mentioned, and no plans to initiate any positions within the next 72 hours.
I wrote this article myself, and it expresses my own opinions. I am not receiving compensation for it (other than from Seeking Alpha). I have no business relationship with any company whose stock is mentioned in this article.
Editor's Note: This article discusses one or more securities that do not trade on a major U.S. exchange. Please be aware of the risks associated with these stocks.