Commodities have been crushed over the last 18 months primarily given slowing global economic activity, oversupply, and pressure from the US dollar given it holds considerable control over the forex market. Major agricultural chemical producers specifically are in the midst of a super cycle overhang. We are negative on certain companies like Deere (NYSE:DE) and Monsanto (NYSE:MON) given unrelenting headwinds, but we have also searched for value within this space. After screening and bottom-up research, we found that the Mosaic Company fits our criteria.
Macro Price Drivers
The Mosaic Company (NYSE:MOS), one of the industry leaders, derives its revenue from two chemical compounds known as phosphates and potash which are used as crop fertilizers for commercial agriculture. On the supply side there has been attention with respect to heavy overcapacity. BHP Billiton's (NYSE:BHP) announcement of possibly start its own potash mines have added to underlying concerns. Over the last couple years however we have seen stabilization as demand as been able to absorb increasing volume: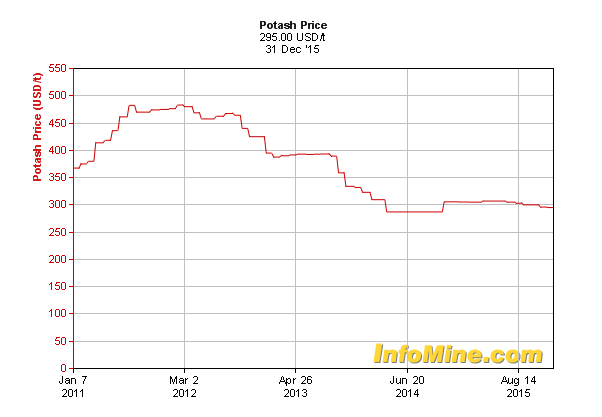 Phosphates have actually seen a bit of a recovery in the intermediate term as well: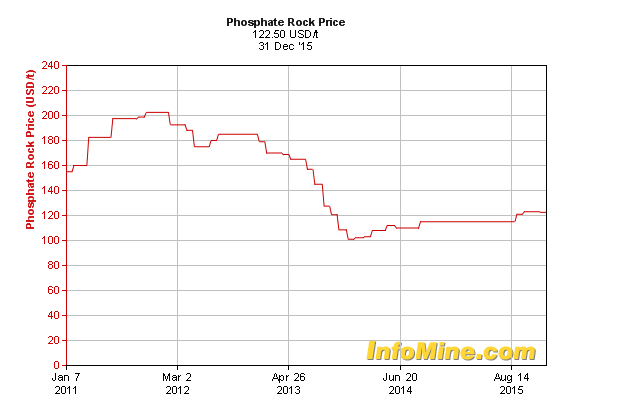 The company stands very low on the cost curve although the degree of operating leverage appears high which has amplified its weakness in the current downturn. Looking at the last three fiscal years, we have estimated that it stands somewhere around 3x, not terrible but not great either. On the positive side however, management is forecasting that they will be able to recapture lost sales volume through an uptick in spending from customers overall. With a range of 2% and 6% on each product, we could see a conservative sales growth figure of 3% according their language. Given the neutrality of the underlying commodities, we don't see any means for accelerating weakness. This parallels with their plans for a higher capital spend up from roughly 1 billion to nearly 1.2 billion; suggestive of accretive capital project activity.
Balance Sheet
Mosaic continues to show an uncanny ability to sustain earnings in the current environment. Deleveraging can be a nasty endeavor but management has shown a relatively tactful way of doing so. While there may be a possibility of asset impairment, we have not found any reasons for such a charge.
The debt load also remains manageable and safely below industry peers: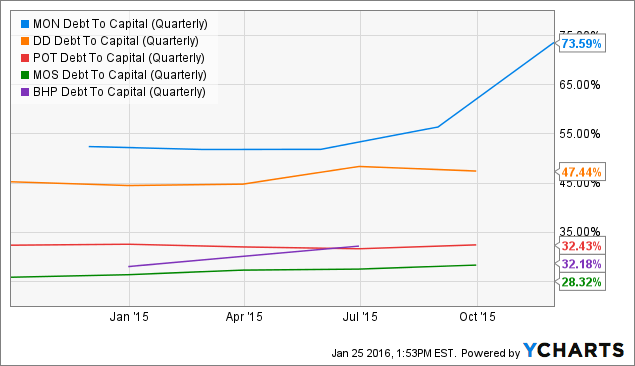 MON Debt To Capital (Quarterly) data by YCharts
Cash & equivalents have dropped substantially over the last few years but the dividend is not in jeopardy. Conversely, Potash (NYSE:POT), a close competitor, will have to take a haircut on their current dividend plan if it ever wants to gather any form of a cash balance: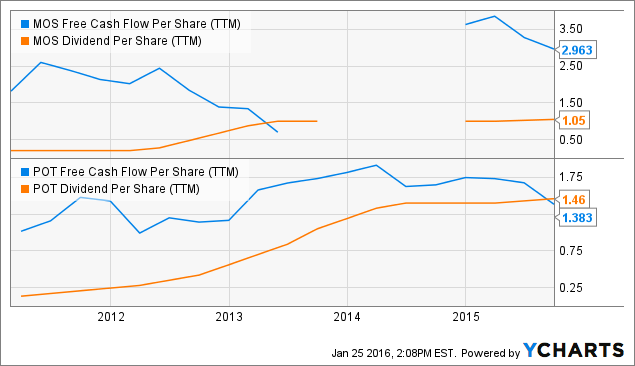 MOS Free Cash Flow Per Share (TTM) data by YCharts
Valuation Methodology
While we feel that management is credible with their outlook, we desire to maintain some form of a safety margin when considering their budgets on both the revenue and cost schedules. That said, our most optimistic case assumes 3% CAGR. There is also room for fierce price competition which will influence EBITDA margins negatively. From the current 24%, we expect to see an average rate of 21.5% over this period with some fluctuation in either direction.

While concerns continue to linger, we think that the market is now overreacting to the downside. Painting with a broad brush, the equity now trades around 5x EV/EBITDA, practically a cyclically low multiple while the decline in cash flow appears to be decelerating.
Investors should also note that Mosaic uses non-traditional methods for booking profit. In the most recent conference call, analysts continuously asked about figures for the next quarter but management echoed the reality that recording sales and otherwise can easily float from one quarter to another. In other words, investors cannot evaluate quarter over quarter results on a relative basis. As you can see in the chart below, there are no decipherable correlated results:

Information provided by Schwab.com
Risks
Most of the risk contained in this story is due to external factors which include but are not limited to the following:
Unforeseen weakness in phosphate and/or potash prices
Smaller order sizes from customers; inventory overloads
Additional government regulation/oversight
Natural disasters impacting production facilities
If investors are concerned about industry specific risk, shorting Potash via puts options would be logical. Potash trades at a premium, likely cannot support its dividend, and maintains softer guidance on a relative basis.
Technical Analysis
On the chart we have an aggressive descending trend, and these generally these never bode well for bottom pickers. Volume is confirming this weakness as it stands above average levels. Traders tend to view higher volume as a negative signal. We are looking for confirmation on the money flow index above the 50 which could be indicative of a bullish reversal.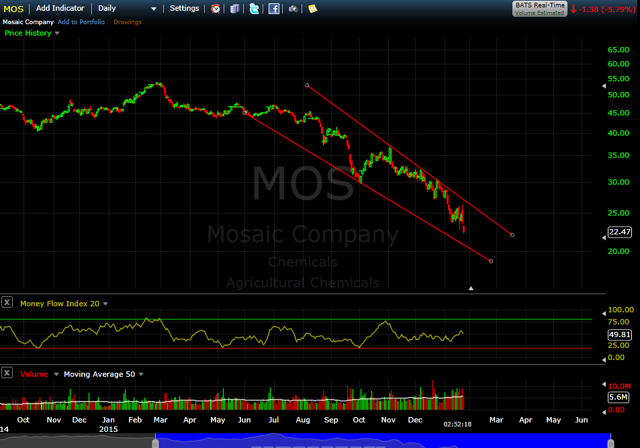 Support appears non-existent but the chart is forming a falling wedge, a reversal pattern.
Bottom Line
We think that downward revisions may be coming to a halt given the stability in underlying prices. Management has shown expertise in cost cuts, proper capital allocation, and now mentions a chance for recapturing lost sales. That said, we believe our base case has a high probability of materializing. Given our long term price target of $30 and ~5% dividend yield, investors should consider buying shares.
Disclosure: I/we have no positions in any stocks mentioned, but may initiate a long position in MOS over the next 72 hours.
I wrote this article myself, and it expresses my own opinions. I am not receiving compensation for it (other than from Seeking Alpha). I have no business relationship with any company whose stock is mentioned in this article.