Intro
Quick, name the three countries outside the USA that have the most Popeyes Louisiana Kitchen (PLKI) locations?
Canada you say? Good guess, you are right.
But if you didn't guess South Korea and Turkey as your other two, you would be wrong.
Do South Koreans even know where Louisiana is?
On a more serious note, let's take a look at where Popeyes has been, where it is going, and how it turned itself from a greasy chicken chain near bankruptcy to a same-store sales powerhouse with a fresh new look.
A Brief History Lesson
Popeyes used to be part of a restaurant conglomerate that owned other fast food chains, coffee houses, and all sorts of stuff. In the mid 2000s, this company went bankrupt and emerged with only the Popeyes restaurants under their banner. With negative same-store sales for 2007 to 2009, the company was struggling mightily.
In comes the white knight CEO Cheryl Bachelder. She changed the company's name, improved relations with franchisees, and redefined the brand's image.
We will touch on these things more when we get to the future outlook for the company but the results speak for themselves: 5-6 straight years of increasing same-store sales.
Growth in an Unlikely Place
Popeyes occupies what they call the "quick service restaurant" category, or QSR.
You would not expect there to be a fast expanding chain in this space but instead expect to see consolidation as the big guys like Wendy's and McDonald's battle to the death to attract what is left of the burger and fries crowd.
The rage these days is all about the Chipotle model. Chipotle's meteoric rise in popularity and store count has inspired many imitators. Nearby, we have a pizza joint using the model and I also just went to an Italian place serving "piadas" - basically Italian burritos, using the same Chipotle style setup.
The fast casual category that Chipotle pioneered is the market where new companies are popping up. The perception is that this space offers more opportunity to serve healthy and fresh food that the customer now craves. So how has Popeyes grown to have over 2,200 stores worldwide?
Reimagining the Brand
A few years ago, the company undertook a campaign to transform each restaurant from "Popeyes Chicken and Biscuits" to "Popeyes Louisiana Kitchen."
While on the surface this just seems like semantics, what this has allowed the company to do is explore a much wider swath of food choices and give their in-house chefs much more flexibility in terms of menu innovation potential.
Now instead of tired old fast food offerings, an entire culture of southern comfort food with a rich history has been opened up for the company to explore.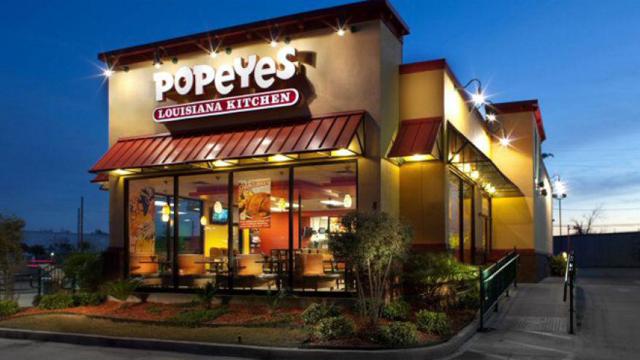 Popeyes has backed up this reimagining with a variety of new menu items which have for the most part been successful. Items like Rip'n Chick'n, jambalaya, and spicy garlic butterfly shrimp have attracted new customers to their stores. These customers are then hooked because the stores are now cleaner, faster, and providing excellent customer service.
The best part about this transformation is that, although the company is not necessarily a "healthy" option, the new brand image does take the emphasis off of fried chicken and biscuits and places it in an entire region of food instead.
Despite the increasing trend towards healthy lifestyles, who doesn't love some good Southern comfort food once in a while? Popeyes is unapologetic about what it is and is pushing hard to take market share from waffling competitors who are focused on adding salads and quinoa burgers to their menu.
Improving Franchisee Relations
The most important qualitative metric for Popeyes is the relationship between the parent company and their franchisees.
Bachelder mentions in a 2014 WSJ interview that when she took over as CEO the company simply wasn't listening to their franchisees at all. They were dictating the direction of the brand and company without any input from their most important teammates.
The reason this is so important is because Popeyes is fully invested in the so-called "asset light" model. Out of the company's 2000+ stores worldwide, a paltry 30-40 of them are company owned. The rest are franchised.
Therefore, the company will live or die based on the success of their franchisees. These are the people who will open new stores and invest new capital to improve and maintain the current ones.
In an effort to get a handle on how many new stores the company could open and how quickly, I took a look at what it takes to be a franchisee. Below are the requirements straight from their website:
Minimum net worth of liquid assets of at least 1,000,000.

Must be willing and able to open at least 5 locations, preferably more.
Some more info about US franchise locations:
Franchise Fees:
Total Estimated Start-Up Costs range from $235,300 - $454,100*(excluding real estate and construction costs).
Development Fee $12,500 per restaurant, Franchise Fee $35,000 per restaurant, Royalty Fee Five percent (5%) of gross sales - as defined by Popeyes, Marketing Fee Four percent (4%) of gross sales.
I am by no means an expert on what the industry standard is for franchisee requirements, but at least the liquid net worth requirement seems pretty steep to me. Because of the lack of company-owned restaurants and the lack of any indication they wish this to change, obtaining new franchisees and keeping current ones happy are of the utmost importance.
I believe Popeyes has room to expand in developing countries like China, where KFC has done well despite some recent operation hiccups, and other places like Brazil and Russia. KFC has over 18,000 locations worldwide and McDonald's has over 35,000 locations worldwide which makes Popeyes' 2000, 415 of which are overseas, look miniscule in comparison.
Earnings Growth
Popeyes has doubled EPS since 2009 and the share price has followed suit. With a P/E ratio of over 30 and a huge run up in share price since the dark days, does Popeyes have any room left to run?
Well, let's look at some of data before I give you my thoughts. A concerning note is that debt has increased to around $110 million in 2014 from $62 million in 2010.
This appears ominous, but if you look at the debt/equity ratio, it has improved substantially from ~6.8 in 2010 to ~1.6 in 2014. 2015 is not over yet, but long-term debt has no budget at all in the first 3 quarters of 2015, which makes me feel more comfortable that the company is not going bananas and taking on more debt than they can handle.
After all, the whole point of having most of the real estate off the books by franchising is that the balance sheet is much stronger because there is not a need to borrow excessively while rapidly opening new locations. Franchisees rent the locations from the landlord and the company simply gets a constant fee stream coming their way.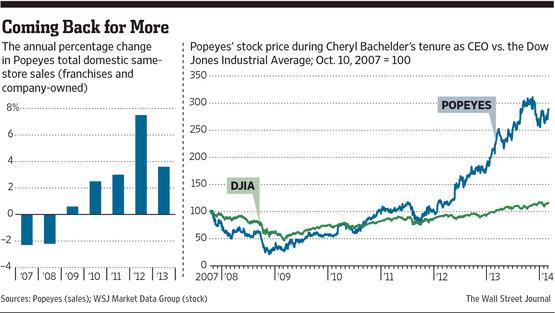 Without a doubt, some of that debt certainly has been used to buy back stock. The company bought 38 million in 2014, 16 million in 2013, 14 million in 2012, and 22 million of 2011. Borrowing to buy back stock is acceptable in this situation because some of that money was also used for measurable growth.
One final note, the also-important average operating profit per store has risen from 18% in 2008 to 22% in 2014.
Risks
I am as wary about a turnaround story as the next investor, but what I see when I look at Popeyes is a turnaround that is well under way and we have some clear evidence that it is working.
A major risk is how any potential change in management will affect the company's future.
The turnaround of Popeyes has a whole lot to do with the current CEO, if she left, it would be a serious blow. This is of course a risk with any company.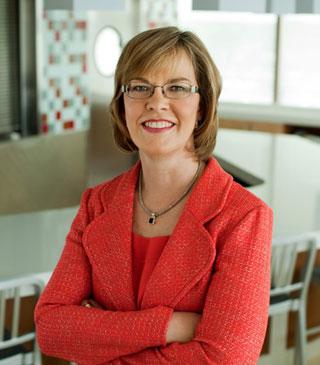 Future Growth Potential
As I mentioned above, I see tremendous potential in every market Popeyes operates in, especially internationally. In addition, the company has a great opportunity to work on integrating more technology such as mobile ordering into their business.
This has been sorely neglected as the company took a back to basic approach and tried to fix the core of their business before worrying about fancy technology.
At the end of the day, providing the hungry customer with hot, delicious food quickly along with great customer service is what people want when they visit Popeyes and as far as I can tell, the company is delivering.
Conclusion
Popeyes has had a few standout years as they continue remaking the brand and improving virtually every aspect of their business. Improving franchisee relations, successful menu innovation, and a brand redesign have propelled an increase in same-store sales for 5 straight years.
And as they say, same-store sales are what pay the bills. Regardless of the high price, I believe Popeyes to be a great investment as they appear to be hitting their stride while long dominant companies like Chipotle and KFC experience operational missteps.
Disclosure: I am/we are long PLKI.
I wrote this article myself, and it expresses my own opinions. I am not receiving compensation for it (other than from Seeking Alpha). I have no business relationship with any company whose stock is mentioned in this article.