"Everything goes in cycles, to a degree." - Herb Brooks
As I continue to stress the reflation theme in writings here on SeekingAlpha and on various other financial websites I write on, I keep focusing in on Gold (NYSEARCA:GLD) and Gold stocks (NYSEARCA:GDX) to see if there is a level of consistency in the return of inflation expectations to precious metal investors. I have stated numerous times that I did not believe Gold would outperform stocks more broadly this time around simply because no other area of the investable landscape can absorb the huge amounts of capital that will eventually come out of bonds and into something else (stocks). Gold can go up, but I suspect that stocks could go up quite a bit more. My colleague Edward Dempsey, Chief Investment Officer of Pension Partners, addressed this at length in his latest video commentary.
What about Gold Miners? Gold can go up on the continued reflation theme, but if stocks go up more, perhaps Miners which are sensitive to Gold prices and stocks as an asset class can perform even better. This does appear to be a good possibility of that. Take a look below at the price ratio of the Market Vectors Gold Miners ETF relative to the S&P 500 (NYSEARCA:IVV). As a reminder, a rising price ratio means the numerator/GDX is outperforming (up more/down less) the denominator/IVV.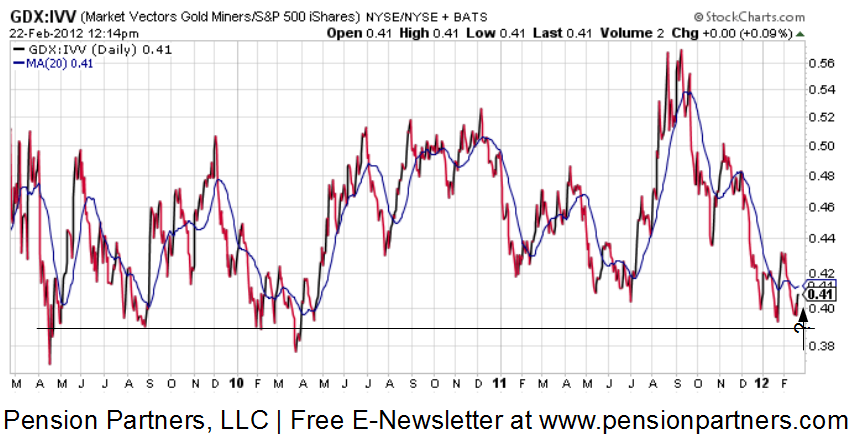 I have drawn a "ratio support" line to show that we are currently at the bottom end of a three year price ratio range, and could be set for a period of strength going forward. Gold Miners relative to the S&P 500 topped out in mid-September towards the tail-end of the Summer Crash, and were unable to keep up with the broader recovery during the Fall Melt-Up. Its entirely possible that Miners now stage strength in a catch-up move relative to other areas of the stock market. It also would be consistent with the reflation theme.
Disclosure: I have no positions in any stocks mentioned, and no plans to initiate any positions within the next 72 hours.
Additional disclosure: Pension Partners, LLC, and/or its clients may hold positions in securities mentioned in this article at time of writing.