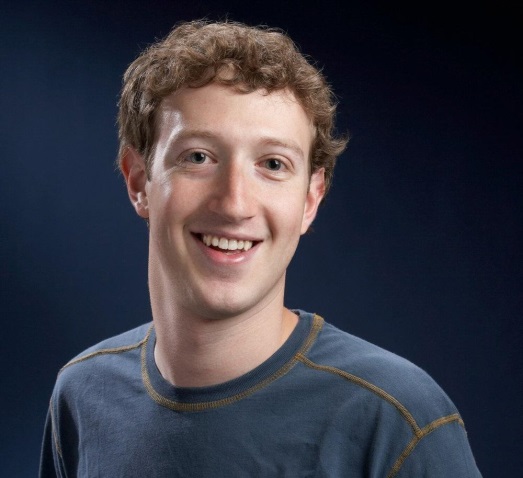 Facebook (NASDAQ:FB) is the $277 billion market cap behemoth of social networking. It has held steady as the second-ranked site in the world behind Google (GOOG/GOOGL) and the second ranked site in the US, according to Amazon's (NASDAQ:AMZN) Alexa.
The site is massive - each month, it has 122 million visitors, 2.6 billion visits, and 24 billion page views. Its users are loyal - each month gets 21 visits per visitor, nine page views per visit, and 198 monthly page views per visitor. About 36% of Internet users have visited the site in the last three months. It accounts for about 6% of global page views.
Facebook's bounce rate is 27% over the past three months but declining. That means that the percentage of visits to the site that consist of just one page view is decreasing, so visitors are finding stuff worth clicking on. Daily page views per visitor - 13 - are up. Daily time on the site is over 21 minutes. Over seven and a half million sites link to Facebook.
A plurality of its users are American, but it is also popular around the world including in India, Brazil, the UK and Germany. Compared with the general Internet population, Facebook users are more heavily female. They are fairly representative of the overall Internet population in terms of education, income, race, and age. Relatively speaking, more Facebook users log in from school versus home or work.
Workplace use remains a big problem. While the Internet has substantially increased workplace productivity, all of the saved employee hours have been used on social media. According to employer survey data, the Internet in general is the second biggest productivity killer while social media in particular is number four.
Facebook's equity performed well last year along with the other "FANG" shares - Facebook, Amazon, Netflix (NASDAQ:NFLX), and Google - that together make up one of the latest trends in investing acronyms.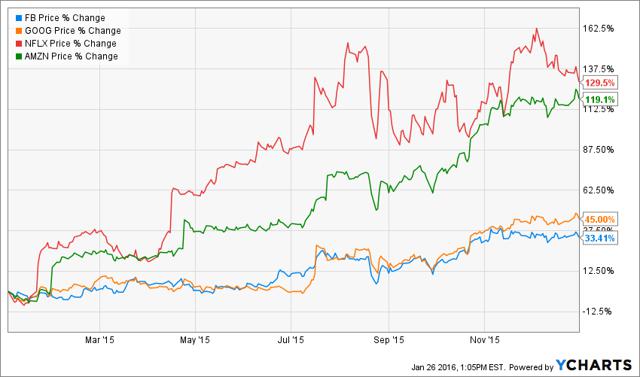 The situation is bleaker thus far in 2016.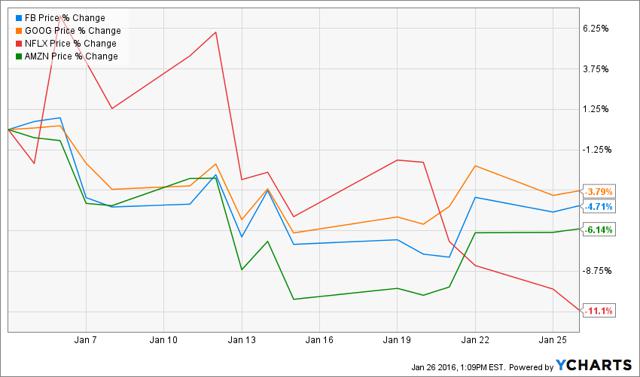 Presumably some new faddish category will be created to displace FANG stocks (also with Google renamed Alphabet, it should now be "FANA" which rather ominously means self-annihilation in Arabic).
What are the cool kids using? Facebook faces mounting competition for younger audiences from alternatives including Instagram and Snapchat. FB bought Instagram for $1 billion in 2012; contrary to my expectations, it proved to be a sound investment. Instagram will make over $3 billion in revenue this year and over $5 billion next year.
SA Social
But what about this audience? Could there be a Facebook for investors? That is my hope with the new Social Portfolio Feed, part of the new SA Social initiative at Seeking Alpha. The site will have a new look.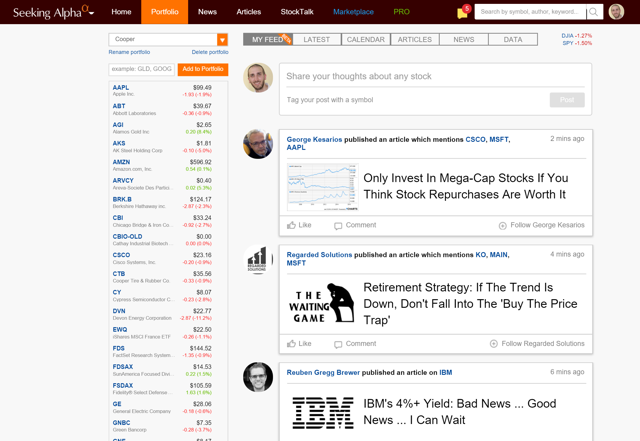 It will integrate more aspects of the Seeking Alpha site in order to drive greater reader engagement. As part of this new feature, there is a new "Bullish or Bearish" prompt that could offer actionable data. How do I use the Social Portfolio feed? I track the people and ideas that offer the most value.
Investors Worth Following
If you are new to SA Social and are looking for investors worth following, I would recommend the following three. First and foremost, everyone should follow my colleague Andrew Walker. I have followed everything that he has written for years and I am richer for it.
Secondly, Alpha Vulture is a top value investor who livens up our discussions in Sifting the World. A third favorite investor you can track on SA Social is Dane Capital. Many of the best ideas that have been shared on StW are from Dane's portfolio manager.
If you follow only those three, you will be off to a strong start in getting better acquainted with the best investors in SA's community. All are friends (but that is no coincidence - I tend to form friendships with people who don't like overpaying for stocks). Of course, if you don't mind bringing down the average, you can follow me here. About 14,000 investors follow me, 700 of which are StW members.
Longs Worth Following
Here are three long ideas to get started on SA Social. The first is Pozen (NASDAQ:POZN). Its merger with Tribute Pharma (OTCQX:TBUFF) will probably close next month. It trades at a substantial discount to its value as either a standalone company or as part of the combined company. For background, we discussed it in Top Stock For 2016 From Seeking Alpha's StW.
A second idea worth following is Akorn (NASDAQ:AKRX). For background, check out Akorn's Current Price Is Nuts. It will probably sort out its accounting issues early in the second quarter. Suitors may emerge by the fourth. It is my favorite takeout candidate for this year, and it has gone on another sale this month.
A third idea that you might want to track is Constant Contact (NASDAQ:CTCT). It is the target of a definitive merger agreement. That deal will probably close by the end of the month at which time holders will be cashed out for $32 per share, a net spread of over a dollar.
The spread was extremely tight and uninteresting until an SEC investigation blew it out. The buyer is being investigated too and appears ready to close the deal despite the issue. It is up 7% since Investing With An Edge: Constant Contact was published, but it is still worth owning.
Shorts Worth Following
Chinese equities remain expensive, risky, and precarious. One way to exploit this country market is by shorting Direxion's leveraged Chinese equity ETF (NYSEARCA:YINN) as discussed in One Big China Short (And 4 Little Longs). YINN is down over $10 since that article was written but could have further to go. These ETFs also have a strong headwind from their suboptimal construction that causes their value to deteriorate with time.
GoPro (NASDAQ:GPRO) was a faddish IPO that allowed founders to monetize much of their investment. Its products can be replicated by Chinese discounters.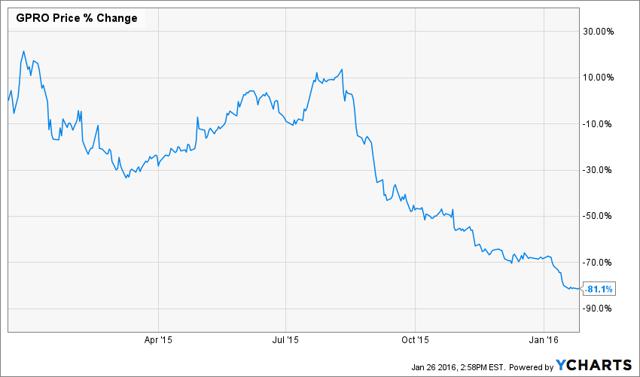 Promoters say that it is not just a consumer electronics company with low barriers to entry and stiff competition; reality says that it is.
InterOil (NYSE:IOC) is the short idea that has garnered the most enthusiastic outcry from its promoters - some of whom set up dedicated sites to attack IOC shorts in particular and shorting stocks in general. The company is in the business of promoting itself and selling equity.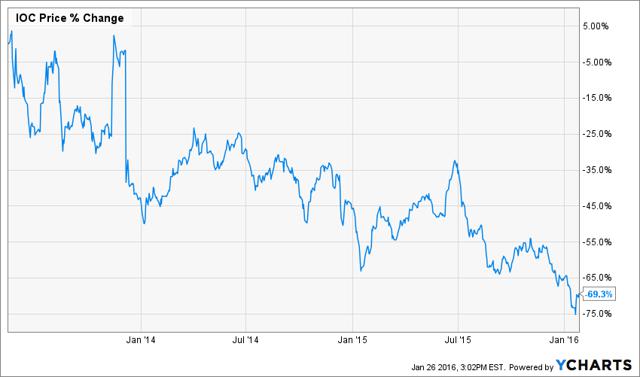 If natural gas prices remain weak, so could IOC. If natural gas rebounds... well, no problem there either as IOC does not produce any (goading the paid promoters just out of curiosity regarding whether they are still there or if they have moved on to their next promotion).
Conclusion
Who do you think is worth following? What are you bullish or bearish on today? The site has a long way to go before it is the Facebook for investors, based on its current traffic rank.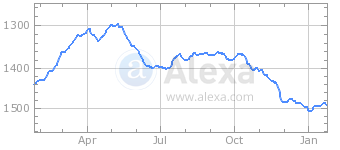 However, if you have a knack for finding undervalued (or overvalued) ideas and idea-generators, SA Social could be a useful tool.
Disclosure: I am/we are long AKRX, CTCT, POZN, TBUFF.
I wrote this article myself, and it expresses my own opinions. I am not receiving compensation for it (other than from Seeking Alpha). I have no business relationship with any company whose stock is mentioned in this article.
Additional disclosure: Chris DeMuth Jr and Andrew Walker are portfolio managers at Rangeley Capital. Rangeley invests with a margin of safety by buying securities at deep discounts to their intrinsic value and unlocking that value through corporate events. In order to maximize total returns for our investors, we reserve the right to make investment decisions regarding any security without further notification except where such notification is required by law.
Editor's Note: This article covers one or more stocks trading at less than $1 per share and/or with less than a $100 million market cap. Please be aware of the risks associated with these stocks.