Background
Launching back in the summer of 2014, the Women in Leadership ETN (NYSEARCA:WIL) has struggled to gain serious investor traction. We wanted to do a spotlight piece focusing on this lesser talked about ETF so that investors and traders alike could see what it is all about.
Based on the chart below comparing the SPDR S&P 500 Trust ETF (NYSEARCA:SPY) performance to WIL performance since inception, it seems on the surface as if investing in WIL is just paying a 0.45% expense ratio for SPY's performance. We dig deeper to learn more about the pros and cons of investing in WIL, and what it takes to make the cut as a holding.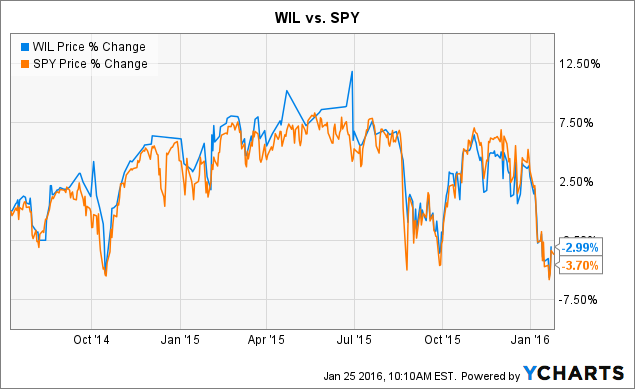 The Concept
Essentially, WIL is an ETN investors can use to expose themselves to companies with women in leadership roles. This is best described by the sponsor, Barclays:
"The Index is designed to provide exposure to U.S.-based companies that satisfy one or both of the gender diversity criteria of having a female chief executive officer or having at least 25% female members on the board of directors."
Methodology Critiques
Just because the CEO of a company is not female does not mean that the company does not have women in leadership positions. The filtering methodology for companies described above could end up leaving out companies with women in various other C-suite positions, that may not necessarily meet the alternative board member requirements. After all, in 2015 there were 58 female CFOs in just the Fortune 500 alone. Various companies with women in leadership that may be excluded due to methodology include:
Nasdaq, Inc. (NASDAQ:NDAQ) - Chief Operating Officer, Andena Friedman
JPMorgan Chase & Co. (NYSE:JPM) - Chief Financial Officer, Marianne Lake
Bed Bath & Beyond Inc. (NASDAQ:BBBY) - Chief Financial Officer, Susan Lattmann
Microsoft Corporation (NASDAQ:MSFT) - Chief Financial Officer, my Hood
The Goodyear Tire & Rubber Company (NYSE:GT) - Chief Financial Officer, Laura Thompson
SanDisk (SNDK) - Chief Financial Officer, Judy Bruner
Major Holdings
WIL seeks to track the Barclays Women In Leadership Total Return USD Index. Since in addition to the various leadership requirements, the index also has market cap. requirements, the holdings are large market capitalization stocks with high liquidity by all measures. Selected major holdings of this index include: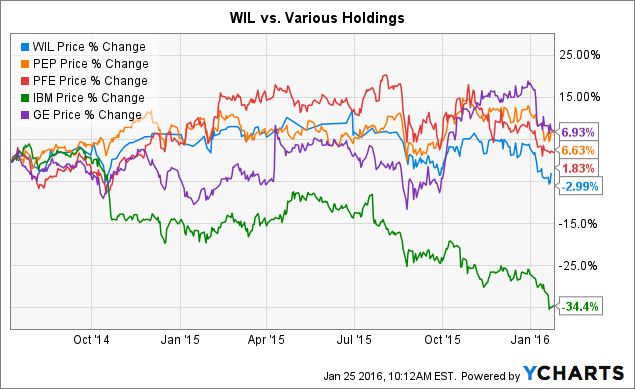 Low Liquidity
Relative to major highly traded ETFs, WIL is far less liquid by measures of both spread and volume. This is despite the holdings of WIL being extremely liquid, heavily traded stocks. This makes WIL a costly choice for funds or larger investors trying to get exposure to this basket of companies.
ETF
WIL

SPDR Gold Trust ETF (

GLD)

PowerShares QQQ Trust ETF (

QQQ)
Average Daily $ Volume
$11.53 K
$624.12 M
$4.36 B
Average Bid-Ask Spread
0.25%
0.01%
0.01%
Low AUM
When compared to two other ETFs launched within a week of WIL, it seems as if WIL is in the lower range of AUM. This is presumably due to lack of performance since inception, mixed with a stiff drop-off in marketing following the launch of WIL.
ETF
WIL

Calamos Focus Growth ETF (

CFGE)

Sprott Gold Miners ETF (

SGDM)
AUM
$25.52 M
$24.83 M
$91.65 M
Launch Date
07/09/14
07/14/14
07/15/14
High Fees
As mentioned in the background, WIL has an expense ratio of 0.45%, which compared to the broad index fund that it nearly identically tracks (SPY as shown above), is a relatively high fee. This is not to say that WIL did not outperform SPY in the timeframe since WIL's inception, however the difference is <0.75%.
| | | |
| --- | --- | --- |
| ETF | WIL | SPY |
| Expense Ratio | 0.45% | 0.09% |
Other Socially Focused ETFs
Besides WIL, there are a few other ETFs that may be considered socially focused/socially responsible. We have even included a few clean energy ETFs, as they too are ways of socially responsible investing in a way.
Conclusion
We hope this has been a useful spotlight into a lesser covered ETF, as well as open investors eyes to a recently more popular notion of socially responsible investing. Based on the AUM of this fund, it is tough to tell just yet whether or not it will be here to stay. Additionally, based on the limitations of the underlying index's selection methodology this may not truly represent companies with women in leadership. Regardless, we look forward to keeping investors posted on this and other ETFs as further inspiration for research develops.
References
Disclosure: I/we have no positions in any stocks mentioned, and no plans to initiate any positions within the next 72 hours.
I wrote this article myself, and it expresses my own opinions. I am not receiving compensation for it (other than from Seeking Alpha). I have no business relationship with any company whose stock is mentioned in this article.
Additional disclosure: Not investment advice.