Under Armour (NYSE:UA), famous for its line of sportswear and gear, has seen its shares on a downward spiral in the past six months. With Q4 earnings being announced on January 28th, there is a chance shares could finally recover, if its holiday sales aren't disappointing.
Revenue decreased from Q3 2014 to Q2 2015, but jumped during Q3 2015. However, though Under Armour has struggled short term, the sportswear brand has the highest gross margin compared with two of its top competitors; Adidas (OTCQX:ADDYY) and Nike (NYSE:NKE):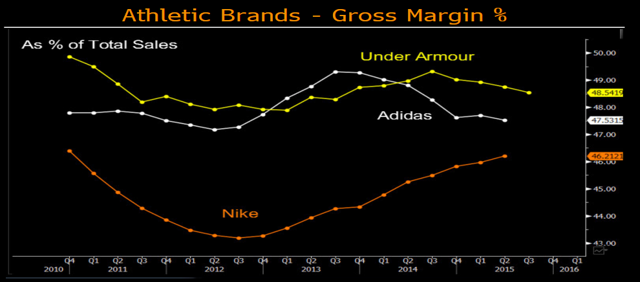 (Source: Bloomberg)
Weak Capital Structure
One major factor holding UA shares down is the company's high debt levels. In such a volatile market climate, high debt levels are exposing Under Armour to more risk and it's hurting its shares. Under Armour needs to post an increase in its revenue for Q4 for a WACC of 9.238% to be justifiable.

(Source: Bloomberg)
Struggle to Remain Relevant
Though Under Armour's largest competitors are Nike and Adidas, one sneaky competitor is quickly inching ahead. That competitor, Lululemon (NASDAQ: LULU), has proven to be more relevant and incorporate its products into not just a yoga lifestyle, but all other sports now. Lululemon is single-handedly beating Under Armour at its own game. Capital structure-wise, Lululemon has zero debt and has room to grow, even in the given market climate.
Under Armour seemingly has reached its peak at this point. Nike and Lululemon have successfully created a lifestyle brand whereas Under Armour's attempt hasn't proven successful yet.
Looking Ahead, Post-Q4
Should Under Armour be able to post decent Q4 earnings and a positive EPS, which analysts expect there to be some, but minimal growth (seen below), shares of UA could finally be bottoming out and on their way towards an upward trend.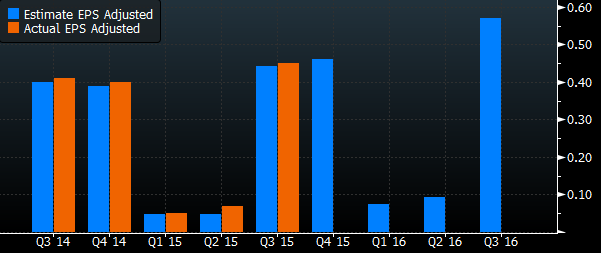 (Source: Bloomberg)
Overall, I do not recommend a strong buy on UA, but the company has a lot of potential to be back on the growth track. It would restore shareholder confidence if Under Armour finally released a dividend to really show its commitment to shareholders. Under Armour, however, needs to work on deleveraging and a reduction of its debt level to be able to compete in this ever-volatile climate.
Disclosure: I/we have no positions in any stocks mentioned, and no plans to initiate any positions within the next 72 hours.
I wrote this article myself, and it expresses my own opinions. I am not receiving compensation for it (other than from Seeking Alpha). I have no business relationship with any company whose stock is mentioned in this article.