While oil and natural gas continue to fluctuate around multi-year lows, traders are wondering now why they didn't short Kinder Morgan (NYSE:KMI) months ago. It's no secret that I enjoy shorting equities, but Kinder Morgan is one I've always been wary about incorporating into my portfolio due to its high yield. Now that it has been cut considerably, the stock has become immensely volatile. Furthermore, shorting the largest energy infrastructure company in the United States is a rather daunting trade. But, if you add in a deteriorating price environment for oil and natural gas, there's a perfect storm of downward pressure on KMI. While there are clear headwinds, there are significant risks to shorting KMI.
Cutting Through The Complexity
There's a few key factors I see being able to send shares of KMI lower, even at these improved risk/reward levels: an additional dividend cut, negative energy price activity, and the company's leverage. As a short seller, I believe these are the key areas you focus on over the tenure of your position in order to be able to earn a worthwhile return.
Potential Yield Cut
After seeing KMI cut the dividend in Q4 to $0.125, representing a current yield of 3.34%, the equity took a tumble as the dividend had been on a 3Y net growth rate of 12.93%. The outlook for the dividend that had been previously set in 2015 was nothing more than a pipe dream. This cut was much needed as it is going to provide cost savings of roughly $1.078 billion per quarter, savings that should be used to pay down their LT debt. Naturally, shorting around a yield of 3.34% for KMI is difficult, but it can be done. It should also be noted that the current payout ratio is 69.4% and that the ex-dividend date for Q4 is Thursday, January 28.
Against a comparable universe, Magellan Midstream Partners (NYSE:MMP) yields 4.99%, Spectra Energy (NYSE:SE) yields 5.99%, Energy Transfer Partners (NYSE:ETP) is yielding an astonishing 15.09%. Below is how KMI has performed against these competitors over the LTM. It's not surprising that Kinder Morgan has taken the sharpest hit.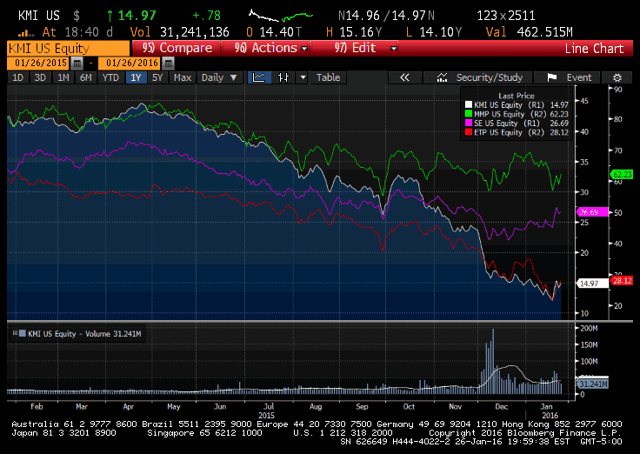 Source: Bloomberg
The problem for longs with the current yield is that it may be susceptible to an additional cut if we start to see contract growth level off or if we continue to see commodity prices place downward pressure on the stock and boost the yield to an unsustainable level, as we saw before. It should be noted the yield is above the S&P 500 average of 2.28%. Management has made it clear that they are dissatisfied with the equity's performance, but it should be noticed that when the dividend was cut, longs experienced a large amount of losses.
Leverage
In speaking on a potential credit downgrade, we'll likely only see such an instance if the all important debt/EBITDA ratio deteriorates. Kinder Morgan has maintained a 5.8x through a majority of 2015, ending with 5.6x, providing a small amount of relief. While other factors such as subsequent debt offerings or more deterioration from the price environment could weigh on the company, the probability of such is speculative. On the other hand, if we see a trend towards 5.0x, a reduction in leverage that would certainly strengthen the company's position and reduce the equity's volatility, then we could even see a credit upgrade. Still, with a $42.3 billion LT debt burden hanging over head, action must be taken sooner rather than later.
Many individuals believe this ratio will, in fact, increase a few basis points in 2016, which would represent further volatility to the equity. Kinder Morgan is not on watch for a credit downgrade by Moody's and currently has a Baa3 rating, which is the lowest of the investment grade. S&P and Fitch both have the outlook at stable and a BBB- rating, which is also the lowest of the investment grade ratings.
The company is shelling out about $530 million a quarter currently in interest expense, has a debt to equity of 116.67, and a LT debt to equity of 111.55. Bringing these ratios down is going to create stability, it's as simple as that. With a current and quick of 0.56 and 0.05, respectively, liquidity is being crunched. That's what's truly responsible for the 28% gain in two sessions this January and that's what's responsible for the aggravated 2015 decline. Now, the company has taken steps to cut capex, as well as reduce the backlog and focus more on the ST, but we've yet to see debt be paid down.
Operating Environment
The operating environment remains the primary driver behind the equity's movement. The caveat to this is, of course, is trying to accurately gauge their exposure to the commodity environment. While the distributable cash flow exposures stated in previous reports may be accurate, it still remains that their equity is far more exposed to the underlying environment due to their leverage than these exposures let on. KMI's exposure to the WTI is per $1 change in the price per barrel, there is a $7 million change in DCF, and KMI's exposure to the Henry Hub is per $0.10 change in the Henry Hub, there's a $1.2 million change in DCF. The best part about these exposures is that they are not likely to change considering their take or pay model is intact, but the company has lowered its expectations for the operating environment.
The company now expects a $38 WTI and $2.50 Henry Hub, which while still above current market levels, is far more realistic than it has been and is going to allow them to continue to hit their full year budget. Furthermore, very few customers account for more than 1% of their annual revenues, which is excellent diversification that potential shorts should take note of.
As we continue to see a larger weight of energy prices on the broader market, it becomes increasingly important to try and gain visibility on the ST outlook. With crude oil, we have Iran's new supply creating headwinds and the country as a whole producing record amounts (this coming after the U.S. lifted sanctions and Canada lifting some sanctions). A lack of OPEC production cuts has created pessimism in the markets, with a few plunges below $30/barrel; however, an excellent piece of news showed that Saudi Arabia and Russia may be working together on some initial supply gluts. This would undoubtedly prop both oil prices and KMI up, but it largely depends on the amount cut and the timeline for cutting. For now, supply-heavy headlines reign king, as we have the American Petroleum Institute showing a 11.4 million barrel increase in inventories for the week. Crude is already down 15% this year.
In the world of natural gas, we have gas demand in China slowing considerably, which is one of the largest negatives at hand. Furthermore, LNG is seeing a flurry of capacity come online, particularly in Australia, so the optimism that the global arb spread in Asia has been short-lived. Now, we'll receive updated data on natural gas inventories and how much was withdrawn this past week via an EIA report later this week, with many analysts expecting the withdrawal to be larger than the five-year average withdrawal due to the first major snowstorm of the year (Jonas).
Distributable cash flow was up 7% YOY for Q4 and 2015 showed record levels of DCF, that's going to create tougher comps moving forward, which is interesting considering how low the overall expectations were for the Q4 report. It'll certainly be an interesting year for sentiment ahead. Below is the WTI over the last month against KMI: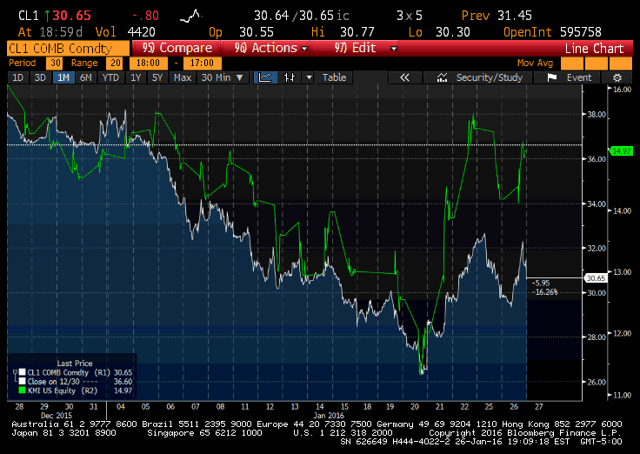 And here's the Henry Hub over the last month against KMI: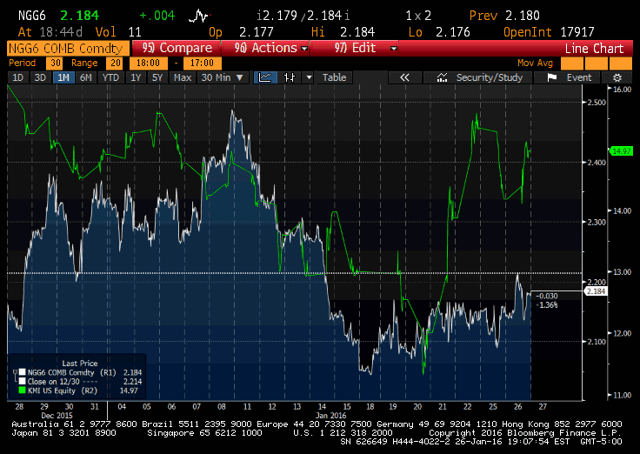 Source: Bloomberg
Across the broader oil and gas market, while the two aren't interchangeable, we've seen operating efficiencies improve to the point where costs are cut considerably, but production is also increased. That particular swell is especially to blame for the supply glut, but until significant withdrawals are made from the inventories, we aren't going to strength from either commodity.
How To Short KMI
If you read my last article on the company, you'll know that I pointed to the company's increased risk/reward scenario as substantial reason behind going long. However, with the data presented above regarding the underlying environment, can you really justify going long? Kinder Morgan stock fell 65% in 2015 and currently is down 0.34% YTD, one of the smallest losses out of the entire energy sector, but was down considerably until an earnings report showed better than expected results. Shareholders fear a repeat and unless the company works to repair itself, namely reduce its leverage, volatile occurrences in its equity are a likely event.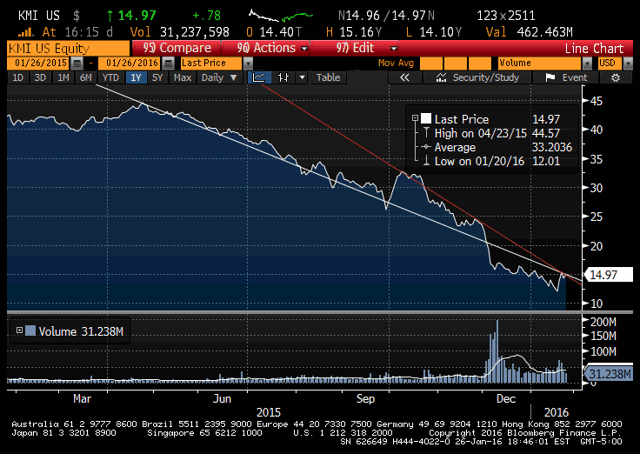 Source: Bloomberg
You could even throw on a hedge with Energy Transfer or another midstream competitor if you're worried about the dividend from KMI cutting into your return. What this graph clearly shows is that the risk/reward scenario is drastically improved and most investors would argue that individuals seeking to make a move on KMI not short given the magnitude of the decline.
Conclusion
A short position in KMI revolves around knowing your time horizon down to a "T" and being able to gain better visibility on the underlying operating environment. With that being extremely difficult to do, my advice is to not consider a short on this company. The company will be hosting its annual Kinder Morgan Analyst Conference tomorrow, where we will receive presentations on 2015 and 2016. Kinder Morgan has other headwinds, too, like a potential additional capital raise this year mimicking activity last year, even though management has said they won't tap the equity markets. So, while there are many reasons pointing to a short, it's going to be quite the challenge.
Disclosure: I/we have no positions in any stocks mentioned, and no plans to initiate any positions within the next 72 hours.
I wrote this article myself, and it expresses my own opinions. I am not receiving compensation for it (other than from Seeking Alpha). I have no business relationship with any company whose stock is mentioned in this article.